Our address is:
Glasgow Women's Library
23 Landressy Street
Glasgow, G40 1BP
Our opening hours are 9.30am-5pm on Monday, Tuesday, Wednesday, and Friday and 9.30am-7.30pm on Thursday. We are also open on Saturday from 12pm to 4pm. If you would like to visit the Library outside these hours, please contact us.
We have a range of events that happen at the Library outwith these hours and can accept book returns 30 minutes prior to the start of these events. Check our events calendar to see if there is something you would like to come to or something on at a time you can come along to return or borrow books.
Accessibility
The Library is wheelchair accessible, with lifts to the first floor and the mezzanine and archive.
An induction loop is available for events – please let a member of staff know if you require this.
We have disabled toilets on the ground and first floors, and all the Glasgow Women's Library bathrooms are individual closed stalls and are gender neutral.
If you need help accessing the library, or would like more information about access, please contact us and we will be very happy to offer you assistance.
Directions
The Library is just around the corner from Bridgeton Cross – you can reach the Library on Landressy Street from London Road, or on foot from James Street.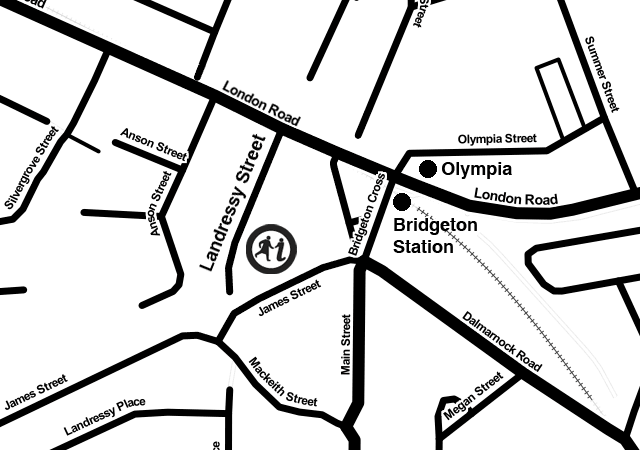 Get directions to 23 Landressy Street on Google Maps.
Getting to us by bus
Take the 18, 43, 46, 64, 65, 164, 263 or 2 to London Road/Bridgeton Cross
For information on bus services call:
FirstGlasgow: 0141 423 6600
Glasgow Citybus: 0141 954 2255
Scottish Citylink Coaches: 08705 505050
Getting to us by train
The closest railway station to the Library is Bridgeton station – take the low-level train from Glasgow Central.
For more information about trains visit the Scotrail website
Getting to us by bicycle
Cycling Route 75 follows the Clyde to Glasgow Green which is a 3 minute ride from Landressy Street along cycle paths (click on the links for some suggested routes from the East, West, North, South East and South West which take in interesting landmarks along the way)
Please contact the Library if you have any questions about access.