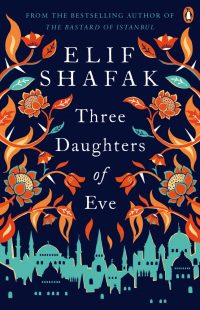 Mother and daughter together in the car, stuck in the thankless traffic of Istanbul, on their way to a dinner party. What appears to be an everyday situation soon turns into a hot pursuit. Peri's, the mother's, handbag has been stolen and she follows the thieves to a back alley. Among the many things that fall out of her bag is a Polaroid. It depicts three young women, in their middle a man. A memento from former times.
This is the beginning of a multi-layered, beautifully sketched and precise novel "Three Daughters of Eve" by Elif Shafak. Throughout the story we get to know Peri's life, jumping from her years as a child in Istanbul to her time in Oxford as a young woman, to the present situation back in Istanbul. The novel interweaves different threads and the reader is invited to put together all the different parts of the puzzle. By building up the story piece by piece, Elif Shafak creates a story full of different perspectives. As in her previous novels, Elif Shafak succeeds in touching upon difficult topics without losing the depth of her literary style. Questions concerning belief, identity, feminism, truth are skillfully woven into the plot of the novel.
Peri's parents seem to embody the duality which runs through the whole book. Her mother is a strong, even fierce, believer in the power of God, and her father is a strong defender of secularism and its forms of education. Trying to bridge the divide between her parents, Peri seems to be torn between tradition and modernity, never sure of her own place. Her unbroken desire to face up to her instability and feel a sense of belonging only leads to even more questions that demand answer, more paths that need to be explored. The struggle with an open, multi-faceted definition of identity subtly shapes the plot, not finding the core she so terribly longs for, thinking that it would stabilize her in a world of hidden truths. Painful truths need to be uncovered in order to understand the stories that shape our lives.
In Oxford, conscious of both her solitude and her newly gained freedom, she meets two other young women, Mona and Shirin. The three are called the Believer, Mona, the Sinner, Shirin and the Confused, Peri. All have different views on faith, identity and feminism. They all attend a seminar, led by charismatic Proffessor Azur. It tackles the big issue of God. This course challenges their existing views and leads to very heated discussions and triggering a scandal, that changes everything.
"Three Daughters of Eve" is a compelling novel, full of different angles and surprising revelations. Find out more about the story of Peri and read this novel.
One quote struck me in particular:
"We don't see things as they are. We see them as we are." Anais Nin.