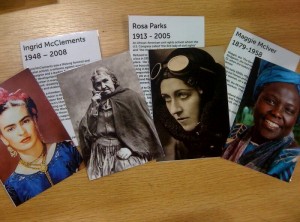 Happy International Women's Day. Today we are launching our Illuminated Letters project, a partnership with Gallery of Modern Art inspired by the letters and artworks of Niki de Saint-Phalle.
Come along to celebrate International Women's Day with us at GoMA in the Studio between 12.30pm and 3.30pm today and find out more about the Illuminated Letters project. A project inviting women across the world to write Illuminated letters of love and honour to an inspirational woman who can be found in Glasgow Women's Library, a woman who is no longer alive but whose story is celebrated somewhere in our shelves and boxes.
We have compiled a list of Inspirational Women in our collections as a starting point, so take a look and see if there is someone who inspires you to write an illuminated letter to us at our new home:
Glasgow Women's Library
23 Landressy Street
Glasgow g40 1BP
You can download the list below, but please note that this list is not extensive, there are many more inspirational women you can write to within our collections. Perhaps you might want to write to an inspirational woman from your life who should be remembered and recorded in the Library. There are examples of some letters on the Illuminated Letters Blog, and keep an eye on our website for details on additional workshops and activities relating to the project.
Download the llluminated Letters list of Women to write to at GWL
Happy writing!