Glasgow Women's Library
is a vibrant information hub housing a lending library, archive collections and contemporary and historical artefacts relating to
women's lives, histories
and
achievements
.
Looking to the future
In 2013 GWL will relocate to Bridgeton Library on Landressy Street, in the heart of Glasgow's increasingly vibrant East End. At the moment we are still confirming the timescales for the relocation, so please keep checking our website for details.
You can help GWL to raise essential funds for refurbishing our future home through the Women on the Shelf initiative.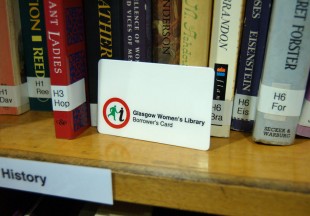 Get involved…
Joining the library is easy and completely free!
Joining means you can borrow books from our lending library, and once you have your very own GWL borrower card, it also makes it much easier to sign up for our events and courses.
Visitor in the Archive

This week I was very pleased to host a visit from Antoinette Seymour, the Archivist at the College of the Bahamas. Antoinette has been on a whistle stop tour of archives across Scotland and Glasgow Women's Library was the last stop on her travels. Antoinette previously volunteered at the Library, cataloguing the records of ENACT [...]

What's On this Summer at GWL

Summer is almost here, although you wouldn't believe it looking outside at the moment. We have some great activities for you to take part in, no matter where you are in the world!