Description
To mark Glasgow Women's Library's 21st anniversary, the Library commissioned 21 women artists to create new work inspired by items and artefacts in our collections.
One of each limited edition will join the GWL Archive Collection, while the rest are being sold to raise money for the Library. This is your chance to buy an exclusive artwork and support the Library's work at the same time!
Sam Ainsley, This Land is Your Land…, 2012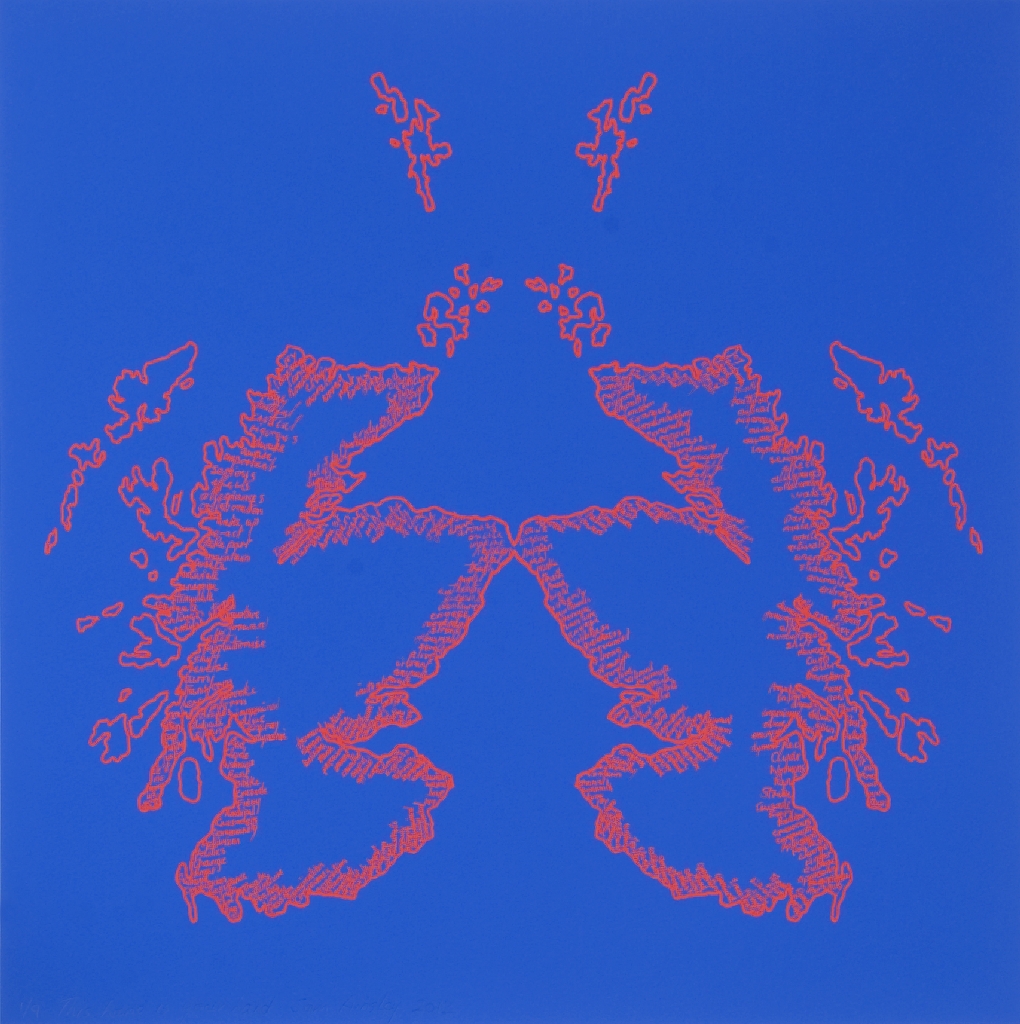 Digital pigment fine art print on paper, 50cm (h) x 50cm (w), Edition of 7 blue on red (sold out!), edition of 7 red on blue and edition of 7 black on white.
"My original idea was to use the names of all the women's memorials in Scotland since the Red Clyde and the Women's Rent Strike; but I also wanted the text to hug the coastline of mainland Scotland (I couldn't fit text into the islands!) as all old maps show. Many of the memorials were inland so I decided to start with the Red Clyde and the Women's Rent Strike (in Glasgow) and by a process of word association celebrate the qualities of all the women of Scotland; I didn't want to name names as so many would have to be left out…
"Most of all I want to pay homage to everyone at The Women's Library who have sustained so many of us over the years, in particular Sue John and Adele Patrick, without whom, as they say, none of this would have been possible."
About Sam Ainsley
Sam Ainsley is an artist and teacher and until recently was Head of the MFA Programme at Glasgow School of Art. She has forged a remarkable career within the visual arts sector nationally and internationally. From 1985-1991 she taught on the Environmental Art programme under David Harding's leadership when she co-founded the Master of Fine Art course and was the programme Director from its inception until 2006. She currently teaches part-time in Painting and Printmaking at GSA.
She has exhibited in and curated independent exhibitions and undertaken residencies in numerous institutions and arts organisations across the USA, Australasia, Europe and the UK. She remains an external advisor to many MFA courses including Liverpool John Moores & Newcastle University and is the Visitor to the Royal Academy Schools. Recent presentations of her work include 'New Scots', RSA Edinburgh, 2008 and a recent two person show "Atlas of Encounters" at I Space Gallery, Chicago in February 2009.
Buy Sam Ainsley's This Land is Your Land…
These prints are available for £250. You can arrange to pick the print up at GWL, or have it sent by post (£20 UK/£40 International). Please select the option you prefer from the drop-down menu above. You can also buy the print directly at GWL.
The print is also available framed for £330. We are not able to send framed prints by post – we will contact you when the framed print is available to pick up.