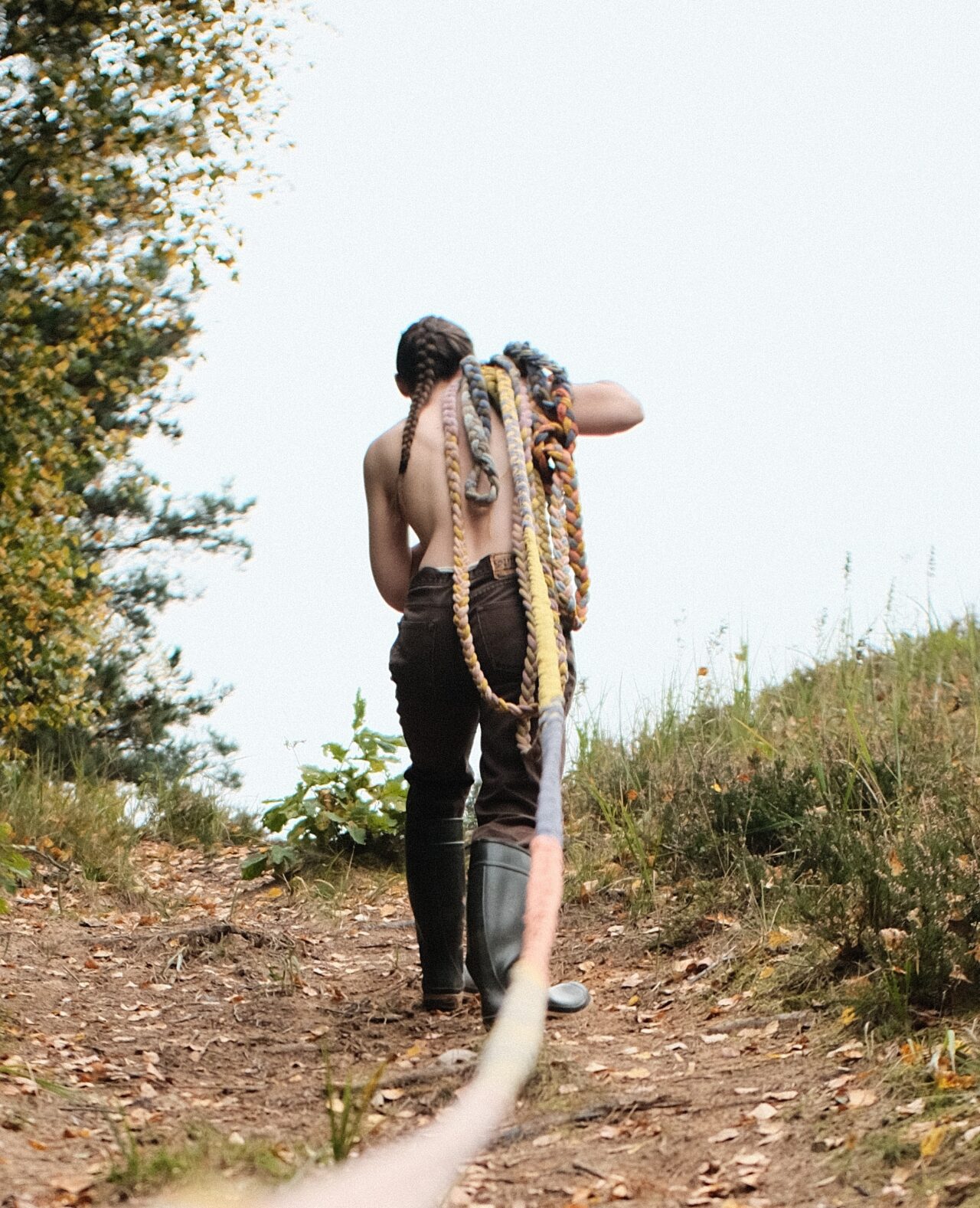 The Weemin's Wark (Shetland dialect Women's Work) exhibition and collaborative project (November 2020 – May 2021) aims to increase the visibility of women's contribution to contemporary island culture by providing a safe space in which to examine notions of labour and positivity for women and allies who challenge structures of social and institutional inequality.
Despite recent and historical action by Shetland women and supporters of change going back 116 years, the Up Helly Aa festival maintains an exclusion of female participation within the torch parade and acts, and reveals a wider gender bias which continues to divide Shetland.
Artists Brooke Palmieri, Holly Graham, Hannah Harkes, Isabel Greenberg, Esther McManus and Roseanne Watt came together with weemin from the Up Helly Aa for Aa community group on Shetland during lockdown through socially distanced workshops to create this group exhibition focusing on the positive ways campaigning brings people together.
This exhibition forms part of a larger programme of visual art exhibitions, public events, cultural research, and publishing activities that connect a marginalised community in Scotland's most remote isles with allies in its largest city.
Although Covid restrictions prevented an exhibition of the artists' work within the GWL building the staff team in collaboration with Gaada found many ways to showcase the work and continue a dialogue on the issue. Brooke Palmieri's flag hung outside our building whilst the artists and activists in Glasgow and on Shetland gathered with a truly global audience to celebrate the work and GWL's Caroline Gausden paired work by the artists with objects selected from the archive at Glasgow Women's Library.  Read more on Gaada's website here.
Weemin's Wark activity really sparked the imagination of many from our wonderful volunteer team at GWL who have developed a series of videos and blog posts responding to different aspects of the exhibition.
You can find out more about Brooke Palmieri of Camp books contribution in this short video
and hear from Holly Graham on what inspired her work
Isabel Greenberg shares insights into her work here
and you can read this great blog by our volunteer Ashley Green on her beautiful prints here.
Our final video reveals more about Hannah Harkes work as she discusses the small gestures and hidden labours that make up activist practices
Along with these beautiful visual and participatory art practices Gaada also commissioned poet, filmmaker and musician Rosanne Watt to write a piece imagining a different, inclusive festival for the island. Rosanne read an extract from the reulting story at the Weemin's Werk celebration event, from the depths of lockdown 2021. Roseanne's poetic writing sparked the imagination of our volunteer Beverly who wrote a great blog describing it here. 
Weemin's Wark was developed by Gaada, in partnership with the Glasgow Women's Library, and supported by Creative Scotland through the Open Project Fund.
Editions of the art works described and the publication can be found at Gaada's online shop here.