Women of the Necropolis
10th August, 2013 at 1:00 pm

-

3:00 pm

£7.50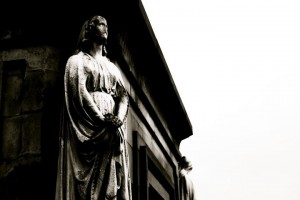 Experience this fantastic women's history walking tour that digs the dirt on Victorian society, unearths women's achievements and exhumes the history of some of the women buried in the Glasgow Necropolis.
Saturday 10th August, 1pm
Our tour guides will tell the stories of both the notorious and the forgotten women who are buried in these atmospheric and ethereal surroundings, one of Glasgow's most fascinating Victorian garden cemeteries.
Booking
This event costs £7.50 full price. You can purchase tickets direct from the library, Monday to Friday, 9.30am to 4.30pm or click here to book online.
Booking for this event has now closed.
All places must be paid for in advance as tour guides are not able to handle money on the day of the walk. Start point for the walk will be given in a confirmation email approximately 1 week prior to the walk and we will confirm once payment is received. Please check your spam or junk email folders if you have not received this in your inbox. Also, please note that the library is closed on a Saturday and Sunday so last minute bookings cannot be taken and messages will not be picked up until the Monday morning.
Unfortunately on this occasion we are unable to offer free or subsidised places on our Women's Heritage Walks for people aged 16 plus. Children 15 and under can attend the walks for free but must be accompanied by an adult. We ask that you do not bring dogs (or other pets) along on the walks. Contact us if you are unsure about any thing, we are happy to answer any questions.
Should you need to cancel a booking for any reason please see our Women's Heritage Walks Cancellation Policy.
Related Events