Tiny Territories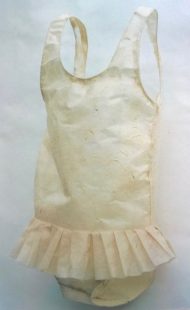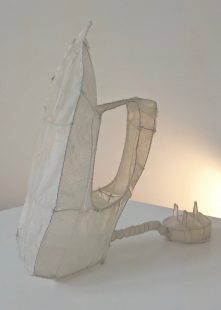 Artist and art psychotherapist, Caroline Christie, captures 'Tiny Territories' of unnoticed domestic objects and overlooked places. Delicate paper sculptures see familiar items re-made: an iron, a toddler's dress, child's boxing gloves, all recreated in wire, paper and stitches. Photographs of lost objects and places caught whilst standing in a play park, walking to the shops. Occasionally sewn words thread through the work. Together these quiet artefacts capture small scale histories.
Tiny Territories, Wednesday 17th April to Thursday 30th May, visit during GWL opening hours
Over the last 20 years Caroline Christie has been interested in unnoticed territories. Working in post-conflict countries started her curiosity in boundaries, lines and no-man's land. Then, as a mother, continuing the work to explore domestic territories.
Whether photographing the lines on a football pitch in Kabul or remaking a family wedding dress in paper, her artwork looks at practical and familiar objects, juxtaposed with another use or meaning.
The art work picks up on Glasgow Women's Library's broad archive of 'protest' objects; hand-made, sewn and knitted in the home.
Booking
This exhibition is for open to all, free to attend and there is no need to book. Visit during GWL's opening hours.
Accessibility
This exhibition has no audio content.
Glasgow Women's Library is wheelchair accessible, with lifts to the first floor and the Mezzanine Floor. We have accessible toilets and all the bathrooms are individual closed stalls and are gender neutral. Our larger Events Space is fitted with an induction loop. A portable induction loop is also available. For paid events free companion tickets are available.
Find more information on Accessibility at GWL or contact us and we will be very happy to offer assistance.
Related Events