The Male Graze: Guerilla Girls
This Summer, Art Night are curating a series of billboards by the Guerilla Girls to be situated across the country as part of their new commission titled The Male Graze. Glasgow Women's Library is delighted to take part in this incredible project and bring a billboard to the East End of Glasgow!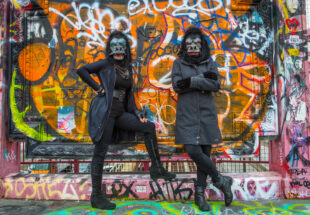 The Male Graze is the Guerilla Girls' largest public commission in the UK to date. The Male Gaze explores bad male behaviour focussing on, but not limited to, explorations of British artists and British collections. The work will manifest as a website, a live gig and a national series of billboards realised in partnership with galleries and institutions across the country.
The Guerrilla Girls (est.1985) in New York live and work in LA and New York. The group employs culture jamming in the form of posters, books, billboards, and public appearances to expose discrimination and corruption. Find out more about their work here.
The work will manifest as a series of billboards in towns and cities including: Eastbourne, Dundee, Birmingham, Glasgow, Liverpool, Cardiff, Warwick, Swansea, London and more. The billboards will be on display in partnership with Compton Verney, Dundee Contemporary Arts, Glasgow Women's Library, g39, Glynn Vivian Art Gallery, Grand Union, The Tetley and Towner Eastbourne. Art Night will also present this commission in two London sites in Shoreditch and London Bridge.
The Male Graze, an online event with the Guerrilla Girls
Sat 26 Jun, 8pm-9.30pm
The Guerrilla Girls will share their trade secrets about how they have used facts and humour to confront racism, sexism and corruption in the art world. At the end of the presentation there will be a 30 minute Q and A where the Guerrilla Girls will answer questions pre-selected from partner organisations across the UK.  Find out more and book your place here.

Related Events