In Conversation with…
22nd June at 7:00 pm

-

8:00 pm

Free
Join us for our series of online events 'In Conversation with….'  Women of Colour creatives in Scotland. We'll be chatting to emerging and established women creatives about their life, creative practice, key projects and future aspirations.
In Conversation with…, Tuesday 22nd June, Thursday 22nd July and Thursday 19th August, 7pm to 8pm, Online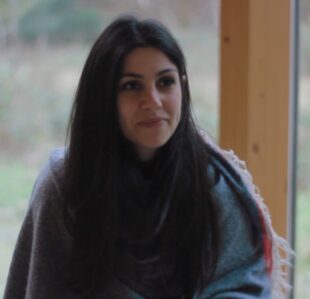 This Wednesday, we're delighted to be highlighting and celebrating the work of Paria Goodarzi.
Paria is a visual artist who graduated in Textile Design in 2000 and is currently studying Fine Art Sculpture & Environmental art at Glasgow School of Art. She has worked with various communities and organisations focused on women's and minority group's wellbeing since 2012. As part of her artistic practice, she works with a wide variety of media both in Gallery spaces and site-specific projects. Her main concerns pivot around the idea of displacement as a result of social and political changes and their relation to the subject's body and space. Her work often uses sculpture and installation that draw inspiration from people and her own experiences.
At our next In Conversation events this July and August, we'll be talking with writer Safina Mazhar and musician, researcher and activist Diljeet Bhachu. You can see all our upcoming In Conversation events here.
This series is part of our "attend" session this Summer. You can sit back and enjoy the conversation as well as participate in a Q and A if you have any questions!
Booking
Booking for this event has closed.
The event is free and open to all. To attend, please book below and we will share an email invitation with you.  If you would like to make a donation to Glasgow Women's Library, you can do so here. Please note that booking will close on Monday 21st June and you will receive your email invitation a few days before the event takes place.
Accessibility
This session takes place via an online video call link. If you would like to attend, please book below and we will share an email invitation along with simple and straight forward instructions on how this will work. If you have any concerns about how this will work for you, please do get in touch and we'll do all we can to support you in joining the session.
An automated live transcript using Otter.ai is available during this event. See here for upcoming events where live captioning with Stagetext is arranged.
Related Events