Bower of Bliss: The Next Chapter
7th March, 2020

-

9th April, 2020
See the next chapter of Linder's artist film 'Bower of Bliss,' first revealed as part of Linder's Flag & Film commission at GWL for Glasgow International 2018.
Bower of Bliss: The Next Chapter, Saturday 7th March to Thursday 9th April, visit during GWL opening hours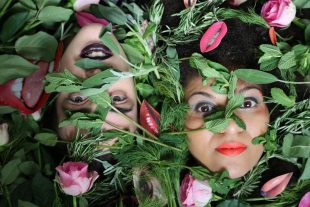 Shot on location at Chatsworth at the Mary Queen of Scots Bower and in the house and grounds, where the anointed queen was detained under the jurisdiction of Elizabeth I, this second edition of the Bower of Bliss gives fresh perspectives and new scenes to devour.
The film will be premiered at Herland: Readings from the Bower of Bliss on Friday 6th March. Find out more about this one off chance to see both chapters screened together here.
The film lasts around 10 minutes, contains no dialogue and an audio description of the soundscape will be available.
Commissioned by Glasgow Women's Library and Glasgow International 2018. With thanks to Chatsworth House.
Biographies
Linder is known for her photography, radical feminist collage, confrontational performance art, and ties to the British punk scene. One of Linder's most recognizable works of art first appeared on the sleeve of the 1977 Buzzcocks single "Orgasm Addict." On the cover, Linder utilised what would become her signature mass-media collage strategy to adorn or violate—or, really, both—a classical nude female torso with mouths at the nipples and an iron in place of the head. By the time the single was released, Linder had already become a fixture in the Manchester punk and post-punk scene.
In many ways, her collage works from the period have much in common with the subversive practices of punk: Ripping things apart and reassembling them was a way of showing the counterfeit quality and construction of any social image. But Linder's art went even beyond the rebellion of her underground musical counterparts. Much like Hannah Höch in the Weimar era, Linder fused capitalism, sexuality, violence, feminism, desire, morbidity, and hope in her collages. Linder has transformed herself many times as an artist since those first collages. She performed as the lead singer in the art-punk band Ludus. She's applied those assemblage tactics to photography and her own portraiture (most recently in a series with flowers).
Paul Hamlyn Foundation Award winning artist Linder has had solo exhibitions at Nottingham Contemporary, Musée d'Art Moderne de la Ville de Paris, Tate St. Ives, and Museum of Modern Art PS1.
Film Credits
Bess of Hardwick: Dancer Kirstin Halliday's movement practice is motivated by the co-generative relation between moving bodies and social space. Kirstin's research background is in Human Geography, a discipline fundamentally concerned with people, space and place. Kirstin studied Human Geography at the University of Glasgow and the University of Iceland, particularly focusing on women's experiences of everyday walking. Subsequently, Kirstin studied at the Scottish School of Contemporary Dance and at SMASH Berlin, undertaking two months of intensive training in experimental physical performance.
Mary Queen of Scots: Lauren Fitzpatrick is an actress and dancer. Lauren recently graduated from the Guildford School of Acting, and will make her tv debut in April in a popular BBC 1 soap. Lauren has collaborated with Linder in many projects including: The Ultimate Form at Hepworth Wakefield , Destination moon: "you must not look at her!" At the ICA in London, "Love imposes impossible tasks" at Cooper Gallery, Dundee, and "Hollywood Medieval" with Maxwell Sterling at IMMA in Dublin. More info here.
Costumes: Louise Gray has gained a reputation for questioning the rules – celebrating odd, arty, and individualism. Louise trained at The Glasgow School of Art and Central Saint Martin's. This heady mix of textiles and fashion background coupled with a forward attitude lends itself to a unique style and opinion that makes the Louise Gray world an interesting place. Louise has collaborated with recently with Marques' Almeida at London fashion week as well as Topshop, Brora, Judy Blame, Lane Crawford and The Victoria and Albert museum as well as many others. More info here and on Instagram.
Cinematographer: Fatosh Olgacher is a cinematographer with experience in short films, music, and commercial videos. Born in Cyprus, Fatosh moved to the UK to study Msci Mathematics at the University of Nottingham. Since graduating she has pursued a career in Cinematography, combining her twin passions for film and math to create artistic and precise images. She is inspired by the geometry and compositions found in art and mathematical sequences. More info here.
Music: Maxwell Sterling and Teresa Winter.
Maxwell Sterling is a composer and musician whose musical vocabulary ranges from film scores to live performance, studio albums to ballet scores. With a background in jazz improvisation and film music, his work is often focused on how music is used as a mode of communication and signifier of emotions. In 2016, he released his debut album, 'Hollywood Medieval' which explores the role of synthesis and digital sounds and their emotional affect. Sterling has collaborated with Friedrich Kunath, Christopher Shannon, Linder, J.W. Anderson, Tai Shani and Florence Peake.
He is currently working on a new studio album as well as two sound installations for Nottingham Contemporary and Chatsworth House. Listen to Maxwell's work on Soundcloud here and read about his work in FACT here.
Teresa Winter is an artist working within ambient, avant-pop and psychedelic music paradigms. In 2017, the label The Death of Rave was lucky enough to release Teresa's first vinyl record, 'Untitled Death'. Prior to this, Teresa released 'Oh Tina, No Tina' on Reckno records, hailed as "devotional VHS post rave meltdowns of the highest quality". Teresa has also collaborated with visual artist and writer, Tai Shani on her performance work, 'Al Anem One'. Listen to Teresa's work here and read about her work on AQNB here.
Booking
This is open to all, and there is no need to book. For general GWL opening times and how to get here see the 'Where to Find Us' section of the website.
Accessibility
Glasgow Women's Library is wheelchair accessible, with lifts to the first floor and the Mezzanine Floor. We have accessible toilets and all the bathrooms are individual closed stalls and are gender neutral. Our larger Events Space is fitted with an induction loop. A portable induction loop is also available. For paid events free companion tickets are available.
Find more information on Accessibility at GWL or contact us and we will be very happy to offer assistance.
Current related events and exhibitions across the UK
Herland: Readings from the Bower of Bliss, Glasgow Women's Library, Friday 6th March, 7pm to 10.30pm. Immerse yourself in a new reading experience as you enter the Bower of Bliss with Linder returning to host Glasgow Women's Library's first international women's day Herland. We return to the first chapter of artist film Bower of Bliss, and premiere the second, with prophetic readings, performance, and music. Tickets £19 / £14. More information here.
Linderism, Kettle's Yard, University of Cambridge from 15th February to 26th April. Solo exhibition of work by Linder. More information here.
Radical Materialities: Linder and Companion Histories, Friday 13th March (Murray Edwards College, Cambridge) and Saturday 14th March (Kettle's Yard, Cambridge). Kettle's Yard and the Paul Mellon Centre for Studies in British Art host a conference that reflects on Linder's five-decade-long career, and the many contexts in which she has practised, hosted in Cambridge. More information here.
Performance: Bower of Bliss: An Improper Architecture, Kettle's Yard, Saturday 14 March, 6.30pm. A new performance with music and dance in collaboration with the New Hall Art Collection at Murray Edwards College. Tickets £10 / £5. More information here.
Circuit Social: Bower of Bliss, Kettle's Yard, Cambridge, Tuesday 21st April, 6pm to 8pm. Screening of the English premiere of Linder's film Bower of Bliss produced in 2018 for Glasgow Women's Library. Tickets £5 (free for students). More information here.
Related Events