Beyond 'Women's Realm': 21 Revolutions at Aye Write
11th April, 2014, 7:30pm

to

8:30pm

£8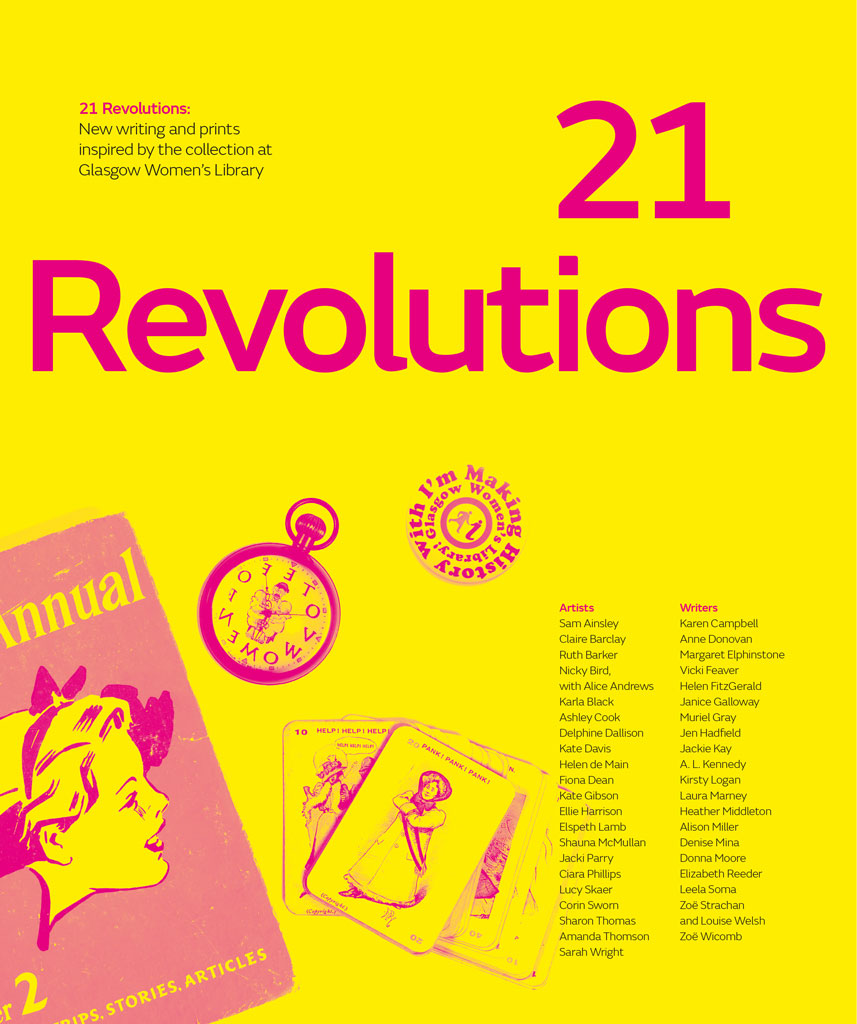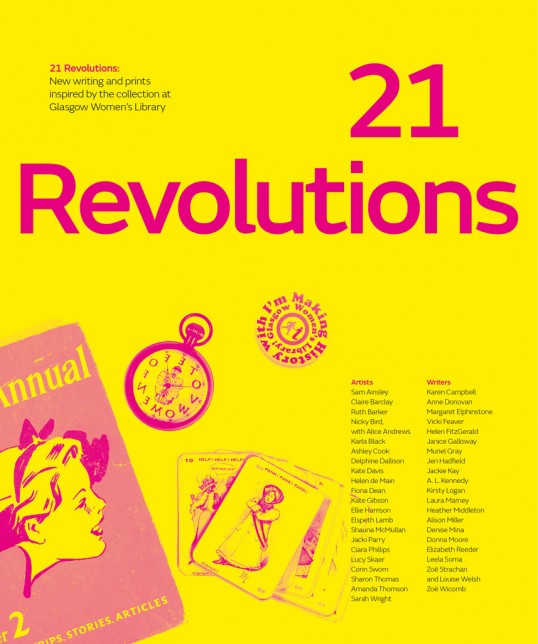 Beyond 'Women's Realm': writers and artists finding inspiration in the world of women's writing.
The award-winning 21 Revolutions project saw 21 women writers and 21 women artists draw inspiration from the collections at Glasgow Women's Library. As the 21 Revolutions book is launched to the highest acclaim and in a context where both feminism and women creatives are on the ascendant, this is a rare opportunity to join artists and writers, including bestselling authors Alison Miller and Laura Marney, artist and curator Helen de Main, artist Shauna McMullan and co-founder of Glasgow Women's Library and editor of 21 Revolutions, Adele Patrick, in a sparkling discussion about how a treasure trove of literary classics, trailblazing texts of women's liberation and the legendary magazine Spare Rib fuelled their imagination.
Booking
Tickets for this event are £8 plus booking fee via the Aye Write! website. We unfortunately can't take any bookings for this event directly.
In 2012 Glasgow Women's Library celebrated its 21st birthday. To mark two decades of life-changing work, GWL commissioned 21 internationally renowned artists and 21 published writers to create new works inspired by our unique museum, archive and library collections. The resulting fine art prints, poems and creative writing have been brought together with the sources that inspired the work in a superb book alongside essays by Fiona Bradley, Director of the Fruitmarket Gallery, writer and journalist Lesley McDowell, and co-founder of Glasgow Women's Library Adele Patrick.
Buy it for your daughters, mothers and grandmothers, but make sure your sons read it too

Dr Elspeth King, Director, Stirling Smith Art Gallery and Museum
21 Revolutions is a beautiful, lushly illustrated, enlightening and readable book. It is a large format paperback with the highest quality reproductions throughout, with fascinating new creative writing and scintillating essays. We have included artists' and writers' biographies, information about how they approached making their creative responses, as well as a detailed survey of numerous resources from the collection used in the creation of these 42 new works.
The 21 Revolutions publication was launched on International Women's Day 2014 (8th March), and is available to order now from the GWL website. The book will be available at the Library from 8th March. A 10% discount is available to Friends of GWL.
The book costs £25, plus £4 P&P in the UK, or £10 P&P internationally.
21 Revolutions: The Contributors
The participating visual artists in 21 Revolutions are:
Sam Ainsley
Claire Barclay
Ruth Barker
Karla Black
Nicky Bird, with Alice Andrews
Ashley Cook
Delphine Dallison
Kate Davis
Fiona Dean
Helen de Main
Kate Gibson
Ellie Harrison
Elspeth Lamb
Shauna McMullan
Jacki Parry
Ciara Phillips
Lucy Skaer
Corin Sworn
Sharon Thomas
Amanda Thomson
Sarah Wright
The participating writers are:
Karen Campbell
Anne Donovan
Margaret Elphinstone
Vicki Feaver
Helen Fitzgerald
Janice Galloway
Muriel Gray
Jen Hadfield
Jackie Kay
A. L. Kennedy
Kirsty Logan
Laura Marney
Heather Middleton
Alison Miller
Denise Mina
Donna Moore
Elizabeth Reeder
Leela Soma
Zoë Strachan
Louise Welsh
Zoë Wicomb