Edith Simon (1917-2003) – artist, writer, playwright, historian, translator, illustrator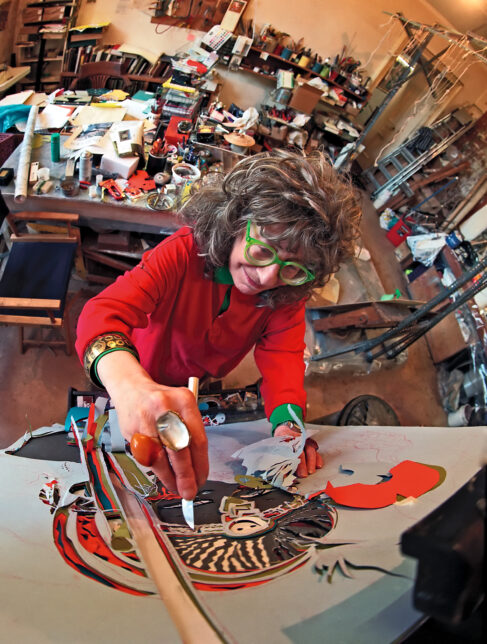 Edith Simon was born in Berlin Germany, in 1917. She excelled at art and history in school – in 1927, at the age of ten, her drawings were published in a newspaper.
Edith's family were agnostic Jews, and as the political climate of Germany changed, they relocated to London for their continued safety. Edith arrived in England in 1932, teaching herself English and continuing with her Art Studies. She attended the Slade School of Fine Art and Central School of Art and Design before becoming an illustrator of books.
In 1933 Edith was a founding member of the Artists International Association (AIA) – a 'radically leftist' exhibiting society, which held exhibitions and events to promote and support political causes.
In 1937 Edith wrote and illustrated her first published book for children – Somersaults and Strange Company.
Edith met, and married, the geneticist Eric Reeve in 1942. The pair moved to Edinburgh in 1947, and lived there for the rest of Edith's life. Edith continued her full-time career as a writer, and had seventeen books published between 1937 and 1972, consisting of historical works, and historical and contemporary fiction. The story goes that she stopped writing because a publisher refused to publish her latest novel about the assassination of Queen Elizabeth II, believing it to be controversial and unacceptable.
There is a fairly clear demarcation between Edith's long and successful writing career, and her return to the art world. An exhibition at the Demarco Gallery in Edinburgh in 1970 was followed in 1971 by an exhibition of mobile sculptures and papercut bias-relief pictures at Galerie Balans in Amsterdam, and at the Stads Schourburg Galerie Tilbourg. There are throughlines between these two illustrious careers though – specifically Edith's interest in people, and depicting their 'essence' as accurately as possible, through her writing or her art
"Sometimes people knowing nothing about you ask whether you "do" landscapes or animals or figurework, etc. My answer is, of course, "Everything; anything" which is no more than the truth; though I might reply that my main and surpassing interest is, People, whom I am forever wanting to depict and interpret – often in meaningful conjunction with everything else you might think of."
Between 1970 and 2001 Edith had an exhibition every single year at the Edinburgh Festival Fringe. She seemed to be constantly experimenting with techniques and processes, resulting in a prolific output – over 800 pieces of art over her lifetime, utilising a vast array of materials, from cold-cast bronze and textile sculptures, to painted chairs and baths.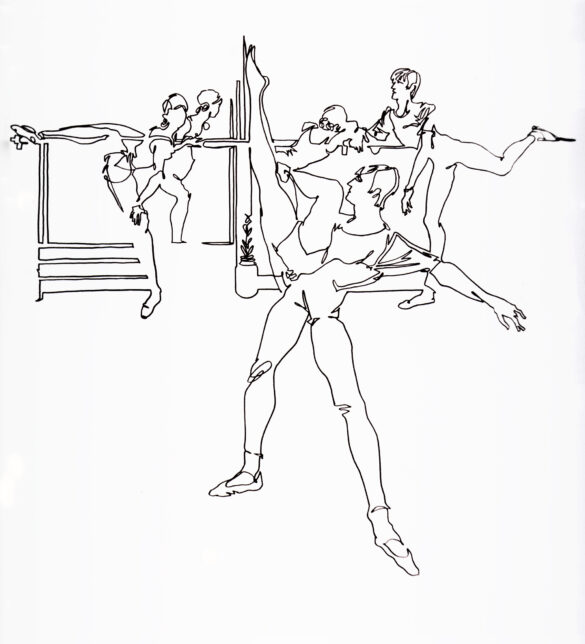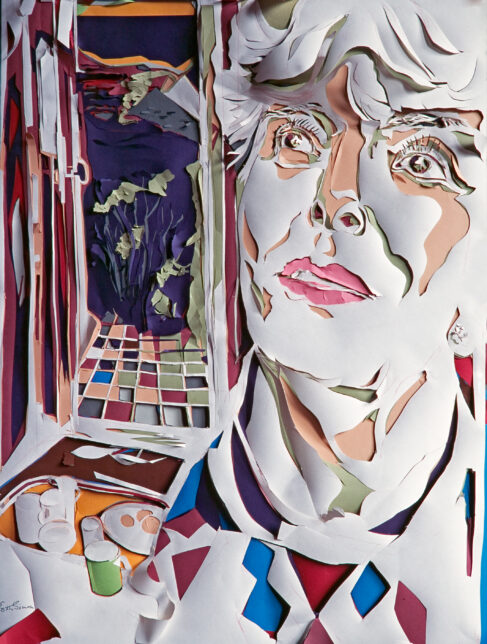 There is clear evidence of her work evolving over time, of her never resting in one easy lane. When her Continuous Line Drawings were no longer a challenge, rope sculptures were a logical 3-dimensionsal extension of her skills. Arguably, she was most famous for her Scalpel Paintings. Edith had originally called this technique 'papercut bias relief' but then coined the far more dynamic and evocative term 'scalpel painting'. These papercuts gradually increased in difficulty with more and more layers of different coloured paper. Taking on average three weeks upwards per painting, this technique required Edith to be able to 'see' what the finished picture would look like before even putting scalpel to paper, to envisage the three dimensional layers of colours that created highlight and shadow tones without outer layers falling off.
"Making true portraits requires three indispensable elements: skill (see also talent), particular as distinct from general intention, and an X-ray-like penetration. Clairvoyance, clear-sight in the literal sense, would be a better word for that."
'Moderation Be Damned' is an illustrated study of Edith Simon's life and work. 128 pages featuring over 200 full color illustrations & featuring a cd catalogue of her work. Copies are available by request by contacting info@edith-simon.com (£25 + postage)

Open the Door 2021
In Conversation with Kate Charlesworth and Shazleen Khan
Further links of interest:
Papers held at National Library of Scotland Archive and Manuscripts https://manuscripts.nls.uk/repositories/2/resources/19649
Article in 'Discover' magazine by curator Sally Harrower. Issue 35, Summer 2017 and also at http://www.edith-simon.com/files/National-Library-of-Scotland-article.pdf

www.therecessionists.co.uk/guests/edith-simon

www.heraldscotland.com/news/11889246.edith-
simon-original-artist-with-unflagging-creative-energy/