Biography
Words by Jess Orr. Additional words from the introduction to Coogit Bairns (Red Squirrel Press, 2015).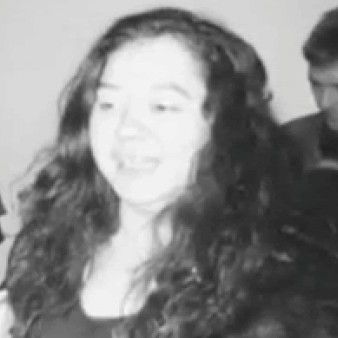 Sandie Craigie was a performance poet of Edinburgh with a strong personality and a great sense of humour. She was a product of Edinburgh's Cowgate, a fun and feisty individual who grew up during the punk era and was infected by the political turmoil and anger on the streets at the time. Sandie used this energy on both page and stage, never lecturing her audience but always inviting them to think about things in a new way. Sandie wrote and spoke in a lean, tough vernacular, which was (in her own words) "a wee bit sweary". She called herself an anarchist and took part in many political protests. Yet, along with her anger and passion for social justice, she brought heart and soul to the poetry scenes of Edinburgh and Glasgow, wow-ing the crowds, even those who claimed they didn't want to hear poetry.
Despite the wide acclaim and reputation she gained, she never saw much financial reward for her work. Tragically she took her own life aged 42 in 2005 in Edinburgh, after what is believed to have been a period of poor health, leaving behind a scattering of poetry, some short stories, and a play for the Traverse Theatre which is now archived at the National Library of Scotland. Friends and supporters of Craigie's work, including fellow Scottish writers Tom Leonard, Irvine Welsh, James Kelman, Laura Hird and Kevin Cadwallander, published a collection of her poetry in 2015, Coogit Bairns, which is published by Red Squirrel Press.
Below you can listen to a recording of Sandie Craigie performing 'Mother'.
Extracts from Poems by Sandie Craigie
All poems taken from Coogit Bairns (Red Squirrel Press, 2015)
a want tae be
a want tae be
blue lipped an rowdy haired
loud an crass
an ooty
sync
an accidental overdose
the chaos in a chaotic crowd
a car crash in yir neighbourhood
Woman
She is the wind and the sun
the blue that bleeds red
the wordless poet
the voiceless song
the crucifix… and the bed.
Falling Awake
First the visor falls, and I watch
as distances grown from the
misdevil, blinkered landscapes
I once knew
to the wilderness you call
reality
Then as chains
rust and break
I walk on
leaving my sleeping footsteps in this land of red dust
as a final epigraph to memory
Film by Jessica Secmezsoy-Urquhart
Film by History graduate, Writer, Filmmaker, and GWL volunteer Jessica Secmezsoy-Urquhart.
A film introducing Sandie Craigie.

What others said about Sandie…
'Sandie was a young woman of extraordinary personality. Most remember her as having a great sense of humour. She seemed tough, though evidently not as tough as she pretended. Public performance was her métier and for more than a decade she had been part of Edinburgh's "scene"' . . . She had begun to be an icon for down to earth self expression, the antidote to decades of snobbery and cliques. A way out politico of the working class, Sandie thought even our bookshop was a bit too smart for her. By the literary establishment she was seen as working class, a woman, Scots-spoken and plain spoken one at that, poor, uneducated and never looking particularly glamourous or appropriately dressed . . . Sandie was a force to be reckoned with, and our guilt is that we did not respond to the force sufficiently while we had her among us'

– from 'Edinburgh's Stargazing Amazon' by Sally Evans