Biography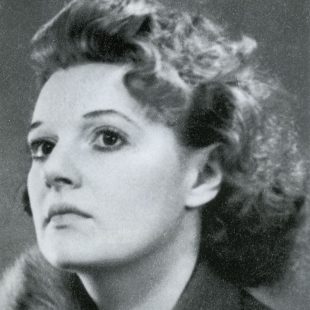 Muriel Spark was educated in Edinburgh, became editor of Poetry Review, and later published a series of biographies on figures like William Wordsworth, Mary Shelley and Emily Brontë. While she largely considered herself a poet, Spark built up an impressive career for herself as a novelist and short story writer. After The Comforters, two more novels soon followed —Memento Mori (1959) and The Ballad of Peckham Rye (1960). But it was her tale of a teacher at a girls' school that really brought her widespread commercial success, The Prime of Miss Jean Brodie (1961). Marcia Blaine's School for Girls, which features in the novel, is based on James Gillespie's School in Edinburgh, and Jean Brodie herself based on Miss Kay from Spark's own experience at the school.
Nevertheless, she also had an ambiguous relationship with Scotland and spent many years abroad. At the age of 19, she married Sydney Oswald "Ossie" Spark. The couple sailed to Africa soon after they wed. The union proved to be a brief and turbulent one. She had a son, Robin, with her husband before the pair split up. For a time, Spark supported herself doing odd jobs. She returned to England during World War II, leaving her son in Africa in the care of some nuns. By the end of the 1960s, Spark moved to Italy. She lived in Rome for many years. There Spark met artist Penelope Jardine. The pair became inseparable, eventually setting up house together in Tuscany. Jardine acted as Spark's aide and companion.
As her career progressed, Spark continued to explore both the dark and light sides of life in her work. 2018 is the centenary of Muriel Spark's birthday. #MurielSpark100
Film by Eirene Wallace
A film introducing the life and work of Muriel Spark made by filmmaking graduate and GWL volunteer Eirene Wallace.
See more of Eirene's work at: http://cargocollective.com/eirenewallace
Muriel Spark Film by Eirene Wallace from Glasgow Women's Library on Vimeo.
Quotes
'It was Edinburgh that bred within me the conditions of exiledom; and what have I been doing since then but moving from exile to exile: it has ceased to be a fate, it has become a calling'
– 'What Images Return' in Memoirs of a Modern Scotland
'She wasn't a person to whom things happen. She did all the happenings.'
― from Aiding and Abetting
'It never really occurred to her that literary men, if they like women at all, do not want literary women but girls."
― from The Girls of Slender Means
What others had to say about Muriel…
"Muriel Spark is not only the greatest Scottish novelist of the second half of the twentieth century, she is one of the world's greatest writers. She may be best known for The Prime of Miss Jean Brodie but that is only one among many of her books that deserves to be read and re-read."

― Alan Taylor, Founding editor of The Scottish Review of Books and Author of Appointment in Arezzo: A friendship with Muriel Spark (2017, Birlinn/Polygon).
Hannah Van Hove and 'Narrative Experiments'
Read a fascinating blog post on reading Muriel Spark from Hannah Van Hove who is currently researching and writing at Glasgow Women's Library ahead of 'Narrative Experiments' on Saturday 25th August,  which will spend an afternoon exploring the influences and legacies of the experimental women writers Christine Brooke-Rose, Anna Kavan, Ann Quin, and Muriel Spark.