We're delighted to be launching our new Summer programme! This season our 30th Anniversary project Three Decades of Changing Minds picks up momentum alongside lots of amazing events and exhibitions taking place in the library, online and outdoors!
A lot of our events are taking place in person again but we are still running some online. We know that it's helpful to know what to expect when booking on to online events so we've written a blog which you can find here, telling you a bit more about the booking process and how we create a friendly space online.
All our events are listed on our website under upcoming events and you can book online or email info@womenslibrary.org.uk for more information. Below you'll find all our events listed in date order with a web link to where you can find out more and book a free place. Enjoy exploring what's on!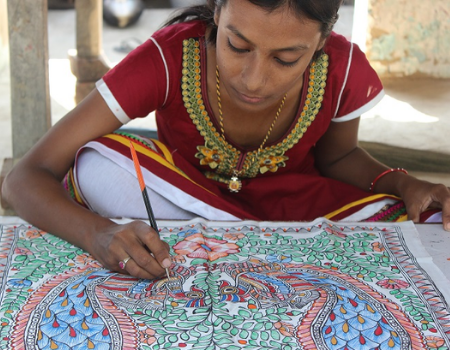 Events at a Glance
Exhibitions
Making Her Mark – Tuesday 7th June to Thursday 28th July
Wilhelmina Barns-Graham: Colour In Motion – Saturday 11th June to Thursday 28th July
Making Her Mark – Thursday 4th August to Thursday 1st September at Kairos Women+
JUNE
Wednesday 1st: Significant Others: Maud Sulter in Relation, Online – Book here
Thursday 2nd: Spark my Words, In Person (Glasgow Green) – Book here
Monday 6th June: Open Book, Zoom – Book here
Wednesday 8th: Sister Earth – Story Café, Online –
Thursday 9th: Spark My Words, In Person (Glasgow Green) – Book here
Saturday 11th: Misogyny and Other Monsters: , In Person – Book Here
Thursday 16th: Spark My Words, In Person (Glasgow Green) – Book here
Saturday 25th: Garnethill Women's Heritage walk, In Person – Book here
JUNE
Wednesday 1st: Significant Others: Maud Sulter in Relation, Online – Book here
Thursday 2nd: Spark my Words, In Person (Glasgow Green) – Book here
Monday 6th June: Open Book, Zoom – Book here
Wednesday 8th: Sister Earth – Story Café, Online –
Thursday 9th: Spark My Words, In Person (Glasgow Green) – Book here
Saturday 11th: Misogyny and Other Monsters: , In Person – Book Here
Thursday 16th: Spark My Words, In Person (Glasgow Green) – Book here
Saturday 25th: Garnethill Women's Heritage walk, In Person – Book here
JUNE
Wednesday 1st: Significant Others: Maud Sulter in Relation, Online – Book here
Thursday 2nd: Spark my Words, In Person (Glasgow Green) – Book here
Monday 6th June: Open Book, Zoom – Book here
Wednesday 8th: Sister Earth – Story Café, Online –
Thursday 9th: Spark My Words, In Person (Glasgow Green) – Book here
Saturday 11th: Misogyny and Other Monsters: , In Person – Book Here
Thursday 16th: Spark My Words, In Person (Glasgow Green) – Book here
Saturday 25th: Garnethill Women's Heritage walk, In Person – Book here
Saturday 25th: Recharge, In Person – Book here
JULY
Monday 4th: Open Book, Online – Book here
Saturday 9th: Misogyny and Other Monsters, In Person – Book here
Saturday 9th: Women of the Gorbals Heritage Walk, In Person – Book here
Saturday 16th: Chameleon – Performance by artist Bob Kil, In Person – Book here
Monday 18th: UK India Dosti – Indian Folk Art Festival, In Person and Online – Book here
Wednesday 20th: UK India Dosti – Indian Folk Art Festival, In Person and Online – Book here
Friday 22nd: UK India Dosti – Indian Folk Art Festival, In Person and Online – Book here
AUGUST
Monday 1st: Open Book, Online – Book here
Saturday 6th: One-Hour Women's East End Heritage Walk, In Person – Book here
Saturday 13th: Misogyny and Other Monsters, In Person – Book here
Thursday 18th: Sisters, Daughters, Wives, Resilient Lives – Story Café, In Person – Book here
Saturday 20th: Over 55's Women's Heritage Bike Ride, In Person – Book here
Thursday 25th: Story Café, In Person – Book here
SEPTEMBER
Thursday 1st: Story Café: Bubbles: Parenting in the Pandemic, In Person – Book here
Friday 2nd: Spark My Words, 11am -1pm, In Person (Glasgow Green) – Book here
Saturday 3rd: Necropolis Women's Heritage Walk, In Person – Book here
Monday 5th: Open Book, Online – Book here
Friday 9th: Spark My Words, In Person (Glasgow Green) – Book here
Saturday 10th: Misogyny and Other Monsters, In Person – Book here
Saturday 10th: Human Echoes, Online and In Person at GWL – Book here
Friday 23rd : Spark My Words, In Person (Glasgow Green) – Book here
Thursday 29th: Story café, In Person – Book here