Hi! Welcome back to my blog. My name is Ruoying and I'm doing my three-month placement at GWL. This time, I'm bringing an interview with my grandmother, Li Julan (李菊兰), who will turn 81 this year. She worked at the library for 30 years before retirement and served as the deputy director of our hometown's city library, Huzhou City Library, China. As a female librarian, she has devoted her life to the development of the library since the 1970s. After retirement, she writes her memoir and prints it out for family and friends. I hope this interview will bring some firsthand account of the development of the library before the information era and women's contribution to it. The interview was in Chinese, and I translated it into English.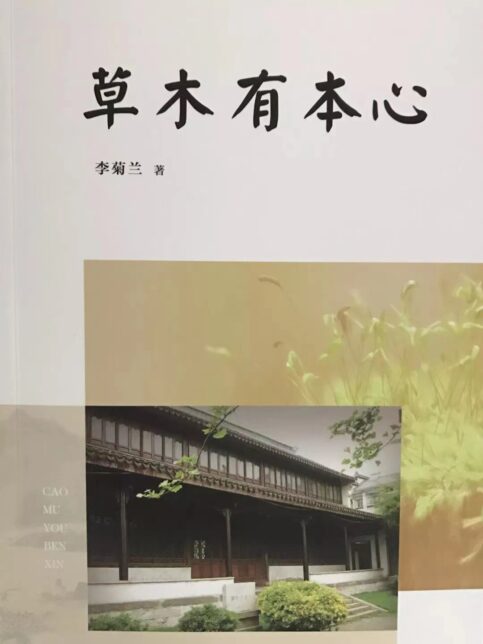 Q: Why did you choose to work in a library?
A: I was 16 years old when I graduated from a secondary normal school and was assigned to teach Chinese and math at a village school. It was in 1958. There were 123 students but only one classroom in a dilapidated temple. I taught the first grade in the morning and the rest three grades in the afternoon. After one semester, I could not continue due to pharyngitis and oedema. Therefore, I was transferred to the county culture station, where I was responsible for organising events for the local people, including exhibitions, public performances, and sports activities. During the farming season, I also worked on the farms and lived with local farmers. At the culture station, I established 23 village book stops and made 23 mobile book boxes, each with 50 books. This was my first contact with library work.
In 1970, I was officially arranged to work in the library, which was the beginning of my 30 years of library journey. (During the planned economy, jobs were assigned in China) I felt very happy to be able to work in the library because this was my long-cherished career. It should be noted that before the 1980s, there were no professional librarians with a degree in Library and Information Management. I was a teacher who graduated from a normal school and was very new to library work. When I first arrived at the library, I thought that borrowing and returning books for readers based on the "call number" was everything I needed to do.
Q: How was the library at that time? What is your work at the library?
A: Before the 1980s, the predecessor of Huzhou Library, "Wuxing County Library", was located in the Yunhai Building (韵海楼) covering 340 square meters with 80,000 books and an annual grant of 80,000 Yuan. (the then average monthly salary was about 40 yuan) There was a reading room, a borrowing table, and a set of "classified" card catalogues for readers. Borrowing and returning books all required manual work. There was another department responsible for mobile book stations in villages.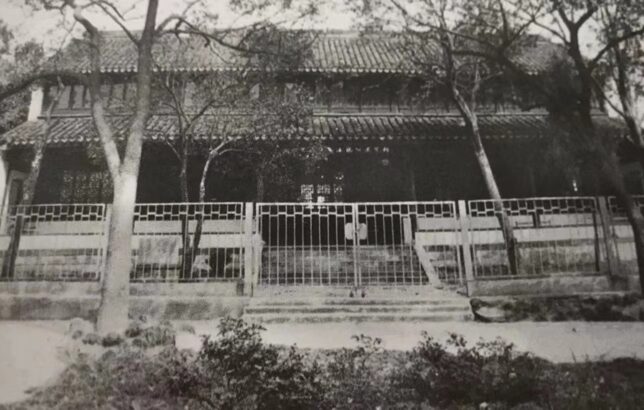 After 1980, the staff number increased from 2 to 5, and all of them were women. We were called "Five Golden Flowers". (Golden flower is a commonly used term to describe women in China and is still used today) Young librarians also took books to remote villages manually from time to time, with their kids on the back. The library has four departments: "Acquisition and Editing", "Lending", "Reading" and "Office". I was assigned to the Acquisition and Editing Department and later served as its director. This department was responsible for finding books and cataloguing them. Staff also repaired old books and bound newspapers. Later, Wuxing County Library was upgraded to Huzhou City Library. The cultural authority required that each public library must have seven sets of catalogues for the convenience of readers: "Category Catalog", "Book Title Catalog", "Holdings Catalogue" ", "Reader Directory", etc. There was no computer cataloguing system, and everything depended on the staff. We carved wax paper on the steel plate with a stylus, put it on a small mimeograph that was slightly larger than the card, printed manually, and finally arranged the cards. This work hurt my eyes and was very untidy.
In 1996, our library changed the original card catalogue system into a new computer-readable bibliographic catalogue. Computer technology was a blind point for me at that time. In order to make a plan for the project, I checked many books and publications. I can still remember those days and even the exact date. On June 5th, 1996, a six-person input team began to work and digitalized 90,000 items by September 12th. On the afternoon of December 20th, the computer lending program opened officially and there were altogether 100,000 items in the system for readers and staff to consult, which ended the history of manual borrowing and returning.
In 1992, we moved into the new building with 4,200 square meters. I arranged the move, which included internal clean-up, book collection and furniture move, department setting and layout, as well as rack identification and indexing. Currently, the library is located in another new building since 2005. Compared with the library in the 1970s and 1980s: the number of staff increased from 2 to 42; we now hold 1.102 million books in our collection instead of only 80,000 books, and the annual state funding rise from 80,000 to 10 million yuan (currently 8.4 yuan ≈ 1 pound). The data of the books in the collection is also managed by the computer system. Readers can quickly complete the procedures by consulting the electronic catalogue, which is not only convenient for readers but also reduces the labour of loading and unloading. There are activities inside the library such as films, lectures, and book seminars and many volunteers contribute to the daily maintenance of the library.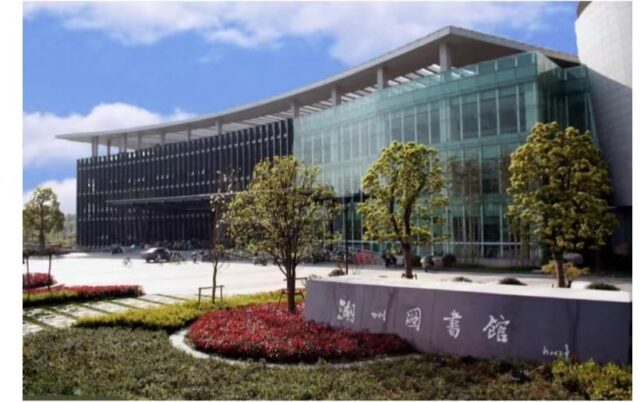 Q: What are the difficulties and challenges you encountered and how did you overcome them?
A: I felt that I didn't know much about practical business and technology when I first arrived at the library. I had no choice but to devote double effort to studying library science systematically by myself. I learned altogether 9 courses on my own, including "Introduction to Library Science", "Information Science", and "Introduction to Bibliography". At the same time, I participated in "Book Classification" and "Book Cataloging" training sessions organized by the Provincial Department of Culture, as well as the curator training courses. I listened carefully and recorded them in detail, and consulted the books and periodicals subscribed by our library after class. In two years, I mastered the theoretical knowledge and operational skills of the library with 100,000 words of notes.
The shortage of library professionals in our country was well known, and at that time there were very few college students who graduated with library majors even in provincial libraries. The shortage of talents not only hindered the development of libraries but also was very unsuitable for social development and people's requirements. Talent had become a priority. I attached great importance to and set out to train incumbents. Due to the lack of information, I had to do everything from scratch by myself. I first compiled and printed a textbook Principles and Methods of Book Classification and Book Cataloging and organized training in the library. In addition to the lectures, there were also tutorials and seminars. The atmosphere of the training class was very active, and the result was very desirable. In 1985, a year after I was appointed the deputy director, our library and local University held a Library Professional program with 14 courses, which lasted for two years, and 20 students graduated successfully. I was the lecturer for three courses. In 1999, the Municipal Library Society hold a training session for updates in China Library Law and used the comparison table for the third and the fourth editions of Chinese Library Law compiled by me. A total of 230 people were trained in the seven training sessions.
Inspired by an internal booklet, I came up with the idea of establishing a new set of rules and regulations to modernise the library management system, which would combine staff responsibility, power, and interests organically. It took me 10 years from 1985 to 1995 to establish the norms for management, departmental and individual responsibilities, technical operation, and assessment. The establishment of this management system was not smooth sailing but very tiring, and there were many difficulties and pressures. When faced with people who did not understand my project, I told them that I am never afraid of challenges and "the only thing I am worried about is your cowardice." I finally succeeded.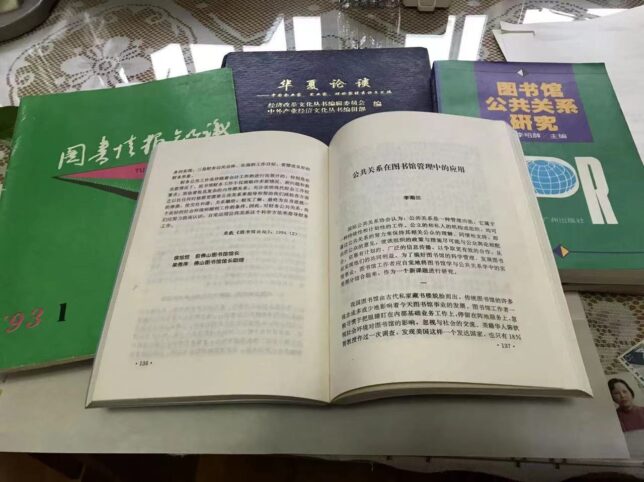 In 1988, I presented the management project to the annual meeting of the Municipal Bureau of Culture and my plans were promoted to 10 subordinate units and three county libraries, including Changxing County Library, my hometown. (Changxing is a subordinate county of Huzhou city) My paper "Long-term Management of Library Post" was published in Library Research and Work and was indicated on the cover as a key paper, which received a positive review. 18 colleges and city libraries came to our library to ask for materials for reference. Because of my contribution to the improvement and development of our city's library, I was awarded "3.8 Women Pacesetter." (A Chinese award for prominent women with its name originated on March 8th International Women's Day) I was also elected to the Municipal People's Congress and hired as a member of the Huzhou CPPCC (Chinese People's Political Consultative Conference). During my term of office, I proposed to improve the library's environment, facilities, and working conditions.
Whenever I accept a work assignment, I always eliminate all kinds of interference and have to break through the resistance from all parties. Working is never easy and there's always a mental and physical price to pay. However, after hard work, the sense of accomplishment from making breakthroughs in technological innovation or finishing a project successfully is unparalleled. This is what I call "Working is Beautiful".
Q: What do you think about a Women's Library?
A: The first time I saw the term "Women's Library", I thought that the staff of the library were all women, and it only opens to female readers. Regarding the women's library, I think its establishment reflects the social progress and respect for women.
Q: What's your expectation for future libraries?
A: First, I think libraries should learn more about readers, such as what technical problems they encounter? What research results have they obtained? Etc. Libraries should also organize activities such as reading seminars and exhibitions to encourage reading.
Second, the important role of public relations in the library should be carried forward.
Third, the biggest role of the library is to provide readers with information, literature and reference. The necessity for the library to adopt a "tracking service" will be greatly welcomed by readers, which will allow the library to meet readers' needs through interlibrary loans and ordering from the publishing department.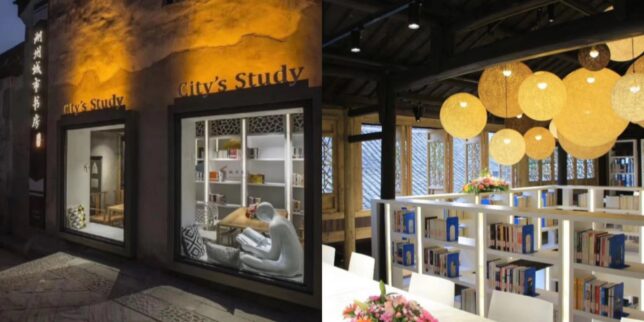 Fourth, is the establishment of grassroots libraries. In the past, accessibility is not very desirable. As I mentioned before, librarians had to carry the bookcases on their backs to villages. Currently, we have City Studies located in every corner of the city. I do hope that we will have more city studies and the mobile book stops everywhere.
Fifth, libraries should collect materials to build a "special library" based on its advantages and collection. I hope we will have libraries with characteristics like the Glasgow Women's Library.
Thank you very much for reading my blog. Please do not hesitate to leave me comments!
Pictures:
Picture 1, 2, 4 are provided by the interviewee
Picture 3 and 5: http://www.hztsg.com/lib/Index.html