From Wednesday 05 January we are delighted to announce that Glasgow Women's Library will operate with extended opening hours.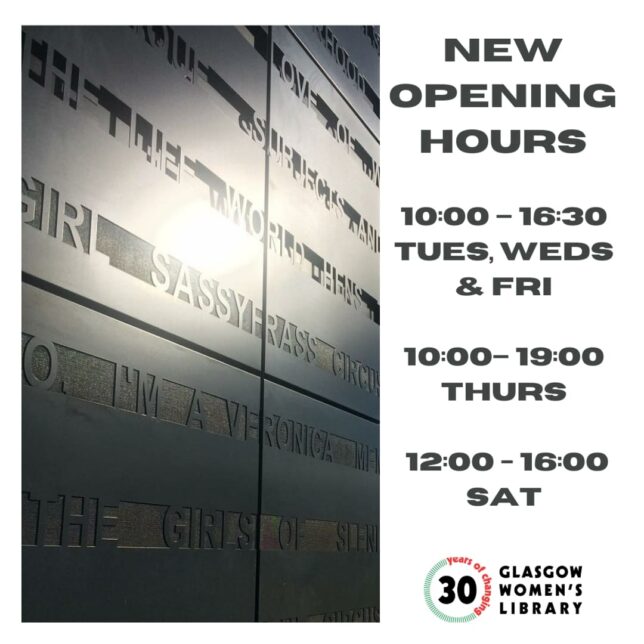 Going forward we will be open to the public from 10am – 4.30pm every Tuesday, Wednesday and Friday, 10am – 7pm every Thursday and 12noon – 4pm on Saturdays.
We will regularly review our opening hours in response to the Covid-19 situation, so please do keep in touch with us via our website and social media.
The safety and wellbeing of our staff, volunteers and visitors remains our top priority and our safety measures, including social distancing, mask wearing, hand sanitising and handwashing points, and regular cleaning, will continue to be in place.
Frequently Asked Questions about GWL's Re-opening
We are really looking forward to welcoming you to Glasgow Women's Library, whether you are a first time or a regular visitor.
Below are some answers to questions you might have about visiting GWL while Covid-19 is still a prevalent threat.
When is Glasgow Women's Library open to the public?
We are taking a phased approach to re-opening GWL. We will open with extended hours from Wednesday 05 January 2022.
Our current opening hours are:
Tuesday: 10am-4.30pm
Wednesday: 10am-4.30pm
Thursday: 10am – 7pm
Friday: 10am-4.30pm
Saturday 12noon-4pm
Closed: Sunday and Monday
We regularly review these hours following government guidance and will communicate any changes via our website and social media. You can also contact us to check that we are open. You can call us on 0141 550 2267 or email info@womenslibrary.org.uk
Do I need to book in advance or can I just turn up?
There is no need to book a visit in advance. If you want to borrow books, we invite you to browse our shelves respectfully and place any books you touch but don't borrow on our 'Changed Your Mind' trolley. You can also use our 'Select and Collect' book borrowing service – and we'll have your chosen books ready for you to collect when you come in to the library.
Will I have to queue?
It is unlikely that you will need to queue, but if this is necessary, our staff will be on hand to help everyone to follow social distancing guidelines while in the queue.
Will I need to wear a face covering?
Yes, unless you are exempt.
Will staff be wearing face coverings or PPE?
Yes, staff and volunteers will wear face masks while walking around the Library, and the staff on Front of House / Reception will be behind screens. Staff working in non-public offices will not be required to wear face masks whilst at their desks but will be observing social distancing.
Will hand sanitiser be available?
Yes, hand sanitiser is in place when you come in, and at plenty of clearly signed locations around the Library.
What extra safety measures will be taken to ensure visitors and staff are protected?
Our priority is the health and safety of our staff, volunteers and visitors and so we have made several changes to ensure that everyone is protected.
In addition to the new safety and hygiene measures mentioned above, we have installed clear screens at Front of House points, and in line with public health and government guidance we will ask you for your contact details for the Test and Protect scheme, so that you can be contacted if anyone who has visited the Library tests positive for Covid-19. Your contact details and all information will be dealt with and held securely in line with GDPR regulations.
Are your toilets open?
Yes, our toilet facilities will be available and we have introduced additional cleaning systems. There are plenty of points for regular hand washing.
Will GWL be hosting any public events or activities in the building?
We have a few events that take place at the library and other venues while most of our events continue to take place online.
Will the Library be available for venue hire / room bookings?
Yes it is. Groups hiring the space will be asked to follow the same guidelines as other visitors. For example, social distancing and wearing face coverings. For more information please email becca.lewis@womenslibrary.org.uk
Will the Library be open as a study space?
Yes, you are welcome to use our tables to work at. We ask that you wear a mask and that you are considerate of the space and our hygiene guidelines. However, if the space becomes busy, we may have to ask you to leave so that social distancing can be maintained. Researchers are able to access the archive collection with prior contact and by appointment only, by emailing info@womenslibrary.org.uk
Will tea and coffee be available?
Sadly, we can't offer you tea or coffee at the moment but our welcome will still be warm, and any staff wearing a GWL badge will be happy to help you, or answer any questions or concerns you might have.
Will I be able to buy merchandise from the GWL shop?
Yes, but we can only accept payments by card and we ask that the items are not handled – please ask a staff member if you wish to buy an item. You can also buy online.
Will I be able to talk to GWL staff?
Yes. All of our staff have had special training to ensure they are fully aware of all of the guidance and will be available to safely support your visit to GWL.
Please feel free to talk to us at any point during your visit – we can be easily identified by our GWL badges.
What happens if a staff member who has been working in the Library becomes ill with Coronavirus?
If a member of staff is suspected of contracting Covid-19, team members who have come into contact with that colleague will self-isolate for 14 days and we will instigate our Test and Protect procedures to contact visitors to GWL that coincide with that colleague being on duty. We might have to pause our services, depending on our capacity, and updates will be provided on our website and Social Media platforms.
What if I have had Coronavirus symptoms?
You must not visit if you have any symptoms of Coronavirus.
Please follow government guidelines regarding testing and self isolating.
Do you comply with the Good To Go Charter?
Yes! We're delighted to have been awarded the Visit Scotland's 'We're Good to Go' industry charter mark. This means we meet all the required health and safety processes in place to ensure our visitors have a safe and enjoyable visit.
How long will these measures be in place?
The current measures are in line with Scottish Government guidelines and legislation, and will enable us to accommodate and protect our staff, volunteers and visitors. We are reviewing our approach regularly, so these measures may change as advice from the Scottish Government is updated.
My question isn't answered here, how can I find the answer to my question?
If you haven't been able to find the answer to your question here, please email us at info@womenslibrary.org.uk or call us during our opening hours on 0141 550 2267.
What if I have some feedback?
We are continually reviewing our approach and working practices, and appreciate your patience. We welcome all feedback. If you have any concerns or questions during your visit, please talk to a member of our team – they will be happy to help you. If you would like to make any comments following your visit, please e-mail: info@womenslibrary.org.uk
How can I support GWL?
We really do appreciate the many ways that people support us. During the lock down period, all the revenue we generate in venue hire, through tickets for some events and in shop sales has all been affected. If you feel able to support us to remain open and sustainable we would value your contribution.
You can become a Friend of GWL or make an online donation, or you might want to support our work by buying our merchandise, as all profits go back into GWL.
Please do keep in touch with us via our website and Social Media – you can find us on Facebook, Twitter (@womenslibrary) and Instagram (@womenslibrary).
You can also join our mailing list for monthly updates, or email us at info@womenslibrary.org.uk with any questions, comments or concerns