Glasgow Women's Library has been awarded £19,424 of National Lottery funding to launch a digital volunteering initiative and break down barriers to contributing to and accessing heritage.
This funding is part of The National Lottery Heritage Fund's Digital Skills for Heritage initiative, which aims to raise digital skills and confidence across the whole UK heritage sector.
Seventeen projects across the UK have been awarded funding to create digital volunteering opportunities, supporting volunteers to develop and contribute their digital skills. Some opportunities will be offered online – removing  barriers such as place, mobility, time commitments and confidence in returning to in-person activities due to the pandemic.
In turn, heritage organisations will gain the perspectives and skills of 'at distance' and on-site digital volunteers including many who may not have had the chance to volunteer before. The impact of the new volunteering opportunities and ways of working will be shared across the heritage sector.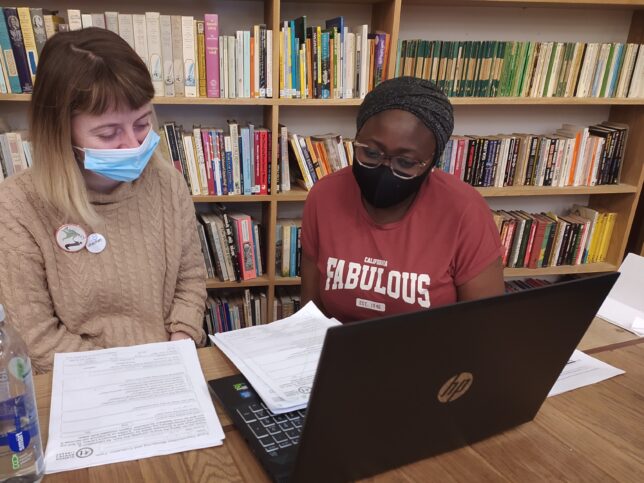 Ros Kerslake, CEO at The National Lottery Heritage Fund, said:
"Volunteers play a crucial role in supporting and sharing the UK's heritage. Thanks to National Lottery players we are delighted to support these trailblazing projects, including Glasgow Women's Library as they create exciting new digital volunteering opportunities, helping to break down barriers and inspire the sector to get even more people involved in the heritage they love."
This funding will enable us to support and train new volunteers from April 2022 to March 2023 in digital and/or remote roles. Volunteers will gain and develop digital and other skills through helping with cataloguing, digitisation, blogging, social media, subtitling videos and podcasting, helping us to make our collections more accessible and to reach new audiences.
"Volunteers have been at the heart of our work since our beginnings in 1991. Over the past three decades the way they support our work has evolved as we have grown and embraced new technology and ways of working. We are therefore very grateful for the support of the National Lottery which will enable us to build on the work we did to keep volunteers engaged and involved during the Covid lockdowns and continue to offer and develop remote and digital volunteering opportunities which allow volunteers to gain essential skills while contributing to making our Accredited Museum's collections better know and more easy to access to people across the country."

Gabrielle Macbeth, Volunteer Co-ordinator
If you would like to find out more about volunteering at GWL visit our Volunteering page here.