Hello, I am Celine. As a student of Literature and Arts from Germany, I was delighted to have the chance of diving into the history of Glasgow Women's Library. It is my pleasure to share with you in a series of twelve blog posts some of the highlights captured in past GWL Newsletters. I hope you enjoy reading about them as much as I did during my placement at this wonderful place and join in the celebration of the Library's 30th Anniversary. You can read the previous two blogs here.
Please note: This blog will mention themes of violence.
Maybe the first thing you do in the morning, is get yourself a cup of tea or coffee and sit down to read the news. No matter if you are following every word that is broadcasted, or if you occasionally pick up a newspaper – the things that happen, do so either way. So, it is of great importance to live in a society that raises awareness to the topics that affect our lives.
For years, Glasgow Women's Library has been raising awareness, programming events, and supporting initiatives that thematise violence against women. Even though gender violence in general is an omnipresent topic, it has been particularly in the news for over eighteen months now, together with the topic of domestic abuse. Issue 1 (1996) of GWL's Newsletter featured an article that captured the experiences of two GWL staff members from their attendance at 'Violence, Abuse and Women's Citizenship: An International Conference', which was held from 10th to 15th November 1996 in Brighton. At the time, it was the largest women's conference held in twenty years. Among many others, featuring themes were pornography, prostitution and the trafficking of women, child abuse / protection, global exploitation of women, and domestic violence. GWL staff handed out information about the Library's work and listened to the reports of the other women sharing their experiences and work.
Booklet cover for 'Elbowroom' exhibition (from the collection at Glasgow Women's Library)
Another big project GWL was involved in happened during the 'Rule of Thumb: Contemporary Art and Human Rights' season in the year 2004/5. A thirteen-month programme featuring exhibitions, workshops, and events exploring human rights and violence against women was set up. The Gallery of Modern Art (GoMA) in Glasgow hosted the 'Elbowroom Exhibition' from 9th December 2004 to 14th February 2005, during the first part of the Rule of Thumb Season. Glasgow Women's Library was one of the four Glasgow-based women's organisations which contributed to this exhibition. Others were Glasgow Women's Aid, Red Road Women's Centre and Base 75. A lot of the people, who had their artworks displayed, were untrained artists. Glasgow Women's Library worked together with the other women to contribute to an Advisory Board in the months leading up to and beyond the launch. The works in the Library, GWL's archive collection, and our experience from working together with women for years, offered information, advice and support in context with this project as we were able to use some of the newspaper cuttings from our collection. Artist, Barbara Kruger, exhibited some of her work on the occasion of 'Rule of Thumb' at GoMA as well. This was the first time she presented her work in Scotland this way. In addition to the focus on local organisations and artists for this exhibition, it was very special to have someone with an international profile contributing with their work. She also paid a visit to the Library herself, which was a hugely morale boosting experience for us all. Photos from the exhibition at GoMA can be found here.
In April 2005, during the second part of the Rule of Thumb Season, 'Voice/Over' launched to be exhibited alongside Barbara Kruger's work at GoMA. 'Voice/Over' was a collection of videos by GWL learners and women from other projects and organisations. Themes of these clips included violence against women, rape, domestic abuse, bullying and forced marriage. They received help with the videos from Lotta Petronella, who is a visual artist and filmmaker, and at the time GWL Writer in Residence Raman Mundair. A lot of information about these exhibitions is captured in reviews of 'Voice/Over' and Barbara Kruger's exhibition, which were both published in Issue 32 of the GWL Newsletter (2005).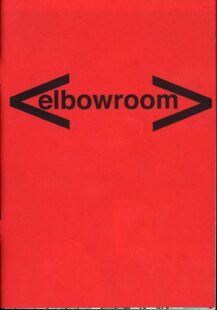 The 'Elbowroom Exhibition' was opened during the month in which the 'UN 16 Days of Action for the Elimination of Violence Against Women' was happening as well. Glasgow Women's Library started taking part in this annual programme in 2004. They hosted the '104 Pairs of Shoes Exhibition' and organised two days of poetry writing workshops. '104 Pairs of Shoes' is a traveling exhibition, wherein each pair of shoes represents one of the 104 women, who are killed each year in the UK due to domestic violence and abuse, according to statistics at the time. Since then, GWL has always been doing something with regards to the '16 Days of Action'. In 2019 we launched the film 'Shifting Sands: A Woman Trapped in a tangle of Power and Control' at Cineworld Silverburn, which you can find more information about here. In 2019, GWL was working with North Ayrshire Women's Aid, who support women and children suffering from domestic abuse. You can read about GWL's 2020 project '16 Days 16 Stories" for 16 Days of Action in this post.
This year we are teaming up with AMINA Muslim Women's Resource Centre to support 16 Days of Action, hosting a training session for community activists around the topic of coercive control in order to raise awareness about this subtle — and often undetected – form of domestic abuse, and the impact it can have. To find out more and to book visit this event page.