As GWL embarks on our 30th anniversary celebrations, we're delighted to share another blog post written by longtime supporter and donor Shirley Henderson. This time, Shirley unfolds a ten-year journey from girl to woman via a treasure trove of pamphlets.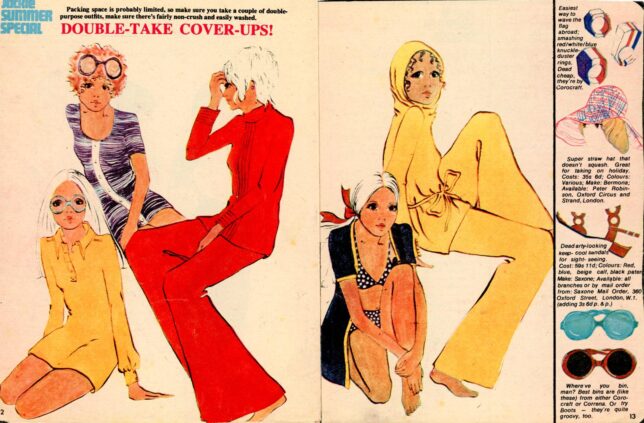 What links the Jackie guide to love and happiness to the Feminist Collective guide to consciousness raising, and the Onlywomen Press guide to self-exam?
What unfolded over the course of a decade of booklets and pamphlets (which I've now sent to GWL for safekeeping)? I'm not sure – but the consciousness raising of 1976 probably had a lot to do with it.
In 1971 I was scrutinising the Jackie guide to love and happiness (using no more than a cocktail stick 'for more accuracy'). You had to rotate the pointer three times anti-clockwise round a 'circle of symbols' with your eyes closed to find the answers to 'What can you tell me about my future husband?' and 'Shall I die an old maid?' and 50 other similar but critical questions. I was triangulating the evidence against the Jackie Star Dating Chart which promised to 'give you advance warning of what to expect!' and also 'Your Jackie Personality Guide' (1970).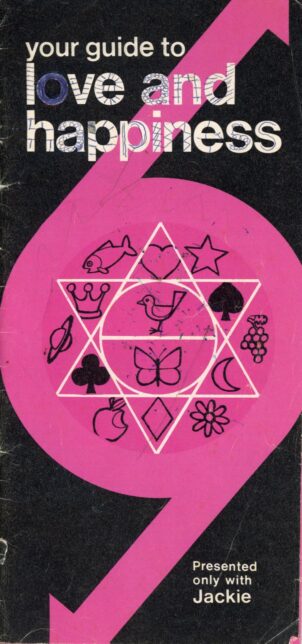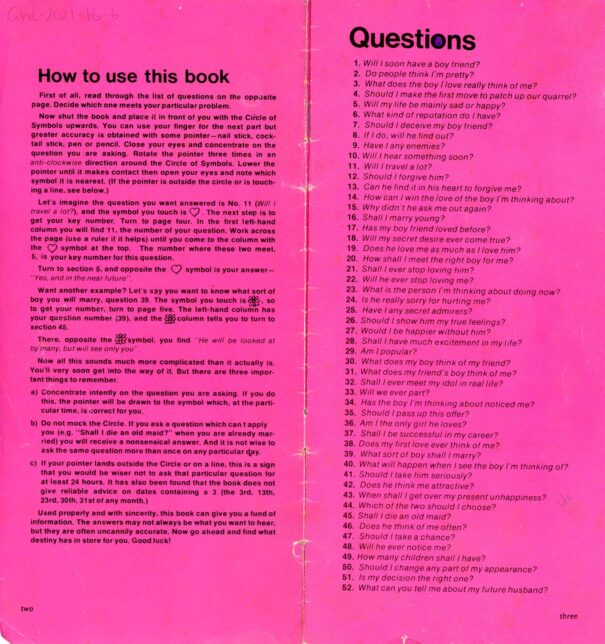 When forced to choose the 'type of male' I might 'study and drool over', from the pen marks it looks like I preferred John Lennon to Tony Blackburn, and George Best to Prince Charles. But what a choice eh?
The clothes in the Jackie Summer Special would draw envious looks now: orange jumpsuits and 'arty' sandals. You could buy 'hipster bellbottoms in denim with 2 in wide belt and buckle for only £2.45 inc p.& p'. Identity bracelets were in fashion, at around 50p. But who needed all that as, in 1971, 'the most important item in any girl's holiday gear [was] – a smile.' Aye right.
The small ads suggest what the future might hold for 'a girl like you'. The National Westminster Bank (courtesy of a Miss Doris Griffin) was offering interviews for young women who wanted to 'advance and be recognised'. You could have your period and swim because Tampax had been invented and said you could.
These well-thumbed pamphlets were so significant to me at the time that I kept them.
So, what do I take from them now?
I suppose I take it that things aren't so very different really. It turned out that all that stuff that Jackie told me in my teens, which I maybe took quite seriously, was made up by the staff who worked on the mag. In fact, the Jackie personality guide even says it: 'This booklet has been devised by the staff of Jackie with you in mind. After you've read it and done what it says, we feel you'll have a better idea of the kind of person you really are.' Years later I was friendly with someone, who by her own admission, said she was one of the staff members having fun making up all that tripe.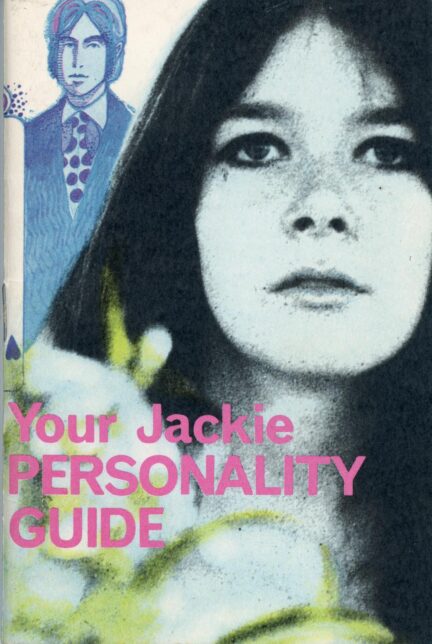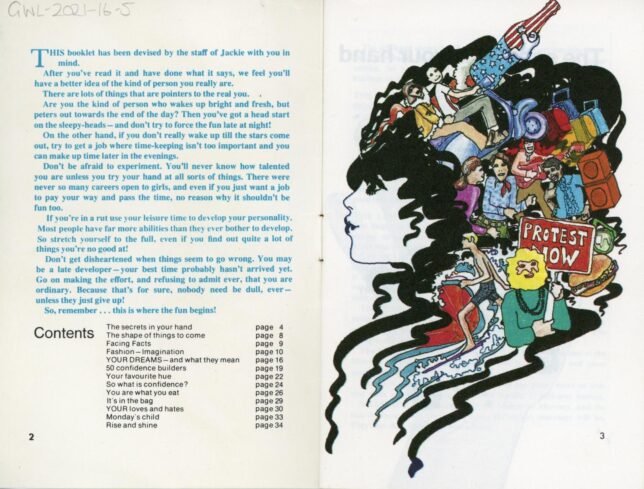 The faking and fantasy aimed at young women persists although by different methods.
I see an odd mix of surprisingly sensible advice, utter claptrap, and sort-of social observation: 'there were never so many careers open to girls, […] even if you just want a job to pay your way and pass the time …' (presumably until you get married???).
There's a visual on page three of the Personality Guide showing the contents of a young woman's mind: men playing guitars, men surfing, men scootering, men draped in love beads with protest banner. Because women could only dream of the men of our dreams? Page 29 says that the contents of your handbag show whether you are practical, shy, self-assured, sentimental and likely to get a shock when you 'REALLY fall in love'.
It tells me that I REALLY did exist in a world when it was OK for young women to expect to work in a bank until marriage, while dreaming of the 'one and only' right kind of man (Mr Right), and keeping in good order for them. Maybe the same women, decades later, who now can't get the [small state] pension they were promised, who found out that Mr Right wouldn't look after them for ever, and that the state wouldn't look after them either. So much for the 'advance warning of what to expect'.
Am I cynical? Maybe. By the middle of the decade, I'd switched allegiance from Jackie and Petticoat and Romeo and Loving and Fab 208 and Valentine and Mirabelle (I was thorough), to Spare Rib and the Glasgow Women's Liberation Journal.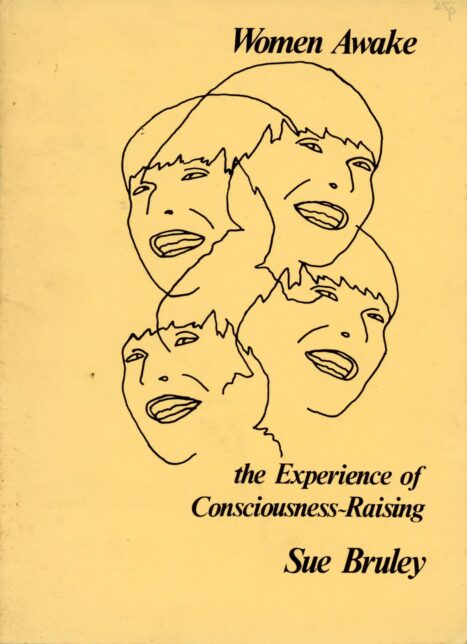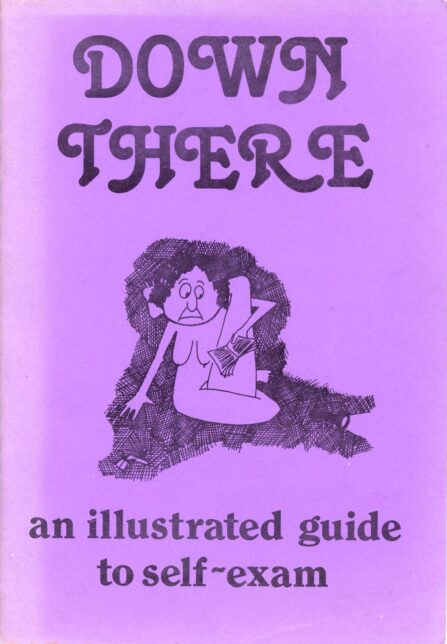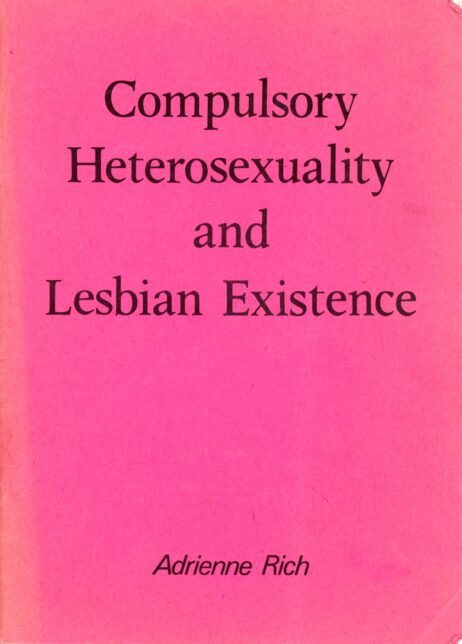 My copy of 'Women Awake, the experience of consciousness raising' of 1976 offered a different recipe 'of benefit to any woman, gay or straight, as long as she is interested in her own life'. As well as examining our experiences and the world outside our bodies we were looking into our bodies too with instruction from 'Down There, an illustrated guide to self-exam' (1981) because it was 'an important part of the process of women beginning to take control of and responsibility for our own bodies'. That same year, 'Compulsory Heterosexuality and Lesbian Existence' by Adrienne Rich, turned the Jackie of 1971 inside out and upside down.
I held on to those pamphlets too because they also were significant, and promised a different sort of future for a girl like me.
Shirley Henderson, August 2021