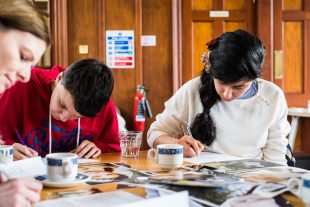 We are looking to recruit a small team of volunteer literacy and numeracy tutors to support our Adult Literacy and Numeracy (ALN) project.
Tutors offer weekly one to one or group sessions, in person at GWL or on Zoom, to women who want to improve any aspect of their reading, writing, numeracy or basic IT skills.
Many of our current learners have English as an additional language, but we also support women who are native English speakers.
What we are looking for:
We are seeking volunteers who share our enthusiasm for facilitating learning and for working alongside women to gain skills, discover their strengths, and take pleasure in reading and writing.
In line with our Equality, Diversity and Inclusion Action Plan, we especially welcome applications from women of colour, women with disabilities, including mental health conditions, and women from our neighbourhood (G40 postcodes). However, all applications are welcome!
We realise that life can get in the way of volunteering, but ideally we are looking for volunteers who feel able to commit to at least 6 months, for a couple of hours per week, allowing time to build a meaningful and impactful relationship with a learner.
You do not need to have a qualification to volunteer as a tutor, since training, shadowing and ongoing support will be provided.
What we offer:
You will join a supportive, enthusiastic and values-led team of staff and volunteers, where you can meet people, gain and develop skills and experience, share your interests and expertise, and contribute to our community.
Training*, shadowing, and ongoing support will be provided.
*Please note that the training will take place on Zoom on Tuesday 26th October, 10am to 12pm. You must be able to attend this session.
And we refund our volunteers' travel expenses, up to £5 per day.
You can find out more about volunteering with us here.
How to get involved:
Please read take a look at the Role Descriptor below
To apply please complete this form and return it by email or post no later than Friday 29th September, 12 noon.
You will be invited to an informal meeting on Zoom on Tuesday 12th October in the afternoon, to meet a member of the ALN staff team, find out more about the role, GWL and volunteering with us.
Successful candidates will be invited to a training session Tuesday 26th October, 10am to 12pm.
If you have any questions please call us on 0141 550 2267 or email our Volunteer Co-ordinator Gabrielle: gabrielle.macbeth@womenslibrary.org.uk or ALN Project Worker Deborah: deborah.walker@womenslibrary.org.uk