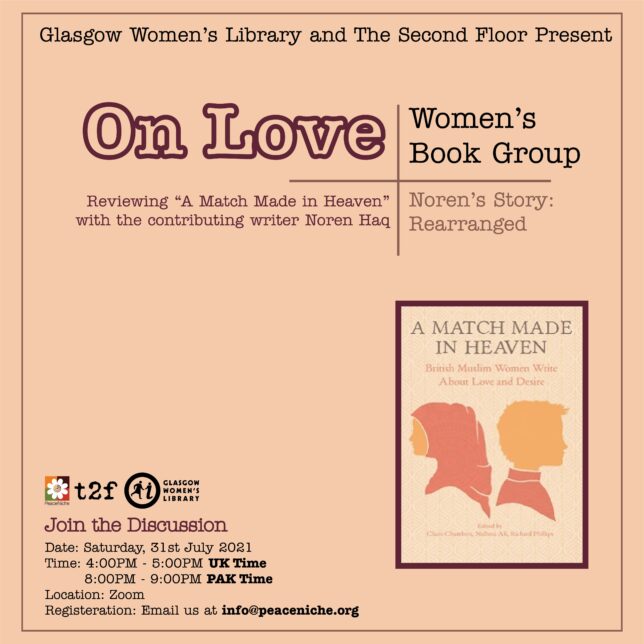 Being a Librarian, it's no surprise that I LOVE to chat about books with people when they come into the Library, but the world of Zoom does have its benefits…For the first time ever, we've hosted an international Book Group Meet!
As part of our Literature Beyond Borders project, book lovers from our Reading Group for Muslim Women and T2F at PeaceNiche joined together to discuss A match made in heaven: Muslim women write about love and desire. This stunning anthology features established and emerging writers from both the UK and Pakistan, including Roopa Farooki, Sabyn Javeri and Bina Shah.  The book grew out of the University of Sheffield's research project, 'Storying Relationships', which aimed to create a safe space for young Muslims to write freely about love and desire. At GWL, we welcomed the chance to participate, and in 2018, we hosted creative writing workshops for Muslim women, led by writers Safina Mazhar and Sara Shaarawi.
At our Book Group Meet, we were delighted to welcome Scottish Pakistani writer Noren Haq around our virtual table, whose big-hearted story Rearranged, features in the anthology. It was wonderful to hear people's reflections, listen to Noren read an extract from her story, and gain an invaluable insight into her writing journey.
Noren talked about the importance of finding her writer's voice, and connecting with a supportive writing community – 'I was struggling to find that, then I came across the Storying Relationships workshops at GWL and everything changed…'
The workshops gave Noren the time, space and freedom to write – and crucially, the opportunity to chat to others about her writing – 'I felt like a tap had been turned on inside me – I was constantly writing and constantly talking about it!'
It was fascinating to hear the inspiration behind Rearranged, which features Sapna, an older woman who is embracing her freedom following the death of her husband. Noren explained her interest in how we approach ageing as a society, and highlighted the need for us to challenge the invisibility and silencing of older women. Noren went on the share that as a Muslim writer, she's continually faced with the 'stereotypical backdrop' of how people view Muslim women. She said that writing a story about an older woman taking charge of her life has been a surprise to many people. But this is something we need to question – as this anthology perfectly illustrates, it shouldn't be surprising.
In our Q and A at the end, Noren was so incredibly generous, sharing her writing tips, reminding us of the importance of learning from your mistakes, and giving us the lowdown on her next challenge – writing her very first novel, a cross-cultural Regency murder mystery.
For any budding writers out there, as Noren says 'You just have to begin. Just write it!'
You can read more about Noren's writing here:
And we're over the moon to share that Noren will be joining us as one of our Bold Types judges this year!
With thanks to our funders, The British Council.