Hello! My name is Myriam, I was a student placement at Glasgow Women's Library for the summer, ending today. I want to share my experience with you and maybe even motivate you to try it out for yourself!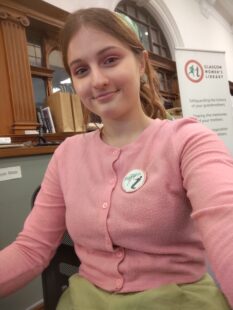 ---
When I stumbled on the Glasgow Women's Library website I was shocked to see that such a place even existed. I was immediately intrigued so I applied, and here I am now, writing this blog post!
Volunteering at Glasgow Women's Library has been such an enriching and motivating experience. Often, in our current society, we are faced with the worst of humanity and made to believe that a pragmatic approach to life does not leave much for idealism. My time here has proven to me this does not have to be the case. You can uphold sincere values and genuinely care for the communities around you.
All the people I have had the chance of working with (staff members, volunteers, and members of the public members) have been warm, welcoming and fascinating individuals with their own life experiences and approaches to the common goals we have at the library.
I have learnt both very technical and transferable skills. As a young women who has spent the great majority of her life studying very theoretic subjects, learning how to operate a book cataloguing system or transfer a call has been an important step. Adding to that, interacting with the public, writing articles, and other activities, have given me more confidence with my communication skills and trust in my capacities.
Overall, the main aspect I will remember after this student placement is the joy working at Glasgow Women's Library has brought me. There is an indescribable feeling of warmth and wholeness sitting in the library, surrounded by books, and art, and all those incredible women. It is difficult to pin-point the sense of "otherness" one often experiences until it stops existing and you realise its absence.
I cannot recommend supporting the library enough, whether by visiting it or volunteering here.
With love,
Myriam