Here are some recommendations from our staff and volunteers from the Book Picnic we held remotely earlier this month.
The Deathless Girls by Kiran Millwood Hargrave
This novel is part of a series from Bellatrix which is meant to shed light on the girls forgotten to literature: female characters in epic stories who are only mentioned in passing or who have been sidelined to make room for other (mostly male) characters. Kiran Millwood Hargrave chose to tackle Bram Stoker's Dracula in which three women – the three brides of Dracula – are mentioned yet are never explored in the narrative. Hargrave decided to give them the attention they deserve and to tell the reader about their backstories and lives – about the paths that led them to become the mysterious figures we read about in Stoker's novel. The story revolves around Kizzy and Lil, two seventeen-year-old sisters who grew up as part of a Romani community – called "travellers" – who are captured and sold into slavery. When one of the twins attracts the attention of a mysterious and dangerous Lord and is taken away to this castle, her sister Lil follows, determined to save her. Taking a different spin on the vampire story, this relatively short gothic tale about a strong sisterly bond and a romantic love between two women as a subplot is definitely worth a read!
Trans: A Memoir by Juliet Jacques
In this engaging memoir recommended by Ren, author Julia Jacques presents the reader with her personal story about transitioning and living as a transgender person. While repeatedly acknowledging that she cannot speak for anyone but herself, Jacques shifts the focus away from the discourse of being trapped in the wrong body that can often be found in such personal confessional narratives. Trans tells of her life to the present moment, focusing not solely on her transitioning but also on her younger years, on growing up and on the experience of trying to define herself in a rapidly changing world of gender politics. This narrative about mental health, work, and gender identity is also interspersed with fascinating information about transgender studies, politics and literature, and offers an eye-opening introduction into the topic and an interesting reading experience.
The Snail with the Right Heart by Maria Popova
This beautifully illustrated and delightful children's book by Maria Popova – famous for her blog Brain Pickings – was recommended by Annie and tells the true story of Jeremy. Jeremy, however, is not a human being – he's a snail, and a very special one at that. You see, Jeremy's shell spirals to the left instead of the right and all his internal organs are reversed – a rare recessive trait among snails. After the real Jeremy was discovered by a retired scientist, he was sent to snail researcher Dr Angus Davidson who then started a worldwide search for a left-spiralled mate for the little snail. While this book is written primarily for a young audience, grown-ups will delight in the sweet story due to the way it reminds us how oftentimes what can be seen as a defect is, in fact, not one at all but merely a difference.
A Long Petal of the Sea by Isabel Allende
It is the late 1930s and Spain is gripped by the Civil War. After General Francisco Franco's rise to power, hundreds of thousands are forced to flee the country in an attempt to reach the French border – a dangerous and treacherous journey that takes them over the mountains. One of the refugees is Roser, a pregnant young widow, who finds her life intertwined with that of Victor Dalmau, an army doctor and the brother of her deceased love. In order to survive, the two must unite in a marriage neither of them desires. Recommended by Wendy, this beautifully written piece of historical fiction takes you to a some readers may be unfamiliar with and sheds light on the sorrowful situations of people who had no other choice but to run and leave everything behind in search for a better existence. While teaching its reader a lot about the Civil War and its horrendous impact upon the people, this novel simultaneously stresses the hope involved in the rebuilding of one's life, and the capacity for kindness to be found in other people.
The Salt Path by Raynor Winn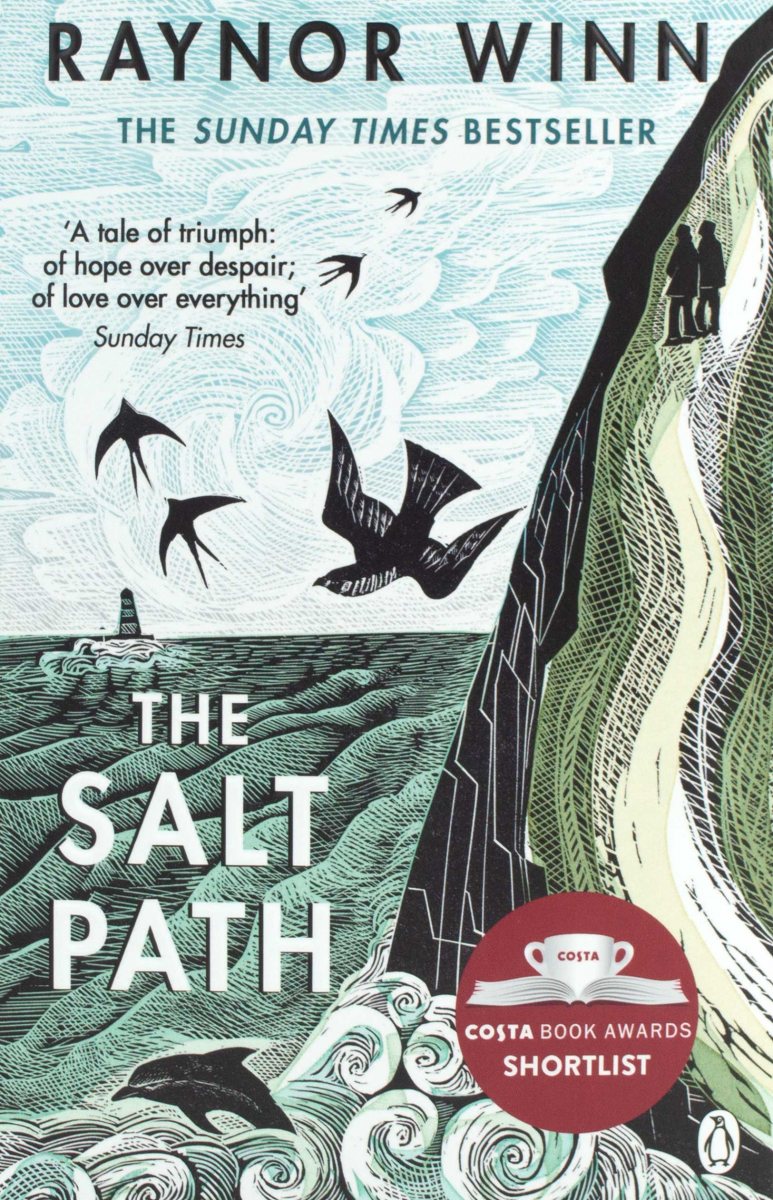 A recommendation by Gaby,  this non-fiction book takes a very different spin on what we might think of as homelessness and the prejudices involved in it: Moth and Raynor did everything right, yet, from one day to the next, they lose everything. And, as if that wasn't enough, Moth is diagnosed with a terminal degenerative illness. Rather than sleeping on their friends couches for the foreseeable future, the two decide to walk the South West Coastal Path from Somerset to Dorset, which amounts to a total of 630 miles. The reader gets to accompany them on this remarkable journey, watching them change, both physically and mentally, as they explore the beautiful landscape of the English countryside.
Super-Women: Superhero Therapy for Women Battling Anxiety, Depression, and Trauma by Janina Scarlet
This book, which was recommended by Doreen, was written by a clinical psychologist and is designed as a group therapy session with you, the reader, as an additional participant. Starting with introductions of all the people in the group and their individual backstories, this encouraging self-help guidebook helps to empower women from all types of different backgrounds in an unconventional way. It does so by drawing an so-called "Superhero Therapy", a form of therapy that incorporates fictional characters from pop culture, such as superheroes and other characters from comic books, as well as characters from fantasy, science fiction, and video games into its practice.
The Testaments by Margaret Atwood
More than 30 years after The Handmaid's Tale, Atwood surprised her readers with the publication of The Testaments in 2019. This novel, which was recommended by Myriam, opens in the fictional country of Gilead about 15 years after the events of The Handmaid's Tale, yet it's an entirely different novel in form and tone: narrated by three women – two teenage girls, one of whom escaped to Canada as a child while the other was raised in Gilead, and, last but not least, the infamous and powerful Aunt Lydia – this novel brings a thrilling conclusion to the story. It gives answers to the question about the dystopian world of Gilead that readers have been asking themselves for over three decades, while at the same time holding a mirror up to the modern world in the twenty-first century. A gripping must-read for any fan of Atwood's and The Handmaid's Tale!
The True Story of the Korean Comfort Women by Keith Howard
Between the early 1930s and 1945, tens of thousands of Korean girls and women were enslaved and forced into prostitution by the imperial Japanese army. Referred to by the euphemism "comfort women", these women were subjected to rape and violence and were forced to live in horrific conditions. However, the end of the war did not end their suffering: after coming back to Korea after its liberation, they were ostracised and shamed for what had happened to them, which made them keep their silence about their abuse. While successive post-war Japanese governments refused to acknowledge the terrible abuse these women were subjected to, recent decades have seen an increasing number of survivors speaking up about the horrors they experienced. The first woman to break the silence was Kim Hak-sun: if you are interested in learning more about her as well as about other strong and inspriring Korean women, Myriam's blog entry "Korean Women in History" offers a wonderful introduction to the topic. While the present book is certainly a harsh read that might be triggering for some readers with its graphic descriptions of sexual violence, it is an important one nonetheless as it sheds light on a part of history many of us might not know about and helps us understand trauma on a personal and individual level.