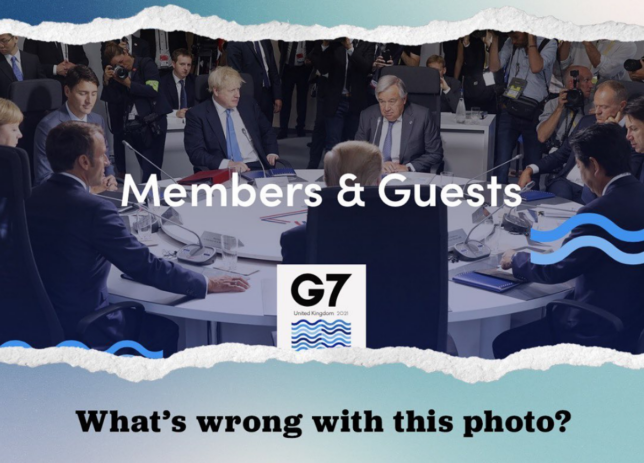 Hello again! My name is Sophie Robinson and I'm a Masters student at the University of Glasgow on placement at GWL! In this blog I am going to talk about an amazing movement called SHEChangesClimate, which was formed out of protest to the COP26 UK leadership team consisting of all men. If you're not familiar with COP26 you can check out my blog on the event and why it is so important!
During the 2019 COP25, 21% of the 196 heads of delegation were women. COP26 is now fast approaching and is the event which plans to set out an agenda to tackle the climate crisis. For COP26 the selected UK leadership team is all-male, consisting of politicians and civil servants, such as Boris Johnson and Dominic Raab. This contributes to the shocking lack of women within the COP26 leadership team, where only 15% are women. Equal representation of women in all their diversity is necessary for the COP leadership team and for our planet. That's where SHEChangeClimate comes in. SHEChangesClimate was founded in 2020 by Antoinette Vermilye, Bianca Pitt and Elise Buckle. Their mission was to bring inclusivity, transparency and accountability to the COP negotiations on the climate crisis. They started the campaign for a #5050Vision, for an equal number of men and women at the COP leadership table. It is incomprehensible that women are not properly represented in the senior leadership team, where the narratives and issues for COP26 will be determined, when the vital role women have in addressing the climate crisis is so widely understood.
"The COP26 Presidency is a test of the UK's commitment to gender equality. Women are half the population and must be half the top table." Malini Mehra, chief executive of parliamentary network, GLOBE International, and an Indian climate campaigner.
The UK government, especially Boris Johnson, has seemingly ignored the international norm of attempting to address gender imbalances in politics by deciding not to include Nicola Sturgeon in their hosting team for COP26. A leadership team which is representative of the world we live in will be able to solve problems more effectively as it encompasses multiple voices who can address all intersects of humanity. #SHEChangesClimate is publicly addressing Alok Sharma, President of COP26, to address the gender divisions within the leadership team. Women are change agents, as they are instrumental in recognising what actions need to be taken, and then making it happen. In December 2020, #SHEChangesClimate sent an open letter to the UK government calling them out on their lack of accountability and transparency on gender equality within the COP26 leadership team. The letter was signed by over 400 climate leaders, who are demanding a 50:50 split of men and women in the top negotiating team. Fiona Harvey at the Guardian originally spoke on the issue in September 2020, highlighting that the politicians who are representing the UK and hosting COP26 are all men. In her article many influential women leaders remarked on the failure to include women in the UK leadership team for COP26.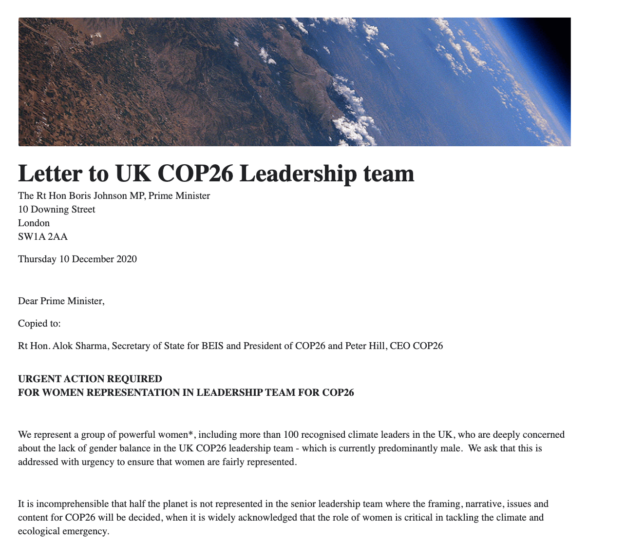 It is interesting to see how the COP panel talk about integrating the Climate Change Gender Action Plan into their strategies, to strengthen the role of women within climate action, yet the same parties continue to fail to put these policies into practice and women are still not represented in the top-level discussions.
"It is sad that in 2020 women are still being excluded from the vital preparations necessary for making next year's UN Climate Summit in Glasgow a success. The gendered impacts of climate change means we must ensure an equal balance between men and women at all levels, especially within the COP26 senior management team. It is difficult to see how the current predominantly male-led COP26 team will ensure that women's voices and needs are heard." Farhana Yamin, Founder Track 0, Climate Lawyer & Former Advisor to H.E. President Hilda Heine, Republic of the Marshall Islands.
It is important to note that the equal representation of women is just the first step. Increasing the number of women via an "add and stir" approach will not be enough. It needs to be more than arguing that women are at least present at junior level sub-section talks, as clearly there is a difference between sending women as delegates and them actually being involved in high level negotiations. Active participation is necessary! Women's voices in politics has the possibility to result in significantly better responsiveness to people's needs, and is an important mandate of the UNFCCC (United Nations Framework Convention on Climate Change).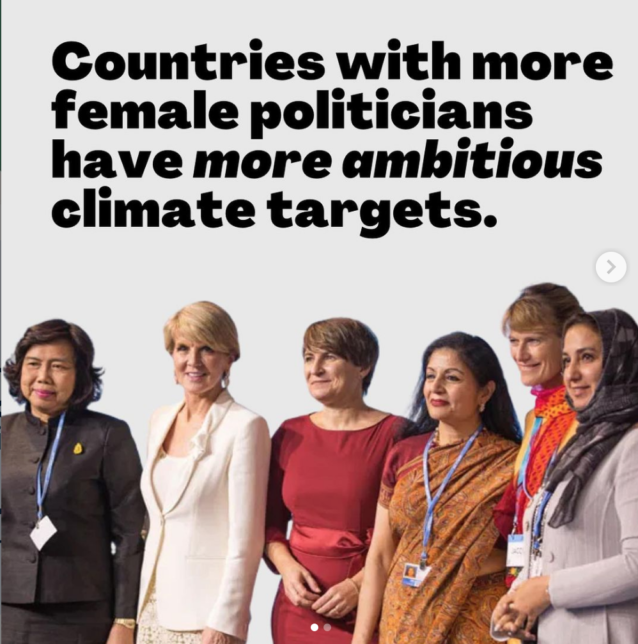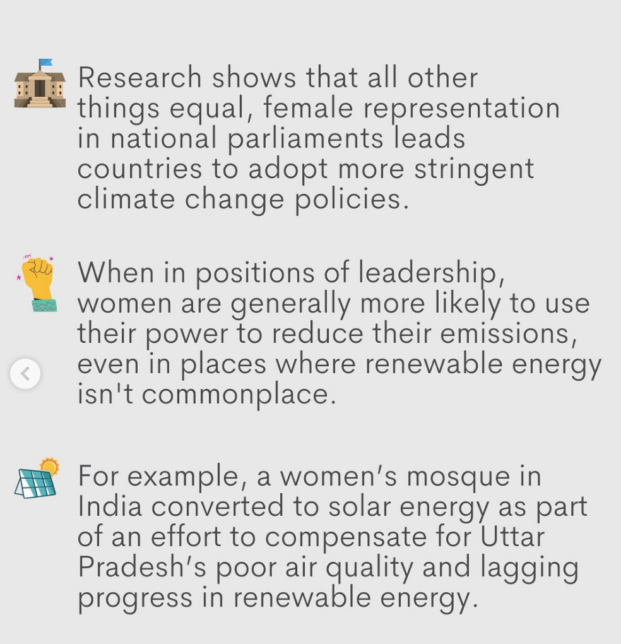 For a successful COP26, the UK needs to make sure it follows a strategy where the voices, experiences and needs of all are represented and listened to – there is no one size fits all approach to climate change. This will only be attained if there is a diversity of thought and knowledge, and when diverse women are in included in the decision making. A white man's experiences and reality, which is the case for the majority of the UK hosting team, is different from a woman's and even more so from a woman of colour. Neglecting to use different women's experiences and knowledge for these pivotal international negotiations compromises the UK's global leadership on climate change. As the host country, the UK have the responsibility to confront this and argue for a global effort which promotes an inclusive engagement strategy to address the climate crisis. Only when this is achieved can we hope for the action which will truly make a difference for all.