"That's the thing about books. They let you travel without moving your feet", says American writer Jhumpa Lahiri, and we couldn't agree more! After all, don't we all need a little bit of adventure and travelling, especially nowadays? That's why, on the first Wednesday of every month, GWL team members and volunteers come together to share and talk about what we've read recently at our Book Picnic. In the current climate, our Book Picnic takes place remotely, giving all of us some valuable social interaction and providing us with many excellent book suggestions…
Becoming Dinah by Kit de Waal
Recommended by Gaby, this Young Adult coming-of-age story reimagines the classic Moby Dick through the story of a seventeen-year-old girl. Dinah, who grew up in a commune, is determined to find a new life for herself and so decides to embark on a journey of self-discovery – a journey which does not turn out quite the way she expected it would, which is how she ends up being persuaded to illegally drive a VW campervan for hundreds of miles, accompanied by a grumpy man with one leg. While many readers may not be able to relate to Dinah's upbringing in a commune, she nevertheless makes for a highly believable and sympathetic protagonist in her quest for identity and a place where she belongs. Even though the novel is aimed at a younger audience, Becoming Dinah offers a deep insight into the struggles of growing up, reminding us of how small things can seem like the world to one that is still trying to find their place and bringing to life the tangle of emotions, both positive and negative, which are inseparably linked to one's coming of age.
The Summer Book by Tove Jansson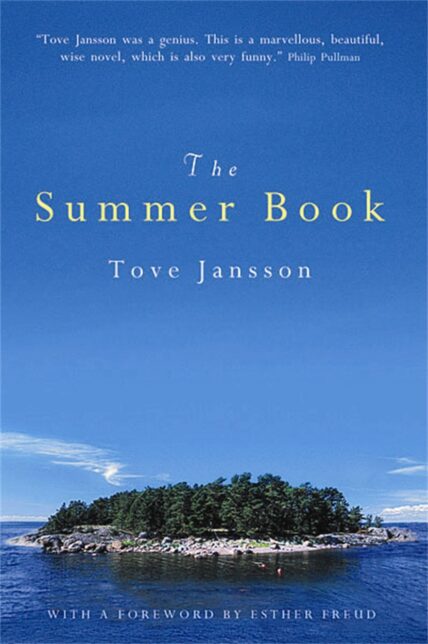 In this novel, which comes highly recommended by Annie, an elderly artist and her six-year-old granddaughter spend their summer together on a small island in the gulf of Finland and, as the two gradually get to know each other, they learn to love and embrace the world they live in. With poignancy and a tender sense of humour, The Summer Book explores themes like love, life and death, as beautiful descriptions of the Nordic scenery – of the  untamed wilderness, virulent summer storms and unpredictable sea – frame the heartfelt conversations between the two protagonists. A "wonderful, witty and lovely read", Annie tells us, that shouldn't be missing from your summer reading list!
The Dictionary of Lost Words by Pip Williams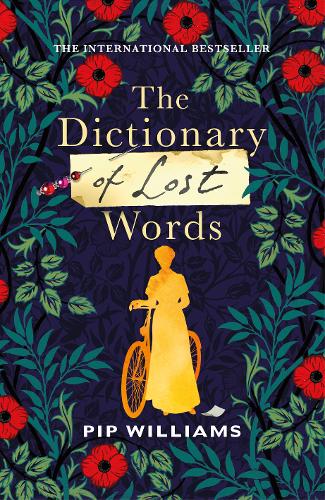 Recommended by Anna, this novel brings to life the history of the first Oxford English Dictionary. The narrative revolves around Esme, one of the entirely fictional characters in this book, who, after the death of her mother, spends most of her childhood in the "Scriptorium", a garden shed in Oxford where her father and a team of lexicographers are compiling the first OED. Sitting under a table, Esme starts collecting those words that are discarded or neglected by the men and, as she gradually realises that some words are regarded as more important than others, she decides to create her own dictionary: The Dictionary of Lost Words. Esme's life, however, not only reflects the compilation of the dictionary but also the happenings in the world at the time, World War I, the suffrage movement, and the treatment and the place of women in early twentieth-century society. According to Anna, The Dictionary of Lost Words offers the reader a lovely and easy read which is "beautifully, poetically written" and sheds a light on a part of the OED's history that has often been overlooked.
Thirteen Doorways, Wolves behind them all by Laura Ruby
Set in Chicago during WWII and recommended by Emily, this novel, tells the story of two young women – one living, one dead – who are dealing with loss, desire and the struggles women had to face at the time. The story revolves around Frankie, whose father left her and her siblings at an orphanage after their mother's death, and Pearl, a ghost who's been watching Frankie for years at the orphanage, and whose own tragic story is revealed over the course of the book. The two characters' stories are intricately interwoven and are both rife with hardships and betrayals, yet are equally inspiring due to the two women's strength and courage. A surprisingly long book for the genre of Young Adult, Thirteen Doorways takes its time in developing the story – which is partly grounded in real events –, offering the reader a perspective that is fresh and unique and that makes this novel definitely worth a read.
The Joy Luck Club by Amy Tan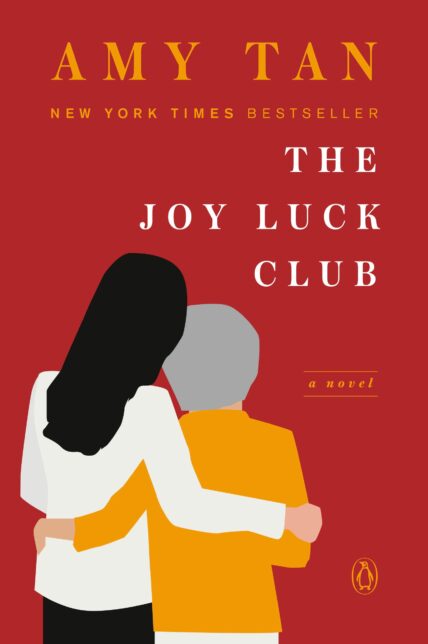 Another recommendation by Emily, The Joy Luck Club tells the stories of four mothers and four daughters in San Francisco in 1949. All recent Chinese immigrants, four women meet weekly to play mah-jong and talk about the lives they left behind in their home country: they have all endured great hardship yet are hopeful both about their own futures as well as about those of their daughters. Structured somewhat like a Mahjong game, with four parts divided into four sections, thereby creating a total of sixteen chapters, the narrative explores the often complicated but nevertheless deep and tender connections between mothers and daughters. Tan's writing style is simplistic yet realistic and poignant as it centres around themes like love, loss, hope and interpersonal communication, making this novel a great addition to anyone's reading list!
Under the Hawthorne Tree by Marita Conlon-McKenna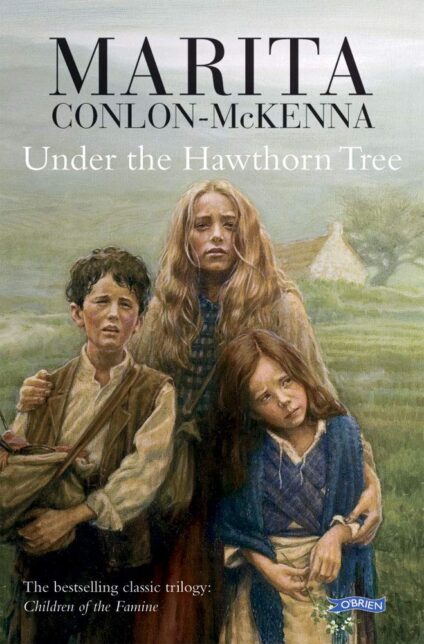 Recommended by Elaine. It is the late 1880s and three siblings find themselves alone in their cottage during the Irish Potato Famine, their parents having gone out in search of food and work but having never returned. To escape being sent to a workhouse, the three children decide to leave their village and to go on a journey to find their relatives they know only from their mother's stories. Told through the eyes of the children, this novel depicts the devastating consequences of years of starvation and suffering, but nevertheless manages to inspire the reader with the children's bravery, courage and unwillingness to give up.
The Memoirs of Lady Hyegyŏng: The Autobiographical Writings of a Crown Princess of Eighteenth-Century Kore translated by JaHyun Kim Haboush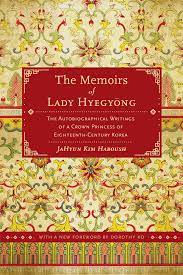 One of the best known and most popular classics of Korean literature, this autobiography recounts the murder of the crown princess's husband by his father and has been skilfully translated into English by JaHyun Kim Haboush. A tragedy of almost Shakespearean proportions, the memoirs depict eighteenth-century male-dominated Korean court life and the ways it is navigated by women, written by a woman's hand – a rarity in pre-modern Korea. This book comes highly recommended by Myriam and is interesting not only to those who are passionate about Korean history told from a personal perspective, but also to anyone who wants to learn more about the situation of women in East Asia at that time and their major yet oftentimes hidden influences on a country.
The Woman Upstairs by Claire Messud
Nora Eldridge, the main protagonist of this novel, is what she herself calls the typical "woman upstairs": dissatisfied with the way her life has turned out, she is the unremarkable woman in the shadows who spends her days taking care of others – her father, her friends, her pupils at school – and silently wallows in the misery of never having pursued a career as an artist. All of this suddenly changes when the Shahid family moves into town and and presents her with a glimpse into the exciting life she could have had, the life she wants – until a major betrayal brutally crushes her hopes. Recommended by Charlotte, this novel is told from the perspective of a woman who is extremely angry: she is seething on the inside – something which might not make her a particularly likable character but which makes the narrative even more compelling and interesting to read. Unlikeable female characters – women who are selfish, arrogant or who are lashing out, but who are all the more real for it – are still a rarity in literary discourse but are becoming more and more popular. With Nora's frustration and anger basically radiating off the pages, this novel is definitely a good start for anyone who would like to explore female characters in the entirety of their emotional range.
The Feast by Margaret Kennedy
Recommended by Pauline. Initially published in a shortened form in a 1949 Ladies Home Journal magazine, this novel tells the story of the collapse of a Cornish seaside hotel during which almost all guests are killed except for a few lucky ones who are away on a picnic. Over the course of the narrative, the reader then learns why some of their lives were spared and others were not. While appearing like a murder mystery at first glance, The Feast is actually a beautifully written allegory on the Seven Deadly Sins as well as a detailed and engrossing character study which, despite its heavy themes, manages to make its reader bark a laugh on more than one occasion with its clever humour and wit. ,"A really original idea and a book I will enjoy reading again", says Pauline, who recommended this novel – so don't miss out on this wonderful read!