Established in 2012, the National Museum of Roller Derby (NMRD) is the UK's first permanent collection of ephemera and memorabilia relating to the sport of Women's Flat Track Roller Derby. In 2016, to celebrate our new permanent home in Glasgow Women's Library's new Bridgeton HQ, we bring you an 'Object of the Month' from our ever expanding collections.
We want your old team shirts, flyers, zines and other paraphernalia to illustrate the remarkable development of the sport in the UK. Keep an eye on the Facebook page for future announcements on how to donate items to the Museum.
*Due to the Covid-19 pandemic and lockdown restrictions access to the collection, and consequently digitisation of the collection, is limited. Therefore, Object of the Month will become Programme of the Month as these objects are already digitised online*
May 2021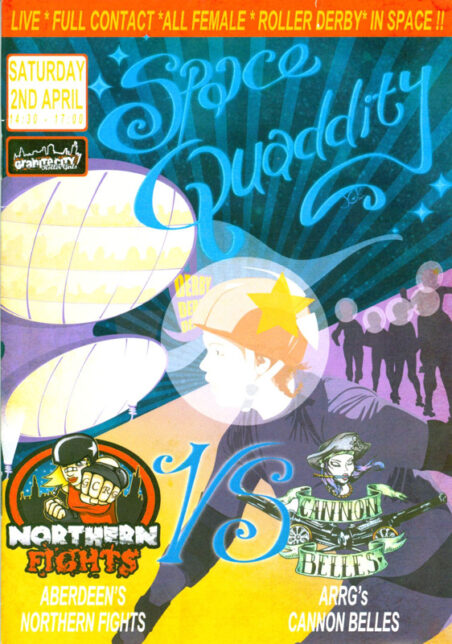 This bout programme showcases the Granite City league hosting the Aberdeen Northern Fights and the ARRD's (Edinburgh's) Cannon Belles. As previously mentioned in other posts, the U.K.'s roller derby debut in 2006 pushed women to the front and centre of a full contact sport. However, despite the physicality of the sports and its various associated injuries, the humorous side of the sport is always shown. Pop culture references are woven throughout the entire fabric of this sporting culture including bout names, player names, and team names. One way of integrating pop culture and local culture references is through the use of puns. This particular bout from April 2011 pays tribute to David Bowie's Space Oddity but also pays homage to the physical exercise taking place and the use of the quadricep muscles.