Isabel Greenberg's Art Celebrates the Forgotten Women of Shetland History
You could be mistaken for thinking the Up Helly Aa festival was all sunshine and rainbows because I suppose to an outside spectator who only knows that it's one of the Shetland Isles biggest annual festivals it does look spectacular. I was also once this person. People travel from all over the world to see it and have done for many, many years. Why then am I writing about a project called Weemin's Wark which is in partnership with Glasgow Women's Library and Shetland equalities group Up Helly Aa for Aa?
Last month, I sat in on Gaada's Weemin's Wark virtual Zoom event with over eighty other people from around the world. People logged on from the U.S., Africa and Europe to listen to poetry, look at artists' paintings and exhibitions and be immersed in diverse Shetland history. Created by Amy Gear and Daniel Clark the project is a response to the continued exclusion of women's participation within the Up Helly Aa festival. Unfortunately, this gender bias is dividing Shetland and upon watching a BBC documentary where young girls in P7-S1 were told that they didn't meet the "criteria" for participating I was utterly flabbergasted that this is an issue in 2021.
This Fire Starters documentary depicts men who are Up Helly Aa organisers and volunteers within the Jarl Squad essentially preaching the 'if it's not broken, don't fix it' motto. By arguing that it is so popular you would never get a room at the Inn, they are essentially saying they believe letting women in would negatively impact this. By interfering with tradition, they think women will ruin Up Helly Aa and to that I have something to say. As I have already mentioned people from all around the world logged into a Zoom event that celebrated women, their art and Shetland culture. If the organisers truly believe that letting women carry a torch would put tourists off travelling to Shetland to experience the festival, they are maybe not the type of people you want to be attracting anyway. If the Olympics can have their first women carrying a torch at the (maybe) 2021 Tokyo Olympics then the next Up Helly Aa festival can too.
This short documentary shows that Shetland Women love the concept of the festival and its rich history. So much so that they have been fighting against this exclusion for over a century and protests date back to as far as 1902. To date, the Jarl squad is all male with no exceptions. Up Helly Aa for Aa is a direct response to this.
Upon putting together their Weemin's Wark project Gaada selected artists were to produce art, poetry and exhibitions. Isabel Greenberg is one of these five artists commissioned by Gaada to put together some work celebrating women within Shetland culture. In an interview with the Glasgow Women's Library and during her time speaking about her beautiful art at the Weemin's Wark event, Isabel mentions what inspired her to create the two pieces pictured below.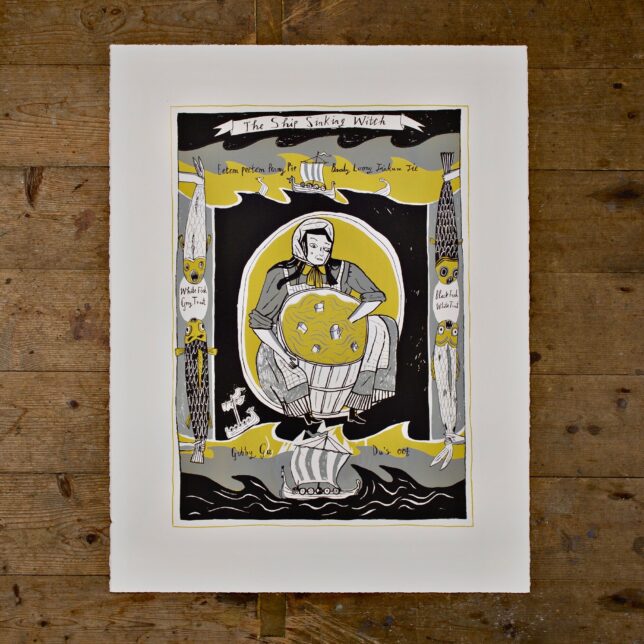 Witchcraft and the Witch Trials are a huge part of Shetland history but are not acknowledged within the festival, therefore this was a huge inspiration as the two prints depict witches from Shetland folklore. Featuring witches within her prints Isabel is acknowledging the rich and complex history of witchcraft and women's history. On the print above we see Isabel's interpretation of 'The Ship Sinking Witch' which in mythology was the story of a witch who would place cups in a barrel of water and if the cups floated that equated to the number of ships that would sink at sea. I also particularly love this print because the ships Isabel has drawn are little Viking ships! Furthermore, I think it is the perfect metaphor for the Up Helly Aa festival as witchcraft disproportionately affected women throughout history. Similarly, today there are many who believe that if women are allowed to participate within the festival, it will be a 'sinking ship' although this makes about as much sense as predicting which ships will sink at sea by placing cups in a barrel of water.
The second print is of 'The Corbieing Witch' which is the story of a mother and daughter who turns herself into a raven. The word 'corby' is an old Scots word for a crow (or raven) which was a lesson to many of us here at the Glasgow Women's Library, myself included. Including Shetland dialect within the prints was also important to Isabel and can be seen through the 'spells' depicted within the prints which are in fact a nod to old Counting Songs which are important to show as they were a crucial part of women's labour within Shetland culture.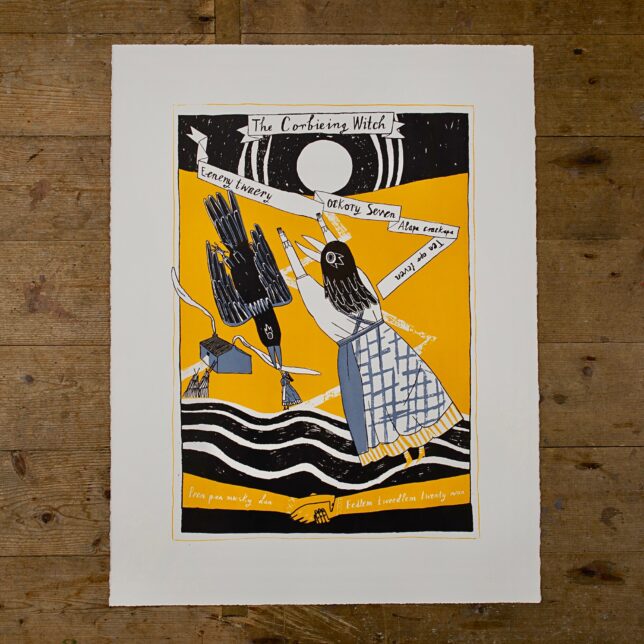 While old witchy mythology is the basis for these prints, Isabel also mentioned that she was inspired by the contrast of the previously mentioned BBC interview. While the men tend to argue that women should not be allowed to participate within the Up Helly Aa festival, the book written by Lynn Abrams entitled Myth and Materiality in a Woman's World: Shetland, 1800–2000 shows the importance of women and their labour within Shetland culture. The research by Professor Abrams led Isabel to ask how it is possible women and their labour is so crucial to Shetland, yet they are not allowed to participate within the island's festival? I have not done as much research as Isabel, yet I feel myself asking the same thing. Fortunately, the book will be available at GWL in the spring and I'll be sure to give it a read through when we're able to visit again. Isabel's prints might depict counting songs and I'm certainly counting down the days till I can return to GWL.
Thank you for reading everyone! If, like me, you've found yourself interested in women's activism within Shetland history you can start by visiting the Gaada website where you can appreciate the amazing work of artists. Isabel's prints are available to buy here too.