Welcome to the Open the Door 2021 Calm Slam competition! This year we're blending art with words to create the perfect place for all budding poets who have yet to find their audience.
Open the Door is our annual writing festival for women, where we celebrate contemporary creatives whilst also shining a spotlight on three historical writers. This year, we'll be inviting the world to Open the Door again, as we host the festival entirely online. Inspired by Glasgow's long history of bold, creative women, our theme is writers who are artists and artists who are writers, and we'll be celebrating how creatives weave these two practices together.
Our Open the Door Calm Slam is a safe space for poets who are ready to step out of the shadows and take their writing to the next level. If you have work you want to share – but aren't up for a full-on SLAM – then this is the competition for you.
We'd like you to take inspiration from the work or history of this year's Open the Door festival's three historic writer/artists: Wendy Wood, Zarina Hashmi and Edith Simon. The three images below have been specially created by DJCAD students Jane Barker, Chloe Drummond and Leo Petkūnaitė, and may be the perfect inspiration for your Calm Slam poem.
We'd love you to submit a video of you reading your poem, but you don't need to be on screen if that's not your bag. You can either use your mobile to film yourself reading your poem, or film something in your surroundings (a river, a tree, your carpet!) as you read aloud. Please send us the video of your work by 12 noon on Friday 30th April.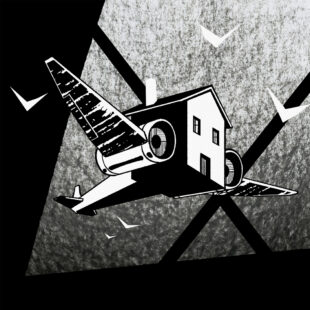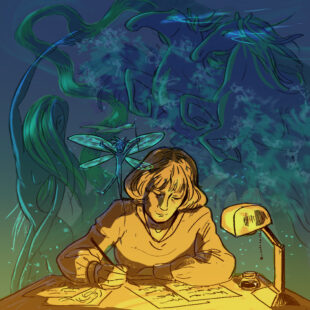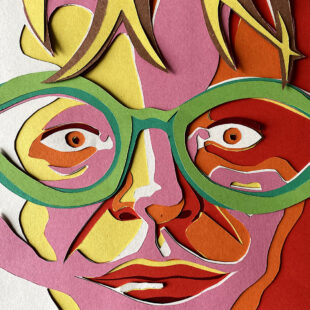 Our fantastic judges – including poet, writer and creative practitioner Nadine Aisha Jassat – will create a shortlist, and all shortlisted writers will be celebrated during our Open the Door festival. We're excited to be announcing the winner on Saturday 22nd May.
We particularly want to support and encourage unheard writers so, if you've had more than five poems published online or in magazines or anthologies, or if you've already been lucky enough to have your own solo pamphlet, chapbook or collection – Congratulations! – but this isn't the competition for you.
How to Enter
Please submit one poem/video in response to one of the images above, or in response to the work of one of the historical writer/artists we're celebrating: Edith Simon, Wendy Wood or Zarina Hashmi. Please only send us your own, original work read in your own voice please!
All poems/videos must not exceed 3 minutes in length, but there is no minimum length. Your video does not need to filmed with special cameras or include any fancy edits – we welcome all videos, however homemade! Videos can be of you or, if you'd prefer, of anything you like – but please make sure we can hear your poem clearly.
Sending Your Entry
Please send us a video of your poem (in mp4 format) via WeTransfer to info@womenslibrary.org.uk along with a transcript of your poem in English, the name of your inspirational writer/artist, and a short biography of no more than 60 words telling us a little about you and your poetry.

If you've never used WeTransfer before, you can read this guide on how to add your files. Please label your poem with your name and the poem's title, for example "MaryBriggs_Quiet"
You can either include your poem transcript and your bio in the "message" section of WeTransfer or you can attach it as a word document along with your video.
We're looking for you to send us:
Your poem
A transcript of your poem in English
The name of the artist/writer your poem is inspired by
Your biography of no more than 60 words
If you have any questions about this, please email info@womenslibrary.org.uk
FAQs
What is the deadline for the Slam?
The deadline is 12 noon on Friday 30th April 2021.
If we near our maximum entry limit we may have to close the Calm Slam early. This would be to ensure that every poet's work is given equal time and consideration by the judges. Please follow us on social media and keep an eye on this page for all updates – we would give at least five days notice for a change in deadline.
Is there a theme?
We'd like your poem to be inspired by the images on this page or the work or history of this year's Open the Door celebrated writer/artists: Zarina Hashmi, Wendy Wood or Edith Simon.
Who can enter?
The Calm Slam is aimed at celebrating unheard women* poets! We welcome entries from Scotland and beyond, and in all languages including sign languages, but we ask that all works are accompanied with a transcript in English.
Please do not enter if you:
have had more than five poems published online or in magazines/anthologies.
have a solo pamphlet, chapbook or collection.
*All women-only opportunities and events are inclusive of Trans and Intersex women, as well as non-binary and gender fluid people who are comfortable in a space that centres the experience of women.
Is this an adults only competition?
Yes, all entrants must be 16 years or over.
Does the entry have to be written by me?
Please only send us your own, original work read in your own voice please!
Does my entry have to be in English?
We welcome entries in all languages, but ask that accompanying English translations are included with your submission.
Will I receive confirmation or receipt of submission instantly?
Due to the Covid-19 situation, all staff are currently working from home, therefore please be aware that it may take a little longer than usual to receive confirmation of your submission. We aim to respond to all applicants within 5 days, though usually we will be in touch sooner. If you have not heard from us within 10 days, please get in touch.
Can I enter more than once?
We ask that poets submit only once to the Calm Slam.
When will the Calm Slam announcements take place?
The shortlisted poems will be shared online as part of this year's Open the Door festival from Thursday 20th May to Saturday 22nd May. The winner will be announced on Saturday 22nd May.
Is there a fee to enter?
No. The Calm Slam is free to enter.
What do I win?
The winning poem will be shared on the GWL website, and the poet will receive a congratulatory fanfare on all our social media platforms, and a selection of delicious prizes including books and GWL merchandise. All shortlisted poets will receive feedback from the judges (full judging panel to be announced soon).
Terms and Conditions
Entries received after midday on Friday April 30th 2021 will not be eligible for the Open the Door Digital Calm Slam competition.
Writers retain full copyright of their work and we will only publish work on womenslibrary.org.uk and our social media platforms with the permission of each writer.