This Women's History Month we're delighted to share a blog post written by longtime GWL supporter and donor Shirley Henderson, reflecting on knitting and feminism
Start at the back
Going through a box of old knitting patterns recently, I could chart my life in costume: from the 'helmets', pixie caps and mittens of babyhood through to the green Aran jumper I wore with my tartan slacks as an eight-year-old; the batwing mohair jumpers I knitted for myself in my 20s; a foray into fair isle, and then some rainbow jumpers for my first child. It all stopped with a second child; picked up again recently as a stress reliever in lockdown and with the birth of a grandchild.
And in that box – treasure! – torn from a Spare Rib from the winter of 1981: a four-page 'Knit yourself a Woman's Woolly' [with the Os in 'woolly' shown as women's symbols] illustrated with photos by Jill Posener (photographer of 1982's 'Spray It Loud' fame).
That pattern, forgotten for years, was published when I was working in Falkirk Women's Aid. I knitted constantly: on my commute from Edinburgh; over cups of tea with women in the refuge; in group meetings; and even at Scottish Women's Aid national executive meetings. No-one batted an eyelid. I suppose many of us were doing the same.
I don't know when that stopped – maybe when national executives got so big, as more and more Women's Aid groups formed and affiliated during the 1980s: we became too many to sit in a circle with our knitting. Or maybe the personal became less political. Or we had more to write down!
I can think of so many metaphors: plotting a complicated pattern as we worked out how to overthrow the patriarchy – or at least convince the Falkirk 'homeless officer' to accept that 'battered wives' didn't bring it on themselves. We slipped our stitches as we found a way to get women to safe places around Scotland. We untangled many knots as we fought for the release of June Greig or campaigned to establish that rape in marriage was a crime (finally at law by 1989).
Decoding the small ads
But it's the small ads on the backs of the knitting patterns in my box that tell a story of what was going on while women knitted and crocheted and embroidered and mended. The back of that Spare Rib pattern describes the many ways that women were making different kinds of lives for themselves and others, and taking their feminism into every aspect of their lives (including their knitting).
'We are going to start a feminist choir in London' announces one notice. Or how about a course entitled 'Changes in childcare and the family'? There are small ads for talks and conferences on 'The menopause and living alone'; 'Women's involvement in the birth control propaganda movement'; and 'Gay discussion movement on Christianity and oppression'. Lesbian Link has a notice saying it's been open for four years but is 'running out of steam due to lack of members'.
There seemed to be some fun: with a 'Spare Rib Bop', an 'arts festival for disabled people' and 'Sisterhood of Spit' [a 20-strong women's band formed in 1981]. Art listings included a feminist anti-nuclear exhibition and one on 'women in the struggle for liberation'.
Tropes and tray cloths
Heady days and important times, and some of us knitted our way through them. What was that about? Why would Spare Rib, a challenge to the established trope of the 'women's magazine' include a knitting pattern? I'm sure we asked ourselves that at the time.
Women's magazines then always included knitting patterns, and my box has some great examples, going right back to January 1933. The backs of those earlier ones carry a different story. For example, in this last, an advert for The Psychology Press selling the 'Fascinating Womanhood books – those remarkable new books that show how any woman can attract and win the love of almost any man she chooses […] and help you attain Romance and Marriage through the knowledge of masculine psychology and human nature'. All this while edging 'four pretty guest towels'; cross-stitching a 'gay luncheon set' [steady – it's a tray cloth]; and knitting a 'jumper that is kind to extra inches – the older woman will appreciate the dignified design'.
The People's Friends from 1947 and 1950, kept by my great-aunt for their patterns, obsess over how to maintain breath-taking beauty; deal with diet-induced constipation and assorted pain (headaches, bunions, corns and 'periodic'); while also picking vegetables; oh, and falling in love in unlikely places with unlikely men. The (male) editor of the 1950 issue, which encourages women to 'take advantage of those leisurely holiday hours by crocheting […] the luncheon set you have always wanted' writes that holidays are 'a pleasant change for a woman to get away from the gas cooker and the kitchen sink. To plan a day differently, to do as she pleases, to quietly relax (even though she has to keep an alert eye on a boisterous young family!) is a refreshing experience for her.'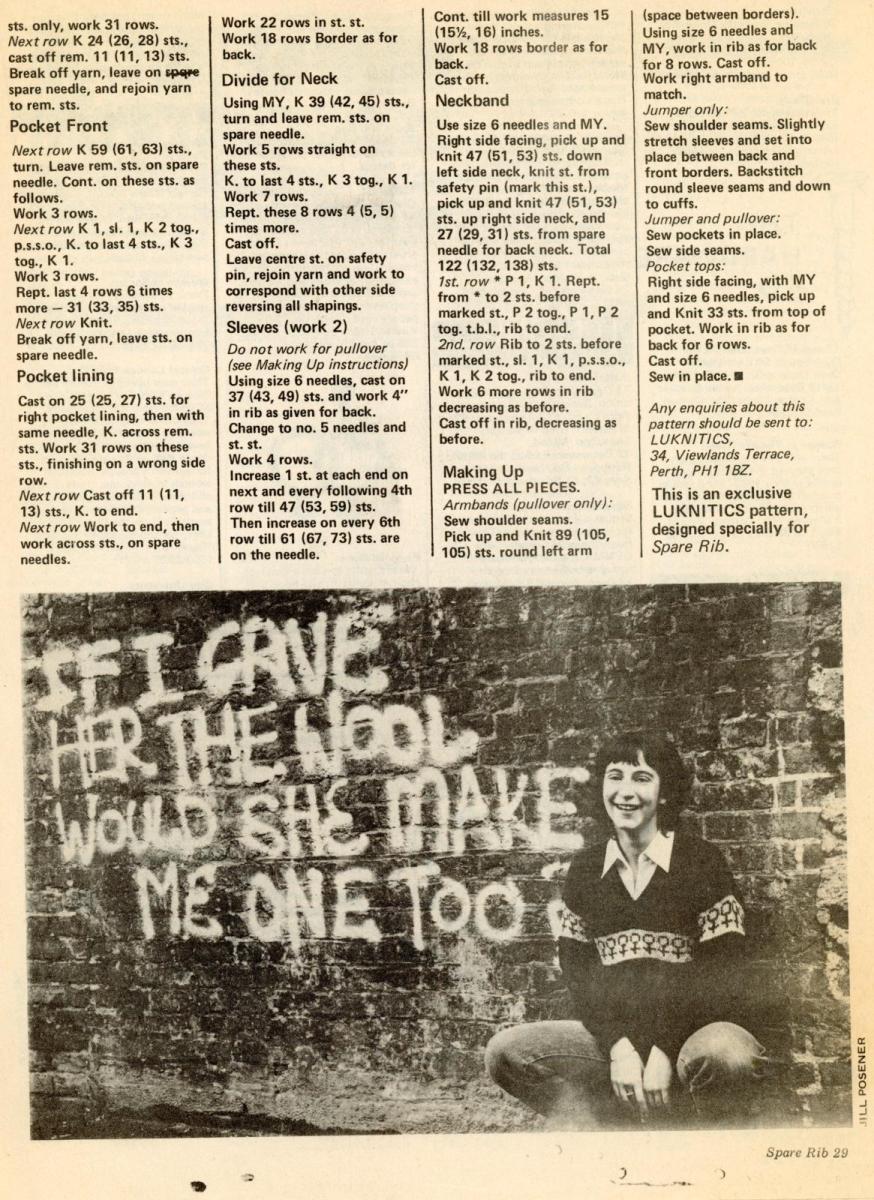 Flip!
Up to the point in the mid-1980s when I seemed to stop tearing knitting patterns out of magazines, the backs of those from the Woman's Own and the Woman remain consistent (beauty, periods, dieting, pain).
But those four pages from Spare Rib 1981, both the front and back, show the new kind of world which women were making: one in which women were happy to face forwards, to show what they were really up to, really thinking, and what they wanted to change.
Shirley Henderson (February 2021)
Big thanks to Shirley for sharing her thoughts and gifting the Spare Rib Woman's Woolly knitting pattern to our museum collection.
If you enjoyed this blog you'll love our upcoming online Open Archive! Life On and Off the Needle in the 20th Century is a free event hosted by GWL volunteer Becky on 17th March 2021. Click the link for more details and to book your place