Established in 2012, the National Museum of Roller Derby (NMRD) is the UK's first permanent collection of ephemera and memorabilia relating to the sport of Women's Flat Track Roller Derby. In 2016, to celebrate our new permanent home in Glasgow Women's Library's new Bridgeton HQ, we bring you an 'Object of the Month' from our ever expanding collections.
We want your old team shirts, flyers, zines and other paraphernalia to illustrate the remarkable development of the sport in the UK. Keep an eye on the Facebook page for future announcements on how to donate items to the Museum.
*Due to the Covid-19 pandemic and lockdown restrictions access to the collection, and consequently digitisation of the collection, is limited. Therefore, Object of the Month will become Programme of the Month as these objects are already digitised online*
FEBRUARY 2021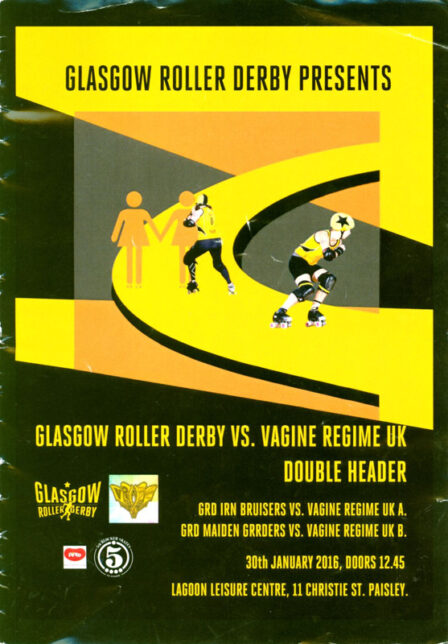 The month of February in the U.K. marks LGBTQI+ History Month, and what better way to celebrate this than by exploring the inclusive and diverse roots of the sport of roller derby?
Roller derby is a grassroots sport which is built, developed, promoted, and fundraised by the players and supporters. This DIY attitude has fostered a very welcoming, inclusive, and diverse community. LGBT+ rights are supported and fought for within this sport and the LGBT+ community have found a home in roller derby, which supports their sexuality and genders.
The Vagine Regime team depicted in this bout programme is a collective of LGBT+ players from different teams that form a separate team and partake in bouts. The Vagine Regime has factions across the world and it is a collective that celebrates every colour in the LGBT+ rainbow and showcases connectivity and support.
Furthermore, the Glasgow roller derby league was renamed Glasgow Roller Derby (GRD) from Glasgow Roller Girls (GRG) in 2012 to reflect the new professional and athletic direction of the league but also to be more inclusive of different gender identities. Auld Reekie Roller Girls (ARRG) changed their name to Auld Reekie Roller Derby (ARRD) in 2018 to follow suit.