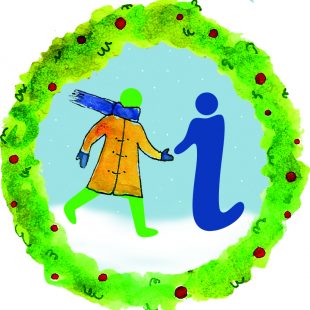 GWL's Winter SurThrival Kit
With our building now closed for the festive season we wanted to find a way to bring some of that feel-good GWL warmth and cheer into your homes. So, we've put together a holiday hamper of sorts, something which we are calling our Winter SurThrival Kit. We hope that this toolkit helps you to not only survive, but thrive during these cold, dark winter months. Some of the content below has been specially created for this purpose, while some of it was already in existence but we felt that now was the perfect time to dust it off and remind you of the wealth of content available on the GWL website.

Read
Our website is brimming with reading recommendations. We've put together some new lists and shared some of our favourites below:
Comfort Reads
Books to cosy up with this winter – a selection of reading recommendations to help get you through the cold, dark winter days. Grab your blanket and a cuppa and browse our Best Feel good books: Comfort reads you can enjoy over the winter months 
Black Women Writers
Throughout October we celebrated Black Women Writers by sharing a book or piece of writing a day on our Instagram and Twitter feeds. We've collected the suggestions and popped them into one place on our website for your convenience: Black Women Writers
Plants, Seeds, Gardening and Growing
With winter upon us, many of us will be longing for spring and the flora and fauna that we see during that season. Here are some reads about gardening and growing to keep you going and hopefully plant some inspiration: Books about Gardening, Plants, Seeds and Growing
Women in the Landscape
GWL's Women in the Landscape project aims to reveal, to celebrate and to preserve women's stories, experiences and environmental heritage. We called on women from all backgrounds and intersections of identity throughout Scotland to help us think about how we experienced our surroundings and environments, and women's historical and contemporary contributions to them. We've compiled a guide to the very best poetry, fiction, non-fiction and video/film from women about our historical and contemporary relationship with the landscape: Women in the Landscape
Book Picnics
On the first Wednesday of every month, GWL team members share what we've read recently at our Book Picnic. In the current climate our Book Picnic takes place remotely, giving all of us some valuable social interaction, and providing us with many, many excellent book suggestions. You can find our monthly recommendations here.
Documenting the New Normal
Since the initial lockdown began on 23rd March, several of our wonderful Glasgow Women's Library volunteers have been sharing weekly reflections, diaries and creative writing. As well as being fun, this has been a great way of checking in with each other. Each piece of writing provides a different perspective on the pandemic. We're delighted to share a selection of these sometimes witty, always insightful and thought provoking stories here.

Listen
Sing out loudly, sing out proudly!
Choose one of our curated playlists, all selected by women filled with tracks by women that empower and inspire:
Revolting Women Playlists  Over 100 playlists which aim to offer an aural snapshot of the importance of music in the lives of women writing today.
The GWL Sunday Brunch  Listen back to the GWL Sunday Brunch on Subcity Radio, with live chat, guest artists, writers, poets and activists, and great playlists .
Put your feet up and enjoy being read to by some of Scotland's best known writers, with their poems and short stories written especially in celebration of GWL's 21st Birthday.  Listen to 21 Revolutions: The Writers
GWL Podcasts
An occasional series of podcasts from Glasgow Women's Library, featuring a world of women's words – written, spoken and heard.
GWL + FLUP: The Poetry Slam Podcast
GWL + FLUP: The Podcast with Funmilola Fagbamila
GWL + FLUP: The Podcast with Natasha A. Kelly
Open the Door 2020: Nature Writing Podcast
Our volunteer Rhia put together this blog earlier in 2020 with her top 10 podcasts by and about women: Ten Podcasts to get you through quarantine.

Watch
Pop the kettle on, put your feet up and let the words of GWL's Morag wash over you as she reads a selection of poetry to soothe your soul.
Morag reads three poems from The Result is What You See Today: Poems about Running, an anthology of poetry curated by Ben Wilkinson, Kim Moore, Paul Deaton
Morag reads:
The Tuesday Night Joggers by Morag Smith
10k by Jane Aspinal
An Exercise in How to Move on by Josie Alford
You can find out more about The Result is What You See Today: Poems about Running and purchase your own copy online here.  We also have a copy in the GWL collection.
Morag also reads a poem about midwinter taken from the anthology A Poem for Every Day of the Year edited by Allie Esiri. Here, Morag reads The Year's Midnight by Gillian Clarke. This anthology is available to borrow from Glasgow Women's Library.
The Girl Who Lost Her Shadow
Emily Ilett reads from her children's book The Girl who Lost her Shadow which follows a girl called Gail as she tries to find her missing sister's (Kay) shadow. This extract describes the moment when Gail meets a Scottish wildcat in the forest and sees herself reflected in its eyes. Emily said, "I chose this moment because I've found solace in the ordinary magic of the natural world during this year and I hope this moment captures that feeling."
You can download and read a transcript of Emily's video here.
Calm Slam
See and hear the finalists of the Open the Door 2020 Calm Slam reciting their poems. The perfect antidote to a chaotic year.

Make / Create / Do
Get cooking!
Why not try out some of these yummy recipes from the archive? We'd love you to share the results (good and bad!) with us on Instagram and Twitter @womenslibrary using the hashtag  #GWLSurThrival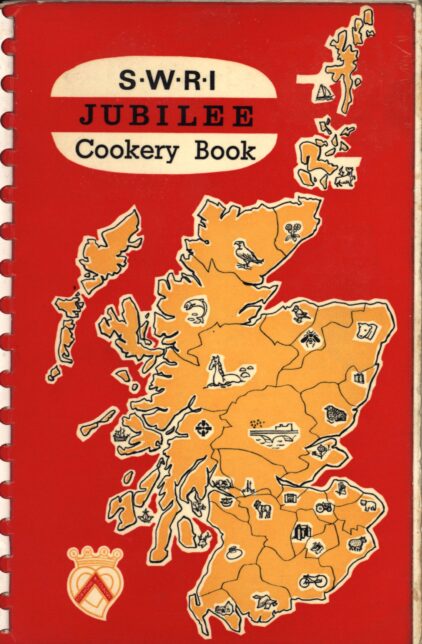 Within the library we have a collection of cookbooks published by the Scottish Women's Rural Institute. The 1952 Souvenir edition of the cookbook has a recipe for 'Scotch Carrots', which seems to be a version on 2020's most talked about 'substantial meal', the Scotch egg:
Ingredients: Carrots, cooked potatoes, sausage meat, eggs and breadcrumbs
Method: Prepare the carrots until tender. Mash potatoes and coat carrots in them – keeping the carrot shape. Cover with sausage meat. Egg and breadcrumb them. Fry in deep fat. Cut lengthways and serve very hot.
Or why not celebrate in (socially distanced) style this New Year with this Shetland version of champagne!
Beef Tea anyone? Or maybe a bowl of Hotch-Potch?

The cookbooks are full of tasty sweet treats, including several chocolate cakes, cherry cake, baked roly poly, baked apples, castle pudding and of course, Christmas cakes. Delicious!


Get Quizzical!
Test your knowledge of 2020 with this fun GWL Quiz
Get Walking!
Get outside for some fresh air, and learn more about the history of women in Glasgow, with our free downloadable maps and audio tours
Whilst you're out and about why not turn your walks into a Herstory Treasure Hunt?
Get Writing!
Wrap up warm and step outside. Nadine has put together some nature writing activities that you can do whilst in your local park, woods, nature reserve or even your own garden.
Or why not create your own Found Poem in response to this page from Girl Annual no.6 from circa 1955 (from the GWL Archive)
To create your found poem, use the words found in the page above, either by erasure/ process of omission (i.e. crossing out the lines in between until only select words remain on the page to form a poem) or by pulling out key words and lines and putting them together into a poem on a separate piece of paper. You could even try creating the angel decoration and adding your found poem to the skirt or wings.
You can see some examples of creative responses to this annual page in our Succession Zine. You can use the prompts in the e-zine as your own prompt to try at home, and share the results with us on Instagram and Twitter @womenslibrary using the hashtag #GWLSuccession #GWLSurThrival
Wishing you all well for the festive season and hoping for better times ahead. Take care of one another and we hope to see you in 2021 to celebrate our 30th anniversary. 
GWL will reopen to the public on Tuesday 12th January.