Established in 2012, the National Museum of Roller Derby (NMRD) is the UK's first permanent collection of ephemera and memorabilia relating to the sport of Women's Flat Track Roller Derby. Our 'Object of the Month' celebrates objects from our ever expanding collections.
We want your old team shirts, flyers, zines and other paraphernalia to illustrate the remarkable development of the sport in the UK. Keep an eye on the Facebook page for future announcements on how to donate items to the Museum.
August 2020
This bout programme shows a game between Scotland's aptly named Irn Bruisers and U.S.A.'s American Pies. The bout was called The Star Spangled Jammers. The game was to raise funds for the Glasgow-based team to get across to America to play in competitions across the pond. It is important to note the U.S.A.'s legacy in roller derby.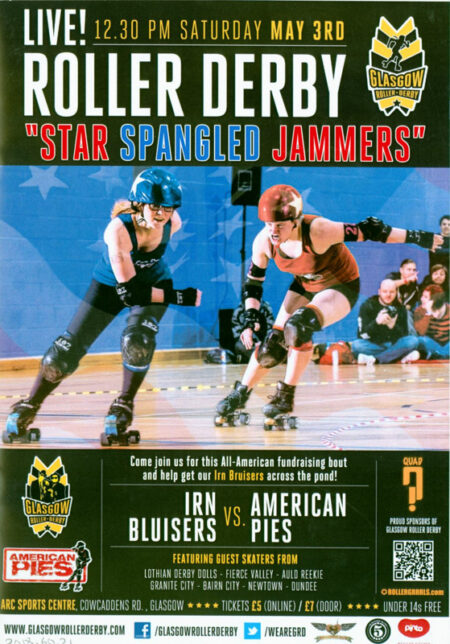 Roller Derby was born from humble beginnings back in 1933 by Leo Seltzer. As he scribbled down rules on a table cloth in a restaurant in Chicago, he envisioned both men and women competing in a marathon type race – a race of stamina and speed. Initially roller derby was not a rough contact sport and was more similar to the dance marathons that were popping up at the time. Popularity for the game increased during 1930s depression era and it payed relatively well with good benefits. But for women, it was something more. It was a chance to to see women compete in equal measure to men in a sport.
A points system and a banked track was soon introduced to the competition in order to propel the speed of the skaters. As the players became more competitive and the fanbase started to grow, entanglements on the track became more common and the spectators' love for this did not go unnoticed by Seltzer who introduced it into the rules. It is here that roller derby was transcended from an endurance sport to a contact sport and today's roller derby was born.