Early in December 2019 – six months that seems like a thousand years ago – our Volunteer Co-ordinator, Gaby Macbeth, sent out an email to anyone who'd volunteered at GWL for twelve months or more.
The Board of Directors was looking to recruit a new member from the current volunteer team, as part of the Pathway Programme, an initiative which was launched in 2015.
The scheme opens the way for volunteers to join the Board, gaining new skills and experience, while bringing their knowledge and perspective to strategic development, and ensuring the organisation meets its mission and aims.
Attached to the email were two documents – a Role Profile, and a Testimonial from Louisina Currie, who was stepping down after four years as the first Pathway Programme participant, telling of her involvement and how much it had meant to her.
'Don't be daunted by the Profile document', Gaby urged, 'it will be demystified and explained' at an information session later in the month with then Board Chair, Karen Birch, Louisina, and any of us who were interested.
Now that was encouraging – at first sight the Profile document was pretty intimidating; but Louisina's personal introduction was friendly and reassuring, so I put my hand up to attend. Good move!
At that stage, I must admit, I was more curious than convinced, but the meeting was informal and informative, and, importantly, reinforced my growing understanding of what the Women's Library is all about.
My introduction to GWL
A bit of background here: I discovered GWL in February 2018, one month after returning to Glasgow following a 25-year absence. I came to the launch of the Library's first-ever solo exhibition by an international artist, fellow Kiwi, Fiona Jack.
What a fabulous reintroduction to the city, and a pivotal point for me.
I was moved and inspired by the show, delighted by the venue, and bowled over by the warm welcome from staff and participants. I joined up immediately and began attending regular events such as Story Café, and Drama Queens – do you remember the rehearsed reading of our own devised version of Muriel Spark's novel, The Abbess of Crewe?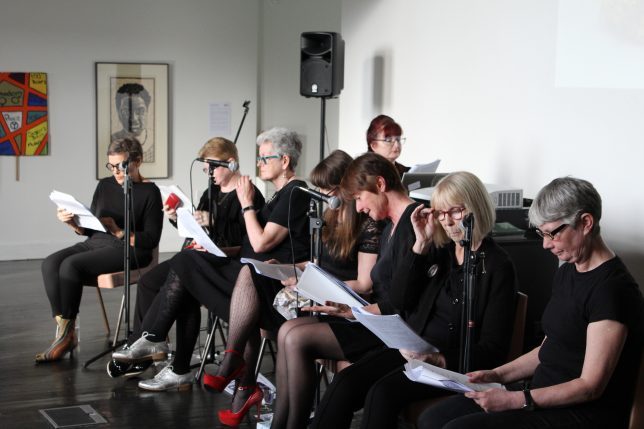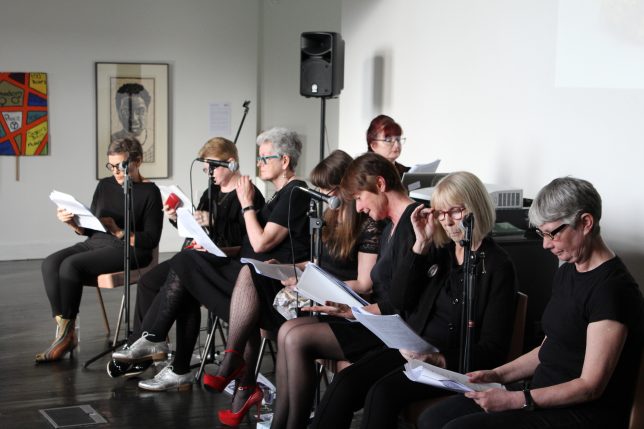 Joining the team
Later, when I signed up as a volunteer – initially for Front of House, then as part of the volunteer team helping with Adele Patrick's post-Clore Fellowship Research, followed by other eye-popping projects – I began to get a sense of how extraordinary the organisation is, and what an amazing team we have.
At Front of House we meet the world, from around the corner and further afield; library members, visitors, and curious passers-by. All are welcome, and through their queries and comments we learn a million things about our Library we may not otherwise have known.
As part of the volunteer team helping with Adele's research, we engaged in wide ranging discussions about different aspects of the project, and I was involved in transcribing audio tapes of various seminars, meetings, and interviews she led or attended.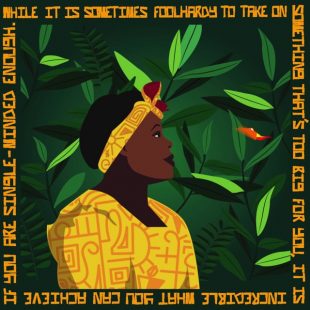 Through this work I got to know about Book Bunk, a trailblazing organisation and partner with GWL, restoring and bringing a new lease of life to three public libraries in Nairobi, Kenya. And I listened in on discussions and interviews between Adele Patrick and Sue John (the two Senior Managers at GWL), and feminist leaders in the library and museum sectors in New York, and other world cities; discovering what we can learn from them and they from us.
More recently there was the excitement of joining the in-house review team for Open The Door 2020 – a mind-blowing digital event spread over a week on Facebook, Instagram, Twitter and our website.
All of this, and so much more, has been a fast-track introduction to GWL and its Aims and Objectives and Core Values.
Probably most remarkable to me is the value that every single member of staff affords to volunteers. I don't believe there's been a moment when I have not felt appreciated as a volunteer, and encouraged to participate in any and every facet of GWL's life.
A new adventure
This inclusive open-mindedness was a prime motivator when it came to accepting the position on the Board. A move which has opened up a stunning opportunity to immerse myself in the work of GWL, to the best of my ability.
I use that proviso quite intentionally; I am not an academic, nor do I have the business acumen and expertise of others on the Board. But I do have many years experience as a radio & television newsreader/presenter, and contributor to various magazines & publications. In recent years I led two not-for-profit volunteer-based organisations in New Zealand, built around the concepts of group learning and skill-sharing for retired and semi-retired people. And of course, there's the experience each one of us has of volunteering – and that is no small thing.
And now I've been welcomed to the Board without reserve, and encouraged to participate, albeit in a virtual way for now, and for the most part by way of questions – I have mountains to climb in terms of what I need to know!
Even in the few months since my inaugural Board Meeting I have learned so much. About the people who make up the Library, and about how they're addressing the big issues, such as leadership, equality, and  GWL's evolving role, especially now amidst the turmoil of Covid-19 and the growing Black Lives Matter movement.
And I've been shown the day-to-day workings of GWL, discovering areas I would probably have otherwise ignored.
Recently I Zoomed into a Fundraising Cluster meeting; explored the intricacies of the GWL Risk & Opportunities Register; attended a virtual Programme Reflection Meeting – including volunteer reviews of Open The Door.
I'm also part of a Board/Staff group exploring how we facilitate a phased return to the reality of a post-COVID world, and I have fought against lock-down inertia in order to read a tiny portion of  a huge number of documents, papers, reports, opinions, chronicles and résumés that are relevant to GWL governance and strategic practices, policies and procedures. Phew!
For me this is a colossal learning curve, all to do with stepping outside my comfort zone and dramatically expanding my horizons. And it's a journey I hope you'll let me share with you.