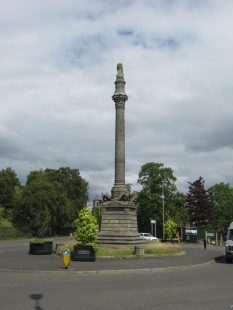 A few weeks ago we posted a blog asking you for your photos of monuments and statues commemorating women, and we've had a great response, with replies from Scotland (Glasgow, Falkirk, Tranent, Inverness and Skye), England (Durham and Winchester) and further afield (Calgary and Auckland).
The monuments celebrate both individual women who were social and political campaigners, pioneers in their fields or poets, and the collective efforts of women to gain their rights. Women from the seventeenth to the twenty-first centuries are represented, some of them being very well known (Flora MacDonald and her actions on behalf of Bonnie Prince Charlie for example), others much less so.
You will probably have heard of Josephine Butler, who campaigned in the nineteenth century to get the Contagious Diseases Act (which discriminated against prostitutes) repealed, and lived for many years in Winchester. GWL holds a collection of materials from the Josephine Butler Society which she founded in 1869.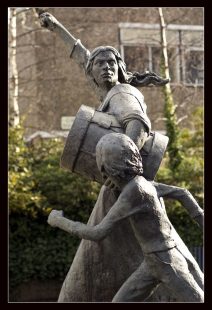 But you may be less familiar with the names of New Zealander Elizabeth Yates (originally from Caithness and in 1893 the first woman to be elected mayor anywhere in the then British Empire); Jackie Crookston (who took part in opposing conscription and was killed during the ensuing Massacre of Tranent in 1797); Sheila McKechnie (a trade unionist, housing campaigner and consumer activist who 'made a difference'); Elizabeth Bowes (seventeenth-century pioneer in the Durham coalfields) and Màiri Mhòr (Gaelic poet).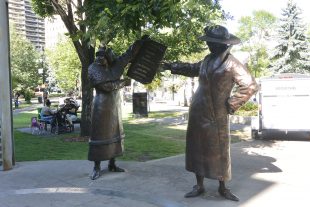 And who knew that in 1929 five Canadian women now remembered as 'The Famous Five' (Emily Murphy, Irene Parlby, Louise McKinney, Henrietta Muir Edwards and Nellie Mcclung) fought to have Canadian women recognised constitutionally as 'persons' eligible to be named to the Senate? Today October 18 is still known as Persons Day in Canada in recognition of their success.
It's fantastic to be able to bring all these women out of the shadows and back into the spotlight, to remember and celebrate their achievements down the ages, so do please keep sending us photos of the monuments and statues that mark the lives and work of women in your part of the world.
How to get involved:
Can you think of any statues, buildings, plaques, murals, paintings, graffiti, or street names in your area?
To share your photos, just tag @womenslibrary in your Twitter or Instagram posts and use the hashtag #WomenMakeHistory
You can also download one of our Glasgow Women's Heritage Walk maps or  free audio tours and see how many landmarks you can find.
For those of you further afield, the Mapping Memorials to Women website shows landmarks remembering women across Scotland http://womenofscotland.org.uk/