In October of last year I was extremely lucky to be one in a small team to travel, alongside the talented Courtney Stoddart and Tomiwa Folorunso, to Flup Festival of the Peripheries in Rio de Janeiro.
On an earlier visit to Brazil as part of her leadership journey GWL creative development manager Adele Patrick had learned about Flup literary festival and was inspired by its capacity to act as incubator for new Afro-Brazilian talent. She described Flup as the most inclusive literary festival in the world, expressing an agenda which resonates with the mission at Glasgow Women's Library to celebrate hidden histories and creativity. And more specifically with our literary festival Open the Door, which exists to discover and empower new voices. Fast forward a year to October 2019 and thanks to the kind support or the British Council I was traveling to experience the festival for myself alongside poet Courtney Stoddart, representing Scotland in the Flup International Slam, and Tomiwa Folorunso, who was producing a series of podcasts interviewing some of the different and awe inspiring voices the festival invited to participate.
What is Flup?
Flup started in 2012 when economic and political circumstances were very different in Rio, providing the conditions for affirmative actions and the emergence of a new audience. The festival aimed to provide new readers and writers in Brazil with a platform, to nurture talent coming out of the favelas and to make that talent visible. In that first edition Flup published a book to celebrate a new generation of Brazilian periphery writers. In Brazil poverty has a colour, more than 50% of the population is black and poor. This new generation of writers brought these marginalised perspectives into the light, raising voices from the world's largest African diaspora. In the second year three books were launched, along with a short history and poetry collection. Every year this list of published works grows. Seven years on the festival I experienced had become an inspired international reference point for black writers, artists and creative thinkers from all over the world, meeting to discuss resistance tactics and difference as well as to celebrate diversity.
Slam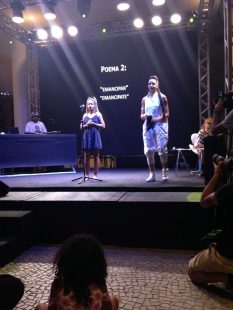 At the core of this celebration are two Slam events. In developing the festival, along with poet and cultural producer Ecio Salles, Julio Ludemir encountered a powerful spoken word tradition in the peripheries. From this realisation the idea came to bring voices from different Favelas, who didn't know each other, together so that they could speak to and effect one another. Out of this the national Slam emerged gathering poets from all over Brazil. In speaking on the Slam to Tomiwa, Julio acknowledged Roberta Estrela D'Alva, who curates the slam, saying "when I saw her work I understood that to talk to the periphery I need to talk in a different way – I need a new tool – spoken word became this tool". With the introduction of the Slam, Flup invited public high schools to visit and saw a huge reaction from young people listening to poets speak in their language and close to their own experience.
From the Favelas to Cais do Valongo
As the Slam form ignited hearts and minds it expanded so that alongside the national competition, Flup invited international participants to take part in a second Slam, a kind of world cup – but for poetry – with poets traveling from 16 different countries to perform.
Julio is candid that the expansion of this unique platform also coincided with a social and political crisis in Brazil. By 2018 wars were raging in the Favelas so that, despite negotiations with the police and gang leaders, the conditions for creating a safe space in favela settlements were stretched to the limit. Besides and through these escalating difficulties Flup understood the need to create a dialogue with the heritage of Brazil and particularly with the often forgotten fact that Rio de Janerio was once the largest slave port in the world, with millions of enslaved Africans contributing to and dying for the city's economy in the 18th century. Enslaved people came from Angola, Congo, Benguela and Mozambique, bringing with them African heritages that still nourish Rio's cultural scene through music, dance, and religion.
This dialogue with histories of violence took the festival to Cais do Valongo, an area where excavations for the 2016 Olympics found shallow graves for an estimated 30,000 enslaved people who died making the ocean journey. For Flup the heart wrenching question was how to approach these histories, calling to account whilst also celebrating the diverse cultural legacies created by the freed slaves that survived. The answer came through the Slam, which created a supportive environment through which to spotlight those most marginalised, with the 2019 edition giving the stage over entirely to women of colour.
Making connections
For Julio, the Slam is about making connections all over the world and asking tough questions to each country that takes part. For example Julio reflects on what Flup asks of partners:
"I ask for a black writer based in Germany – I would like a poet – yet they say this doesn't exist here. This year I told them I want a specific slammer – a black woman – if you don't have you can't take part – so I make them research the real demography – so not what you think of white in Germany maybe Turkish – and in the end we had three!"
Flup Slam is a form that has grown out of and for a very particular context. Visiting from Glasgow, we were all swept up by the intense, open and supportive environment the poets created together. More than a competition the Slam is a gathering of strong voices that take power from each other. Arriving back I'm excited to see how these connections will grow into our own Slam forms for Open the Door.
With thanks to Flup director Julio Ludemir for sharing these insights and to the Flup team for hosting us!
—
View our Digital Slam and Calm Slam (subtitles available)
Listen to Tomiwa's soundscape on the Flup Slam (transcript available)
More about Flup Festival and Adele Patrick's leadership journey.
Supported by the British Council.