I have written a little bit about our trip to Flup Festival in Rio de Janeiro a previous blog [link] and particularly its poetry slam, but I wanted to acknowledge another important aspect of the festival, that it was a gathering that brought global Black activists into dialogue with the specific context of Brazil, home to the largest Black community beyond the African continent, but often a blindspot in English speaking histories of African Diaspora. There was so much learning and more programmed events than I could possibly attend or sometimes understand (even with the amazing live translator facilities) that this blog can only really give a few highlights, however Tomiwa Folorunso also produced some brilliant and detailed interviews with two of the festival's many guests, Funmilola Fagbamila and Natasha E Kelly. It was moving to be alongside Tomiwa as she made sense of her Nigerian Scots identity in relation to these inspirational women and also to feel my own difference as a white person living in Scotland (just trying to listen hard and learn as much as I could about histories our very white institutions in the UK often ignore) no longer in the majority, but within a community of voices genuinely open to celebrating diversity and holding difficult but necessary conversations on how to live with differences.
On the first day I attended a panel on reading, a subject close to my heart as a development worker at Glasgow Women's Library. Listening to this wonderful panel in translation I learned a new term – bibliodiversity which I think is about giving people as many different perspectives on life as possible. Reading was discussed in its broadest sense as a way of understanding and producing different visions of the world. In this work there can be many different reference points, not just from academic and scientific institutions but from our grandmothers and other significant women in our lives. For new generations of writers and for social movement we need more different visions of the world and to expand the limits of what is visible. Time and time again I saw amazing women testify to how discovering other black voices has empowered them to become creative forces (most movingly the festival climaxed with a testimony to Carolina de Jesus by three writers and her daughter – a tribute that I felt spoke to our aspirations for Open the Door). One of the writers on this first panel, Cidinha da Silva (who kindly donated a book to our library – adding a Brazilian voice to the bibliodiversity of GWL), also talked about how she would often see her books in shops confined to a little table of other black authors. She felt concerned she was being constrained within in a category and wanted to assert the right to be singular in her writing.
This point was made again in panel on African Diasporas where there were striking differences between moments where Black activists from Europe like Natasha E Kelly asserted the need for a pan-African movement whilst voices from Africa emphasized the diversity of the continent – going against a familiar presentation of Africa as if it were a single country – and always in crisis. I saw this movement between seeing the strengths of sharing a common heritage and asserting differences across cultures and between individuals as a refrain that the festival staged in many forms.
There were also many different types of activists present from environmentalists to trans-rights and fat activists to the pioneers of the Afropunk movement. These figures were seen as stepping between worlds in their activism with one amazing example being the 'My body, my verses' discussion that brought together Brazilian rap artist Preta Rara with American rapper Akua Naru, who as well as performing is in the process of researching the achievements of women in hip hop at Harvard University. Preta Rara's activism came from her own experience as a domestic worker. She told the story of this Brazilian class of over 8 million people, overwhelmingly female and black, isolated in domestic spaces or, when in public, in uniforms so that they appear as someone else's property, signalling the stubborn remains of colonial practices. Preta Rara's experiences led her to start a facebook group linking these invisible women through shared stories of mistreatment, and then to publish a book highlighting the subject.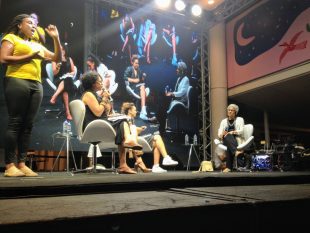 This tactic of bringing together minority voices is something that legendary intersectional feminist Patricia Hill Collins also talked about in her presentation – sometimes dividing her teaching groups at university so that black students are alone together. I recognised this as work our own wonderful development staff do at the women's library initiating groups like Readers of Colour. Collins went on to say that this kind of independent organising is 'not forever but sometimes there is a time for it – other times we will talk together'. For Collins the 'next huge question' that will merit coming together – is under the umbrella of environmental crisis, which she saw as social justice issue that sees poorest communities hardest hit, with great potential for long term coalitional politics.
In coming together Collins emphasised the importance of people playing to their strengths, using their energy wisely on things they are uniquely placed to achieve. In a way this advice had the flavour of self-care – something that Akua Naru saw, along with love, as vital in facing hard social realities.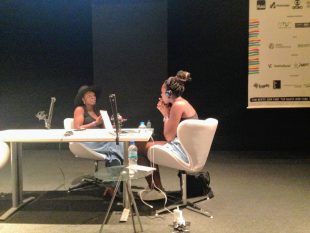 This sentiment was echoed by Funmilola Fagbamila, a founder of the black lives matters movement in America and the first activist Tomiwa interviewed. In that podcast Fagbamila speaks about 'intentional communities' as nourishing her, I felt this was a good word for what Collins and Preta Rara were creating in their different worlds. Together with Tomiwa they spoke about segregations in the states similar to those in Brazil but this time around 'who is forever and always pouring your coffee'. Listening now from the UK I notice those 'forever and always' cleaning and caring in our hospitals. Rifting off of the assertions that Black experiences should not be viewed as all the same, but singular, it is clear that a powerful resistance politics needs to create threads of connection between experiences of injustice AND celebrate diversity. This call for a movement that can link people with profound differences is maybe best expressed in Fagbamila's play The Intersection: Woke Black Folk which is frank about dissonance between types of Black activism. The message I took from the play and from this fantastically inclusive festival as a whole was that the most powerful movements for change both now and in the future build strength and solidarity not by erasing difference, but by making space for these many readings of the world and experiences to be together and learn from each other.
Read more on Tomiwa's experience of Flup
Listen to her fantastic interviews with Funmilola Fagbamila and Natasha E Kelly (transcripts available)
Other links of interest:
Preta Rara on TED (subtitles available)
Funmilola Fagbamila's Woke Black Folk
For an interesting introduction to Carolina de Jesus
Thanks to Flup festival for hosting us and to the British Council who funded this trip.