Our beautiful building, for now, must remain closed to protect us all during this Covid-19 pandemic.
We miss you all – our volunteers, our visitors from around the world and around the corner, those usually attending events, the browsers, the borrowers, the researchers, and our partners and friends. We can't wait to welcome you all back – but only when it's absolutely safe to do so.
Until then, our staff are working from home and continuing to work together as a team to plan for the future, so that when this situation changes we will be ready to deliver our usual vibrant programmes of events.
While our physical doors are shut, our digital doors are well and truly open as we continue to rethink and reshape our events and activities, and inspire people through our unique collections – and so you can continue to enjoy GWL digitally and via our social media platforms.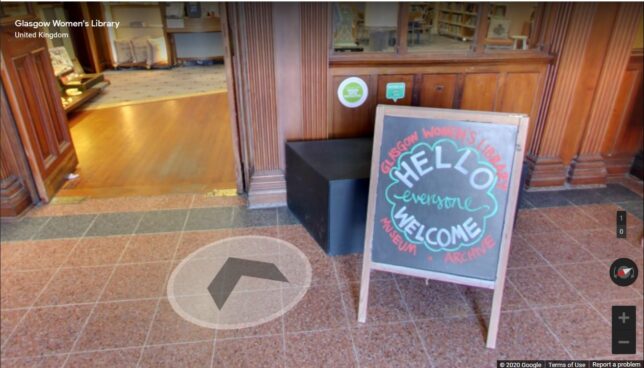 We want to extend the same warm welcome to you as you explore our digital world as we would in our building. We would love you to connect with us, and join in our conversations and activities.
So together let's Open the Door as we invite you to our online women's writing festival, focusing on environmental and ecofeminist ideas, taking place during the week starting 18th May.
Or if you like going to exhibitions and learning more about arts and culture, join us on Twitter for our weekly #StillSeeingThings – creating a sense of community online while we showcase work and exhibitions from around the world, as well as from our own building.
If you love being read to, how about putting the kettle on and letting some of Scotland's best known writers transport you to the world of 21 Revolutions as you listen to their stories and poems written in response to items in the GWL collection – funny, sad, thought provoking, but all truly magical.
Would you like to learn more about women who fought for the vote – the name Pankhurst rolls off the tongue, but who were the lesser known Scottish heroines and those from around the world who changed the lives of women forever? You can find out with our Vote 100: The Moving Story project.
If you want to browse our museum stores and collections, this video is a good introduction, and more of our fascinating items and exhibitions can be seen online, through our Google Arts & Culture exhibits and in online exhibitions on our website – find out how we're Decoding Inequality or explore our LGBTQ collections.
Finally for now, if you are missing our GWL Landressy Street home as much as we are, you can take a digital tour through the building – but don't forget to switch off the lights!
Please do keep in touch with us via our website and social media – you can find us on Facebook, Twitter (@womenslibrary) and Instagram (@womenslibrary).
We need your support now more than ever so please do consider supporting our future by becoming a Friend or through a one-off donation.
Keep safe!