Over the last year, we've been lucky enough to be working with a truly trailblazing organisation, Book Bunk.  You can read a bit more about our partnership, which is funded by the British Council, here.  You might have met the Book Bunk team when they visited us, or followed the GWL Nairobi crew on Twitter last October (check out the hashtag #GWLKenya).
It's been an unforgettable experience – a year of life-changing and joy-filled collaboration between Nairobi and Glasgow.  Take a peek at some of my highlights…
Celebrating Kenyan writers and creatives  
Our new friendship with Book Bunk immediately sparked our curiosity about Kenyan women, and we wanted to learn more about writers, creatives and activists before we welcomed the team to Glasgow. We held a Story Café Special on Kenyan women, celebrating writers including Nobel prize winner Wangari Maathai (who is one of our featured writers at Open the Door this year), and trailblazing film-maker Wanuri Kahiu, Director of Rafiki.
Story Café loved every word…. 'So good to hear about Kenyan authors and artists I didn't know about. I've learned totally new things'
 'So inspiring, I'm going home to look up the writers and read their books, and watch the film Rafiki'
 Book Bunk in Glasgow!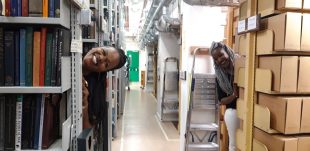 In August 2019, we were thrilled to welcome Book Bunk co-founders Wanjiru Koinange and Angela Wachuka to Glasgow for a research trip. We packed a LOT in, but the real highlight was hearing about their incredible work at our Story Café Special, and having a sneak preview of Wanjiru's debut novel The Havoc of Choice.  Our lunchtime event was a brilliant mix of powerful readings and discussion about political systems, political engagement among young people and reading cultures in Kenya.
Jackie Kay, beloved friend of GWL and Scotland's National Poet, just happened to drop into the library unexpectedly. We'd been talking about her all week, so this felt so special and serendipitous! As Wachuka said 'What joy!'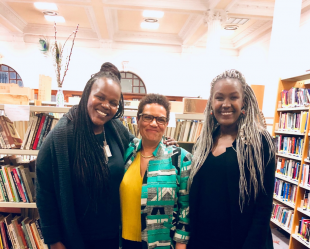 #GWLKenya
Six of the GWL team packed their bags and headed off to Nairobi in October 2019 for an experience of a lifetime. We were bowled over by the kindness and generosity of everyone we met, and fell head over heels in love with Nairobi and the whole Book Bunk team. A real highlight for me was visiting the three libraries that Book Bunk are renovating – Kaloleni, Makadara and McMillan Memorial, and getting to grips with the sheer scale of the work that they are undertaking. Not only are they committed to renovating the buildings, they are challenging the legacy of colonialism, creating collections that fully represent and celebrate the communities that the libraries serve, for the first time.  It is life-changing work.
We met so many inspirational people working in cultural heritage, environmental activism, film-making and the arts. We were thrilled to connect with Wangari Maathai's daughter, Wanjira Mathai and find out about the work of ground-breaking organisations such as Docubox.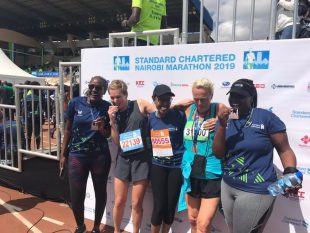 We had a magical Book Picnic in Karura Forest! And to top it off, Adele Patrick and Gabrielle Macbeth ran in the Nairobi marathon with the Book Bunk team to raise money for Book Bunk's work! It was a week we'll never forget.
Book Bunk back in Glasgow!
January isn't the most inviting time of the year to visit Glasgow (!), so we had to make sure we gave Syokau Mutonga, Research and Inventory Manager from Book Bunk an extra warm GWL welcome.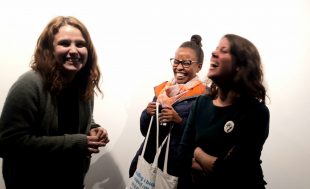 Spending time with Syokau was the perfect antidote to the January blues. We had the best week together, sharing experiences about our collections and catalogues whilst taking trips around Glasgow and Edinburgh, dodging the rain and hail showers as we went! Huge thanks to Syokau for enduring our weather with such positivity and humour! We miss you, and hope to welcome you back to Glasgow – maybe the summer next time?
A lasting friendship
It has been an absolute joy to work with Book Bunk, and our friendship continues to blossom. We'd been planning some events together this summer, but the universe had other ideas, so we're marking the page… In the meantime, we'll keep our conversations flowing between Nairobi and Glasgow, and raise a glass to this wonderful friendship, and these bold, brilliant women.