In the coming weeks our Green Creative Cluster (a group of staff and volunteers working to minimise GWL's impact on the environment) will be introducing some of its work in a series of blog posts.  To kick us off, Mary and Doreen explain how our garden came to life.
The initial seed for our garden came from a suggestion that planting next to the lovely lift shaft and back wall at GWL might help to discourage night time visitors from adding graffiti. We thought of planting a border of discouraging and jaggy plants. However, a much more beautiful plan emerged, and this came from a collaboration with Hampden Primary School and the Royal Horticultural Society (RHS). The RHS run a scheme called Greening Great Britain and we were very fortunate to take part in this.
Gardens and green places are good for wildlife and the environment but they're also good for us. We (GWL's Green Cluster) love plants and gardens and hoped to share our enthusiasm with everybody else. And, we had Angela from the RHS to help us with vision, design, plant selection and plenty of practical gardening tips. So, much more than a barrier, our garden was emerging as a lovely, flowery, inspirational green space.
In June 2019 we had a brilliant planning day with Angela and our friends from Hampden Primary School at GWL. The children, with a wee bit of help from staff, created planters to take back to their school, decorated plant pots and planted them up. We looked at books full of inspiring photos and useful information about optimum growing conditions (along with some actual potted plant examples brought by Angela) and created a plan for our "Lifting Words Garden". Once our plan was complete and we knew which plants (including their scientific names) and how many of each we needed, Angela put in the order.
The day the plants arrived was amazing. Our order had arrived and the glorious plants were already adding their colour to GWL. Different colours and textures, different shapes, different sizes, different personalities. Our newly assembled gardening group spent some time with the plants learning about their unique characteristics.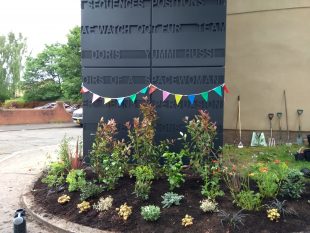 The grassy area outside the lift shaft was dug up and more compost added with the help of the Community Payback Team. And then planting day came. The children came to help us and we were all very impressed by their enthusiasm and skills. On this second visit the children seemed much more comfortable at the library. Their time outside the classroom really seemed to focus the children and their learning was obvious. The RHS has some very interesting and particular advice to involve children in gardening on their website.
It was wonderful, in one day we had transformed a rank grassy littered area into our garden. The colours include bold red from the tips of Photinia 'Red Robin', the robust geraniums and the more delicate Geum 'Mrs Bradshaw', paler pink from Hebe 'Heartbreaker, startling darkness from the 'black grass' and an infinite variety of greens. In autumn we planted bulbs and although we can't go and see them right now the tulips will be busy cheering up the area.
We love our new garden and, when you can, we invite you all to come and enjoy our green and growing outdoor space.