… About 21 Revolutions.
Who doesn't love to be read to? Being transported through surprising places, times and emotions is a joy at any time, and being read to by some of Scotland's most prolific writers is truly a special experience.
To mark Glasgow Women's Library's 21st Birthday in 2012, the Library commissioned 21 artists and 21 writers to each create new works inspired by items in our museum, library and archive collections. The resulting fine art prints, poems and short stories were then brought together with the sources that inspired the work in a beautiful, lushly illustrated book.
The writers, from Jackie Kay to A L Kennedy, Denise Mina to Leela Soma, each agreed to read their specially commissioned stories and poems aloud to be made freely available as podcasts, and these can be accessed on the Glasgow Women's Library website here. They are also available on iTunes.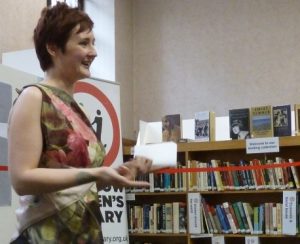 Hear how an album cover inspired Kirsty Logan to write a story made from cut-out words – somewhere between fiction and visual art; how Zoe Strachan and Louise Welsh collaborated on a story grown from a packet of sweet pea seeds named after Dusty Springfield; and hear Karen Campbell weave together a tale involving suffragettes at Glasgow School of Art.
While we are living through these extraordinary times, whether you're indoors or on a daily stretch outdoors, treat yourself to a dive into the treasure chest that is 21 Revolutions.