Just in time for International Women's Day, and ahead of our event 'Where Are the Women?' at GWL on 14th March, we asked Sara Sheridan to name just a few of the women connected to Glasgow that she would call sheroes. Her book 'Where Are the Women?' imagines fictional streets, buildings, statues and monuments dedicated to real women across Scotland. We asked Sara to tell us about some of women who are commemorated by imaginary monuments in Glasgow in her book, and we include some of their connections to GWL projects and our collections.
On Saturday 14th March, 2pm to 3.30pm, join author Sara Sheridan at GWL. You can book your ticket, or find out more information, here.
Just some of Sara Sheridan's Sheroes
Helen Crawfurd (1877–1954), a gifted orator and one of Emmeline Pankhurst's bodyguards. During the First World War, Crawfurd was involved in grassroots women's movements including the rent strike, the Women's Peace Crusade, and the Independent Labour Party. An internationalist and proponent of Home Rule, she became Dunoon's first female town councillor. She wrote the suffragette anthem 'Song of the Women'. [In 2018 GWL worked with artist Fiona Jack, Helen Crawfurd's great niece, whose exhibition and artist book were inspired by Crawfurd's legacy. In 2016, Forward! exhibition curated by Fiona Dean celebrated women from the peace crusade.]
Helen Macfarlane (1818–1860) from Barrhead, who wrote the first English translation of the Communist Manifesto. The daughter of a wealthy mill owner, Macfarlane's story is memorialised in the play Rare Birds by Penny Cole.
When the post of Keeper of Social History at the People's Palace was advertised in 1989, Elspeth King told that there were 'no jobs for the girls'. This prompted the printing of 'Jobs for the Girls' t-shirts worn by many women in the city as a protest. [Such as these t-shirts made during the early years of GWL and now in the collection]. King's book The Hidden History of Glasgow's Women is a classic.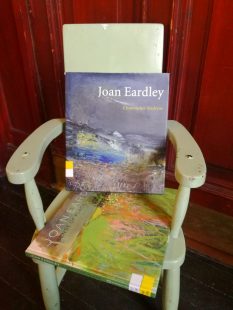 Audrey Glover Walker (1910–1966), photographer who took many shots of the painter Joan Eardley. Eardley is well known for her pictures of Glasgow tenements, which have become world-famous as representations of the city's working class life.
Jewish artist Hannah Frank (1908–2008), who signed her early work Al Aaraaf – a star placed between heaven and hell – after the poem of the same name by Edgar Allan Poe. There is a reproduction of her 1928 work 'Girl in a Wood' under the Clelland Road railway arches in the Gorbals. She continued to work into her 90s and was widely recognised as the last living Glasgow Girl.
Mary Loftus (1857–1940) and her sister Cissie (1876–1943). Mary was one of Britain's best-paid music hall performers, earning £100 a week in the 1890s. She toured the US and South Africa. Cissie was a mimic, actress and music hall performer. It was said that 'Glasgow never had a greater favourite'.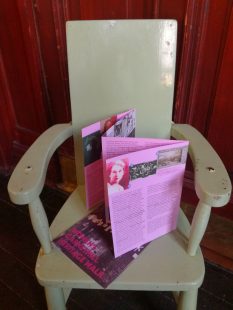 Eunice Murray (1878–1960), writer, campaigner and Scottish President of the Women's Freedom League (which operated offices and a tearoom within walking distance on Sauchiehall Street). In 1913 a letter printed in the Glasgow Herald declared that if more people could hear Eunice speak, the 'vote would be won without delay'. [Eunice Murray was one of the campaigners celebrated in GWL's Vote 100: The Moving Story project in 2019, which saw animations made by students across Scotland.]
Stella Reekie (1922–1982) who worked with the Red Cross after the Second World War, helping to rehabilitate Jewish children who came out of Belsen concentration camp. Later Reekie became a missionary in Pakistan and from 1968 worked with immigrant communities back in Glasgow. Her home at 20 Glasgow Street in the West End became an open house to international visitors.
May Donoghue (1898–1958) a shop assistant from the Calton area who discovered a dead snail in her drink while visiting a local cafe with a friend. Her case was taken up (pro bono) by Glasgow solicitor Walter Leechman and resulted in a landmark House of Lords ruling establishing a manufacturer's duty of care to customers. During proceedings, Donoghue was forced to declare herself a pauper. There is a statue in Paisley by Mandy McIntosh. [Artist Mandy McIntosh recently played a DJ set at GWL's Herland: Readings from the Bower of Bliss].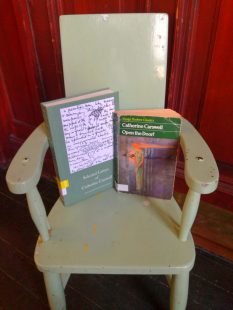 Catherine Carswell (1847–1946), who was fired from the Glasgow Herald for an unsanctioned review of the novel The Rainbow by DH Lawrence which was later banned under the Obscene Publications Act. Carswell went on to write theatre reviews for the Observer. Lawrence then mentored her when she was writing her autobiographical novel Open the Door! for which she won the Melrose Prize. [And which inspired GWL's annual women's literature festival which takes the same name. Look out for this year's digital Open the Door festival in May!] Ever controversial, her biography of Robert Burns outraged traditionalists by refusing to gloss over Burns's sexual misdemeanours and his drinking. After its publication, she received a bullet in the post with a suggestion that she kill herself. Her personal life was also stormy and in her own words she embarked on a 'rash and foolish marriage to a man I scarcely knew'. He tried to kill her when she became pregnant and the marriage was annulled on the grounds of his insanity in a groundbreaking legal case.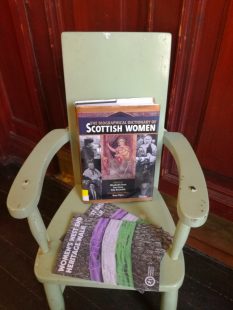 Marion Gilchrist (1864–1952). Gilchrist was the first woman to qualify in medicine at a Scottish university and was a leading suffragette. She was chair of the Glasgow division of the British Medical Association – another female first. The Marion Gilchrist Prize awarded to 'the most distinguished woman graduate in Medicine of the year'.
Battling Betty McAllister (1931–2009), is famous for telling Prime Minister Margaret Thatcher she could 'stick the poll tax where the sun don't shine' when McAllister organized a protest during a visit by the then Prime Minister. She received a British Empire Medal in 1980 and was Scotswoman of the Year in 1984. There is a blue plaque her at the site of her old shop Betty's Seafood.
And lastly, Sara Sheridan gives us a sneak peak to the new paperback edition, coming summer 2020, in which there will be an addition to Glasgow with Polly Higgins. Polly Higgins (1968–2019) a lawyer who campaigned during the last ten years of her life to legislate internationally for the crime of 'ecocide' thus creating a legal duty of care to the earth.
Thanks to Sara for sharing these incredible women's stories! And to Johanne, GWL volunteer, who took the beautiful photographs in the post.