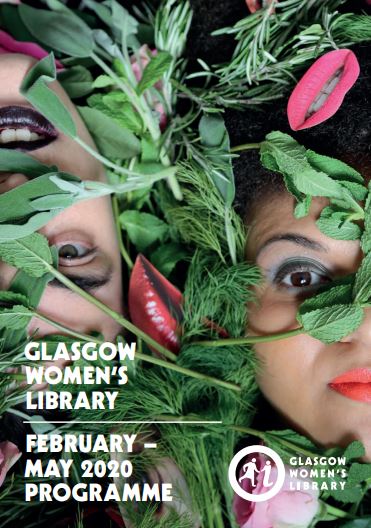 Our Spring 2020 Programme is now available and you can pick up your copy of the beautiful printed brochure at GWL, take a look on our website, or download a pdf programme to find out all about events and projects happening this season.
Every day at Glasgow Women's Library we celebrate the lives and achievements of women, amplifying stories often unheard and stressing the significance of women's work that can still be undervalued. As you browse our Spring 2020 programme, we hope our commitment to forefronting herstories and highlighting overlooked tales of women changing lives today, really comes through.
Spring means the return of our ever popular Glasgow Women's Heritage Walks and we're heading out of the city to shine a spotlight on women in Renfrewshire in our new creative Making Her Mark project.
Legendary Artist and photographer Ingrid Pollard will be inspiring a range of exciting events as we look to open up the LGBTQ collections at GWL as part of Lesbian Lives: Revealing Hidden Herstories, a project with Glasgow International Festival 2020. Our Glasgow International 2018 project with iconic artist Linder returns to the library as we present Bower of Bliss: The Next Chapter in March.
If you have hidden talents to unleash or are looking to develop your creative voice keep an eye out for our assorted creative writing workshops, and why not try your hand at Slam Poetry with a workshop from the amazing Courtney Stoddart.
Whether you want to help us mark women in Scotland's past, discover more about what our sisters are doing around the world or put time into celebrating yourself this season, we hope the events in our programme and the books in our collection fill you with the hope and confidence needed to put a spring in your step.
We're trying to make our programme as accessible as possible and with this in mind we're delighted to present our programme in large print and audio formats. Below you can download your copy of a large print version of our programme or listen to the audio version. If you have any thoughts or suggestions on these formats, or on accessibility in general, please do let us know.