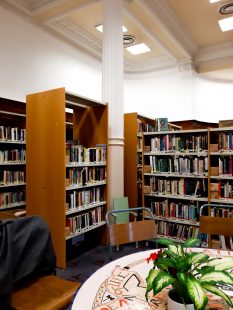 What I've learnt at the GWL 
Being at the GWL, I've learned different things. I'm Aisha Aslam and I'm in my final year of study for PR, Marketing and Events at Queen Margaret University. I have been doing a work placement at the GWL from the beginning of October to the end of December, as part of the work experience required by my course. Through my time here, I have seen, heard and learned many different things about the library, work and myself.
---
Before I had begun here, I had never heard of the GWL until I seen an advert on my university's job site, advertising placements. Never did I picture it would be like this. I didn't know what to expect. It felt like the process had went so fast from the time I sent in my CV, had an interview and 1 week later, beginning the placement. The GWL offers a space where you can work freely and be able to ask anyone for help at any time. Everyone from staff, volunteers and visitors are lovely and open with you. I didn't know what this type of working environment would be like and now I know is it lovely and welcoming.
---
Once I begun here, I was set straight to work and haven't stopped since! From these 2 and a half months, I have created a film poster working towards a client's brief, created press releases, posting weekly book recommendations to Instagram, scheduled posts for early 2020, created a project page for Linder Sterling's Bower of Bliss and researched publications to send press releases to. I feel like I've learned more from this work experience about industry and working in general more than I've ever been told about it in university before!
One of my favourite tasks to do was the first; creating a project page for Linder. As it was a subject I was interested in – art – I had found it exceptionally easy to apply myself to and conduct research on. I normally don't enjoy the research process, but for this I certainly did! It was easier to be more motivated towards the tasks I had! I have learned different ways on how the GWL tackle different things such as posting on social media, the website, press releases etc. and it was interesting to see how they went by doing them all each!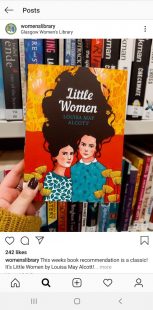 At the GWL, there are friendly people, plenty of places to sit, museum archives, and an abundance of books of course! I've also seen things I never thought libraries would do that helps the GWL stand out; story cafe, English lessons, exhibitions, events and more! All of these help to bring GWL together and allows them to work so well with one another. It offers different experiences to people with the different elements involved and it is something that helps make them a unique experience.
---
I feel like I've learned so much about the library, seen and heard about women's issues in more detail and have been a part of something special over these past few months. I've found it to be a nice, warm, refreshingly diverse and a  friendly place to work in and visit. It is a great place to get work experience whether you are in school, college, unemployed or university!