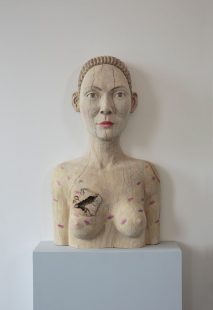 In summer 2019 visitors to GWL and Platform experienced the two-site exhibition Home Where Home Is Not.
You may remember the sound of Pranayama breathing exercises in our foyer, or the noise of Velcro being eased apart in the main space. Or perhaps it's the sculpture of the woman carved from wood or the fragile bowls shaped from Pritt stick glue that stays with you most? These works alongside installation, drawing and text, took their places all around GWL and Platform from late June to early August 2019.
Home Where Home Is Not was an ambitious exhibition by artists Sogol Mabadi and Birthe Jorgensen, reimagining fixed notions of home. After a period of research and discussion with a diverse group of women at Platform and Glasgow Women's Library, this exhibition stretched across both sites in Glasgow's East End in order to explore what it means to be from more than one place.
Digital Exhibition Catalogue
Following the exhibition we produced a digital exhibition catalogue which features photographs of the works, the exhibition text written by Caroline Gausden in dialogue with Sogol Mabadi and Birthe Jorgensen, responses by visitors, and excerpts from the events series, as well as a reading list by the artists.
You can download the digital exhibition catalogue as a pdf for free here, and a large print text only version of the exhibition catalogue below.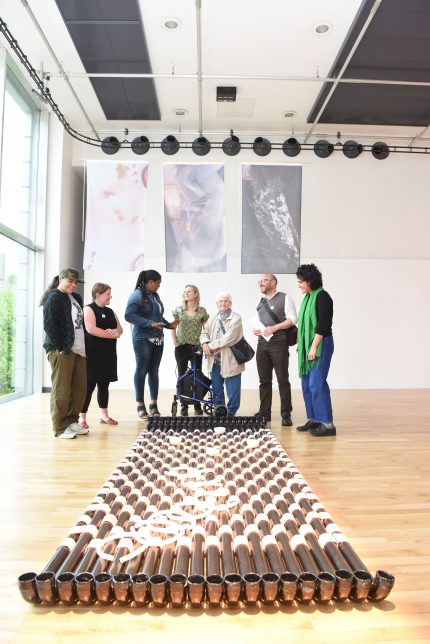 Below are some excerpts from the Digital Exhibition Catalogue
Home Where Home Is Not: On the Fruitfulness of Exchange
Following a guided exhibition visit, GWL Front of House volunteers Daphne, Aileen, Mary and Annie reflected on the importance of spending time together and discussing different perspectives.
"The experience inspired me to dig deeper and think differently. Our conversations also reaffirmed to me that it is important and valid to have different opinions; after all, we perceive art subjectively. My main takeaway, however, is that exchange is fundamental. Whether it's the artists exchanging ideas and stories to create meaningful art, or the viewers sharing their thoughts on the finished pieces to create meaning for themselves and each other, collaboration is always fruitful and wonderful to witness. During periods of political uncertainty, which the exhibition reflects, it is a beautiful thing to share experiences like this that make us feel connected." Daphne
Excerpts from Events Programme
As part of the events programme for Home Where Home Is Not, Glasgow Women's Library hosted an event titled 'Languages of Belonging'. Audiences joined Birthe Jorgensen and Sogol Mabadi who were in conversation with Dr Amanda Thomson, artist and lecturer at the Glasgow School of Art.
"[Discussing her work 'Settling'] I made it in response to a question I had about what makes a space a place, and how does the naming effect our relationship to it. So, when you look at an atlas of Britain, there are very few places that have home in their title. But when you begin to look at an atlas of Canada, the United States, Australia or New Zealand, where people emigrated to, and colonised, you began to see that as well as places that are named after Scottish or European towns, there are places that have 'home' in their title. Either called Homeland, New Home or Prairie Home, and that list [a projected image displaying place names featuring the word 'home'] you can see the length of the different places that are called home or variations of home. This is 'Index', which is a digital print which is all of the places I could find with 'home' in their title. But it really struck me, that idea that naming becomes important. Actually saying that this is me, home, and what that means, and it made me think about the power that people have to be able to name.
"I was really interested to think about how people could arrive in a place and have the power to feel they could superimpose a new home on top of the name of the places that were there before, perhaps had been named by indigenous people, perhaps millennia before, so it was an index of home as well as an index of displacement of people, where people have been before but perhaps potentially the displacement of people who were there before them." Amanda Thomson
Artists' Bios
Birthe Jorgensen is a visual artist, educator and cross-disciplinary researcher. Trained in sculpture at Central Saint Martins and Glasgow School of Art. Jorgensen has shown work in Scotland, Europe, South America and the USA, and lectured at Glasgow School of Art, Royal Conservatoire Scotland, and Iceland Academy of The Arts.
Sogol Mabadi is an artist and art therapist based in Glasgow. Through her work and with participants, she explores moments of interdependency, of being-there and being-with. She is working on a new body of work titled The Conference of the Birds (Farid ud-Din Attar) that will explore the possibility of 'coming into being in parallel' while moving through troubled and liminal spaces.
This project was presented in partnership between Glasgow Women's Library and Platform, and was supported by Creative Scotland, Henry Moore Foundation and Hope Scott Trust.