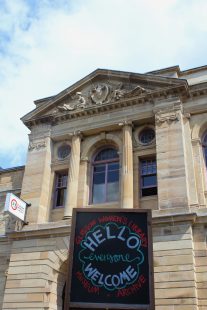 We are looking to recruit a small team of of volunteers to join our Front of House team in 2020.
Front of House volunteers are the first point of contact for visitors and people phoning GWL, and play a crucial role in creating a warm welcome for all.  Whether it's introducing GWL to someone new, offering them a cup of tea, helping someone find their next read, or signposting a visitor to a workshop they'd really enjoy, it's all about sharing information and ensuring visitors and callers get even more than what they hoped for.
Please see the full role description here: Front of House role descriptor
Front of House volunteers typically do a half day a week, on a regular day during the week (Monday to Friday), from either 9.30am to 1pm or 1pm to 5pm.  There are always two people on the desk together and plenty of support from more experienced volunteers and staff.
There will be a training session on Thursday 6th February 2020, 5.30pm to 7.30pm (please save the date) as well as the opportunity to shadow for a few half days in January 2020 (to find out more about what is involved).
We also refund any travel costs associated with getting to and from GWL for volunteering, training and meetings (up to a maximum of £5).
If you would like to find our more please call or email Gabrielle: 0141 550 2267 or gabrielle.macbeth@womenslibrary.org.uk
Applying:
If you are interested and would like to apply, please complete this form [GWL Volunteer Application Form] and return it either by post to our address at the top of the form or by email to gabrielle.macbeth@womenslibrary.org.uk
The deadline for returning applications is Wednesday 18th December 2019 at 5pm.
Please note that we are especially keen to recruit:
Women who live in our neighbourhood (G40 postcodes)
Women who identify as having a disability, long-term or chronic health condition, sensory impairment, cognitive or learning disability or mental health condition
Women of colour
Women from an ethnic minority
Like all our women-only activities and events the Volunteering Programme is inclusive of Trans, Intersex, non-binary and gender fluid people.
You can find out more about our Recruitment Policy here: https://womenslibrary.org.uk/how-to-get-involved/volunteer-at-gwl/