Who knows what we can do? When friends believe
In us, the chrysalis grows tight and splits
And, struggling out, we fly. 
– From The Impossible, by Anna Crowe
At the heart of GWL is community, care and shared ownership, and it means so much to us that our Friends have supported our journey every step of the way. From our early days in cold, ex-factory spaces, to our Art Fund Museum of the Year 2018 nomination and our relocation to this beautiful building in the East End of Glasgow, we've been buoyed up by your encouragement and commitment to our vision. This year, we're excited to be launching our Glasgow Women's Library Gift Friendships, an opportunity to give a lucky person in your life an ethical change-making gift this Christmas!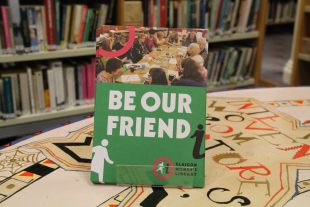 Here at GWL, not only do we celebrate women's lives, histories and achievements through our lending library, museum and archive but we also actively support women from all walks of life across Scotland. Through our many learning programmes, and projects focusing on Adult Literacy and Volunteer Development, we have helped women to stretch themselves, try new things and achieve far more than they ever imagined. A GWL Friendship lasts for one year and helps support our life-changing work.
We have four different Gifts to choose from, ranging from a £25 Friendship to a £75 Friendship, all coming with a welcome letter, a borrower card, a GWL badge, our newsletters and a whole load of love! For those choosing a £35 Gift, you'll also be gifting a selection of our women's heritage maps – beautifully designed and fascinating walks around Glasgow revealing the hidden histories of women's lives and activism in the city. If you're intrigued by the walks, anyone receiving a £50 Gift Friendship will also get a women's heritage walk voucher – worth £10 – which can be used on any of our Heritage Walks in 2020, led by our friendly and knowledgeable tour guides. And after your walk, you might want to pop by and pick up a book from our collections, recommended in our unique GWL Recommends Book List! For an extra special treat, included in the £75 Gift Friendship is a visit to our Archives for you and your friends – the perfect chance to get behind the scenes to look at our Suffragette postcards or dive into our fascinating Girls' Annuals!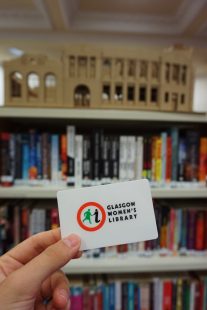 It means the world to us that our work is supported by our Friends and a Gift Friendship is also a gift to the many different women who benefit from our projects and services every day.
We'd love to welcome new Friends this Christmas so please take a look at the Gift Friendships in our shop online, pop by or get in touch to find out more.
If you'd like to become a Friend, you can also treat yourself to a special Gift Friendship, or you can become our Friend here.
If you'd like to support our work and make a one-off donation, you can do this online here or by sending us a cheque. Each donation helps us to continue supporting and celebrating women across Scotland and beyond!