As well as the events, workshops and exhibitions you can see in our public programme, our National team work in prisons, with community groups and in partnership with other fantastic organisations across Scotland to deliver more exciting projects! Here's what we've got coming up this Winter…
Remember, remember a busy November…(and December)
With the fireworks gone and the temperature dropping the national team have been hunkering down for a busy winter season.  We are heading out to Dunfermline on 30th November for an introductory event for a new women's heritage project that will be running in the town from 2020 onwards. You can find out more about it here.
Then, on 10th December, we'll be with Recovery Across Mental Health and Kairos women's project in Paisley to launch an exciting new project which looks at women in Renfrewshire called Making her Mark. The project will ask Where are the unsung heroines of Renfrewshire and how are they celebrated or remembered? How are women's lives reflected in Renfrewshire's towns and villages? We'll be working with local women to look at how women are represented and remembered in Renfrewshire. There will be a chance to learn new skills, take part in creative workshops and make new friends, plus an exciting new exhibition and celebration event is planned for September. The project will also link with women in Furth in Germany, which is twin towned with Paisley so it should be lots of fun. To attend the launch in Paisley on 10th December, find out more information here.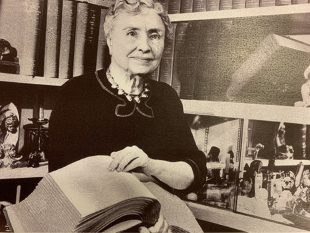 And finally, November is, of course the time for 16 Days of Action, which runs this year from 25th November till 10th December. We've been working with North Ayrshire Women's Aid on a project that engages the local community and celebrates an inspirational woman for each of the 16 days. Rebecca from North Ayrshire Women's Aid tells us more about it below:
 16 Days of Action against Gender-based violence is an international campaign which aims to enable people and businesses to take action against domestic abuse and violence. It starts on the 25th of November, which is the International Day for the Elimination of Violence Against Women and ends on the 10th of December, Human Rights Day.
Here at North Ayrshire Women's Aid, we are excited to be part of the 16 Days of Action movement and this year we have had the fantastic opportunity to work in partnership with the Glasgow Women's Library to produce our 16 Inspirational Women posters.
These 16 Inspirational Women were decided upon and researched by some of the service users and volunteers of NAWA with help from the GLA. These posters will be displayed throughout North Ayrshire as well as on our social media, with the chance for you to win a prize from one of our sponsors if you can name all 16 of our women! Find us on facebook or on twitter @northayrshireWA
We'll be highlighting the 16 women researched by North Ayrshire Women's Aid during the 16 days, so keep an eye on our Twitter feed @womenslibrary and @moraggwl to find out who our mystery woman above is!