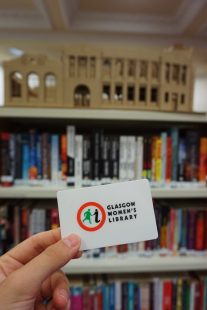 Glasgow Women's Library is a place I have been coming to regularly over the last year. I discovered this wonderful space during my third year of university. It became an amazing resource for my studies as well as a comforting atmosphere to read in. On my first visit I was warmly welcomed by the receptionists and offered a cup of tea. It was then that I fell in love with this space. I was made to feel so welcome and comfortable. As I sipped on my tea and browsed through the many incredible books they have, I knew I wanted to get involved.
However, prior to volunteering with the library, I was struggling to find work experience due to my chronic illness. My health is often unpredictable leaving me apprehensive when it comes to finding voluntary work that would fit with my limitations. But, with my summer break approaching it was the perfect time to at least try it out. I plucked up the courage and got in contact with Gabrielle and a meeting was set up.
During the meeting I explained my limitations to Gabrielle who immediately put me at ease due to her understanding nature. Soon afterwards I began volunteering in the archive with Nicola. I had never worked in an archive before but Nicola made it easy to grasp and I can approach her whenever I need help.
Volunteering in the archive has given me the opportunity to read through feminist newsletters from around the 60s, 70s, 80s and so on. My first task was to catalogue Manushi (the first Indian feminist newsletter). Browsing through these newsletters was eye opening. It gave me an insight into the experience of women living in India during the 70s. From then I have been able to browse through old copies of "Harpers and Queen" from the 80s (I loved looking at the 80s fashion as well as columns on Margret Thatcher) to "Outwrite" (this was an 80s newspaper written by women for women).
Currently I am cataloguing the "Leister Feminist Liberation Newsletter" which contains various insightful articles on feminist issues from around the 70s and 80s. What I have found is that a lot of the feminist debates from these journals, newsletters and magazines are still very relevant today. The knowledge I am gaining from this will stay with me through university and onwards. On top of this, I have gained valuable skills in organisation and the ability to use spreadsheets efficiently.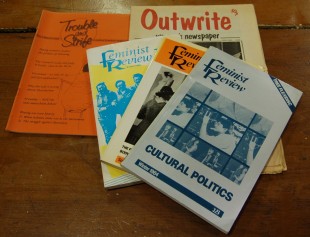 I was scared to begin volunteering anywhere in case people wouldn't understand my limitations. But this has never been a problem here. In fact, I believe the relaxing environment has been beneficial to my health. There is no pressure as I can work at my own pace and take a tea break whenever I feel like it. I honestly can't express enough how important volunteering has been for me. I have been given an amazing opportunity to gain valuable experience and skills which will go towards my future whilst also being able to manage my health around it. I am more than grateful to the Glasgow Women's Library and everyone who works here for giving me somewhere to gain experience, drink tea, read books and feel like I am contributing to such an important cause.
Jennifer